The Shape Shifter Bike From Colin Furze
In this video, we check out the Shape Shifter Bike From Colin Furze. Colin Furze is the mad scientist YouTuber (or perhaps mad engineer is more appropriate) behind many mental inventions and engineering contraptions which he builds and shows off on YouTube to a fan base of over 10.9M subscribers.
Bicycle of Hydraulics
In the video above. Colin Furze builds a custom bicycle using hydraulics as the frame allowing him to adjust the geometry of the bike on the fly using a small motor and pump which uses hydraulic fluid to lengthen or shorten sections of the frame such as the top-tube, down-tube, forks and seat stays. Making even minor adjustments to any of these sections can make a drastic difference to how a bicycle performs. For example, extending the down tube would make the frame slacker which when it comes to mountain biking means the bike will perform better on descents but worse on ascents withing reason.
Furze's Shape Shifter bike allows for large adjustments not just in the mm but in the 10's of centimeters meaning he can make drastic changes to the bike's frame geometry and characteristics.
With all these additional pivot points the frame of the Shape Shifter bike is very wobbly as Colin demonstrates in the video. It's also very heavy and not at all safe so this is really a project that shows what can be done and it's not really a product that is aimed to be used or solve and real-world problems. However, it does demonstrate how important bike geometry is and how it can drastically change the characteristics of a bicycle. Plus the video is a lot of fun to watch and Colin is very talented so makes building something so complex as this bike look easy.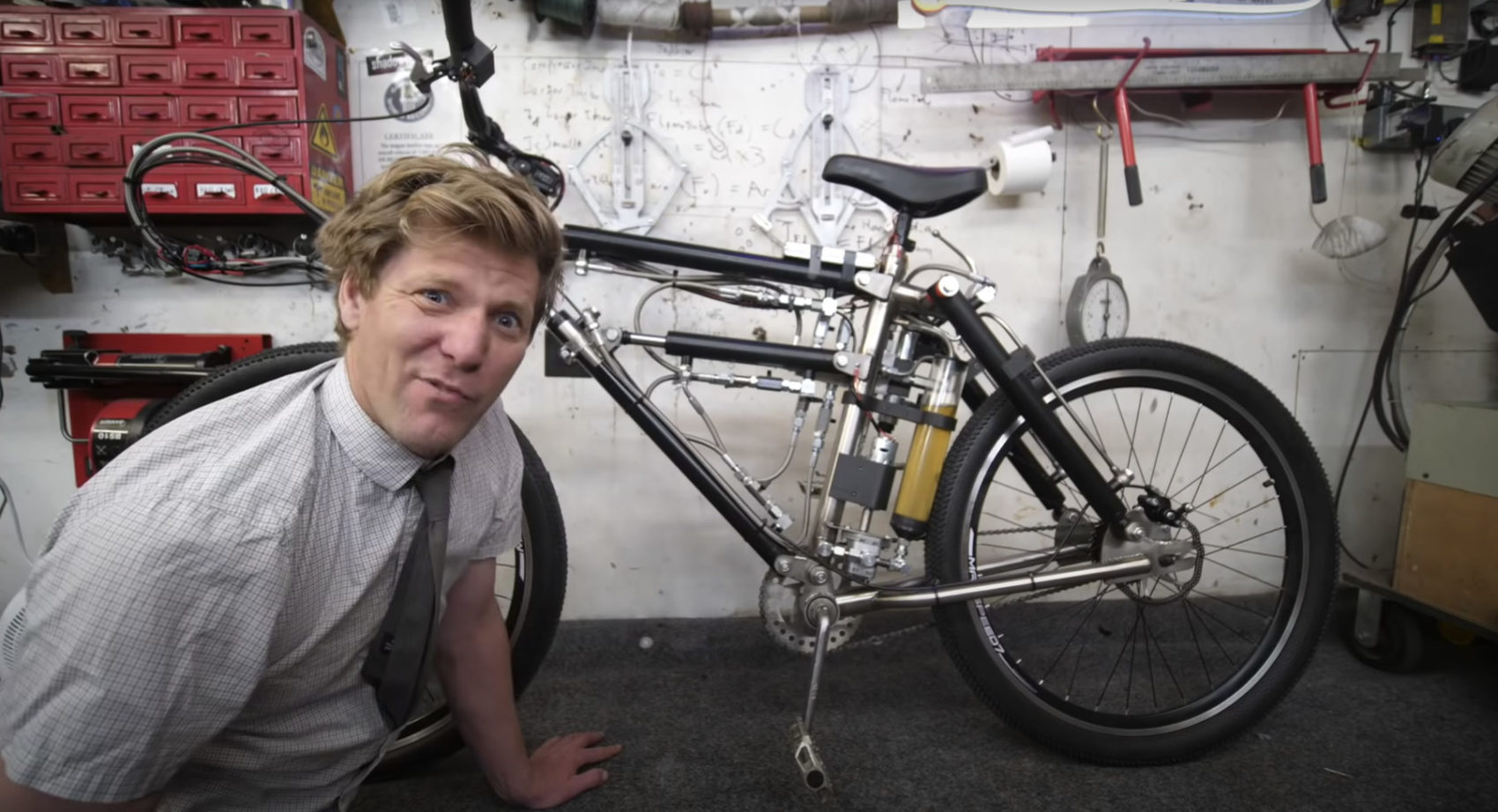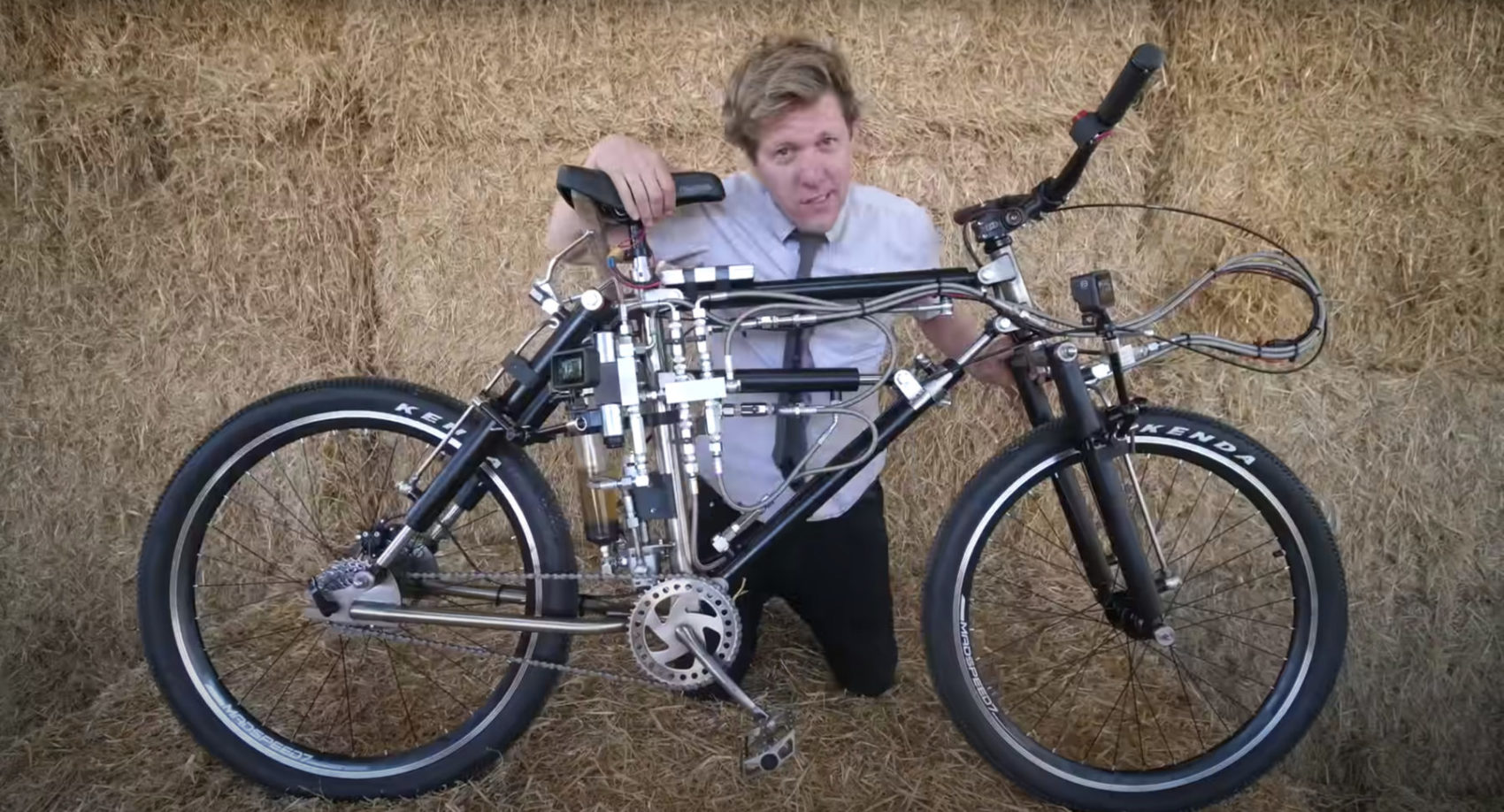 About Colin Furze
Colin is a British YouTube personality, stuntman, inventor, and filmmaker, from Stamford, Lincolnshire, England. Furze left school to become a plumber, a trade which he pursued until joining the Sky1 program Gadget Geeks. Furze has used his plumbing and engineering experience to build many unconventional contraptions, including a hoverbike, a wall of death, a jet-powered motorcycle made with pulsejet engines, and the world's fastest mobility scooter, pram, and dodgem.
Colin has made a number of bicycle-related projects such as the Bicycle of Springs, Jet Bike, High Cycle, and the Ice Bike.
What do you think of the Bicycle of Hydraulics?
What do you think of the Shape Shifter Bike from Colin Furze? Do you think there is any real-world use for a bicycle like the Bicycle of Hydraulics? Would you ride this bike?
Safety note. We noticed Colin chose not to wear a helmet in this video. We would always recommend that you wear the correct safety equipment when riding a bicycle.
Let us know what you think about the bike and the video in the comments below.
Here are some other articles we think you will love: