DYEDBRO Frame Protection Review
In this DYEDBRO Frame Protection review, we take a close look at the product to see how easy it is to apply, how well it protections your frame,  whether it's high-quality, and if it looks good.
What is DYEDBRO frame protection and what's separating them from other brands that produce frame protection? Is this the best bike frame protection? Well in this first impressions review I am going to cover just those very questions. By the end of this, you should have all the information you need to ask yourself why haven't you applied a kit already.
Who is DYEDBRO?
Iago Garay is a Santa Cruz Enduro team rider and in his offseason of 2015 he decided to start DYEDBRO, which is short for Do You Even Drift Bro. He started by selling jerseys, stickers, t-shirts… and a wide variety of printed frame protection kits that are pre-cut to fit all bikes. DYEDBRO uses a latex digital printer with eco-friendly inks to help keep the operation green.
What do you get in the box?
Each tape package includes a top tube protector, 4 chain/seat stay protectors, and a down tube protector. There are 57 different designs to choose from, everything from the new Steve Smith memorial design to a Hawaiian flower scheme. There are also two clear versions, one with a black logo, and one with a white logo if loud designs are not for you.
"As people who ride their bikes every day we know how much abuse bikes go through nowadays, that's why we offer you the best universal, easy to install frame protection."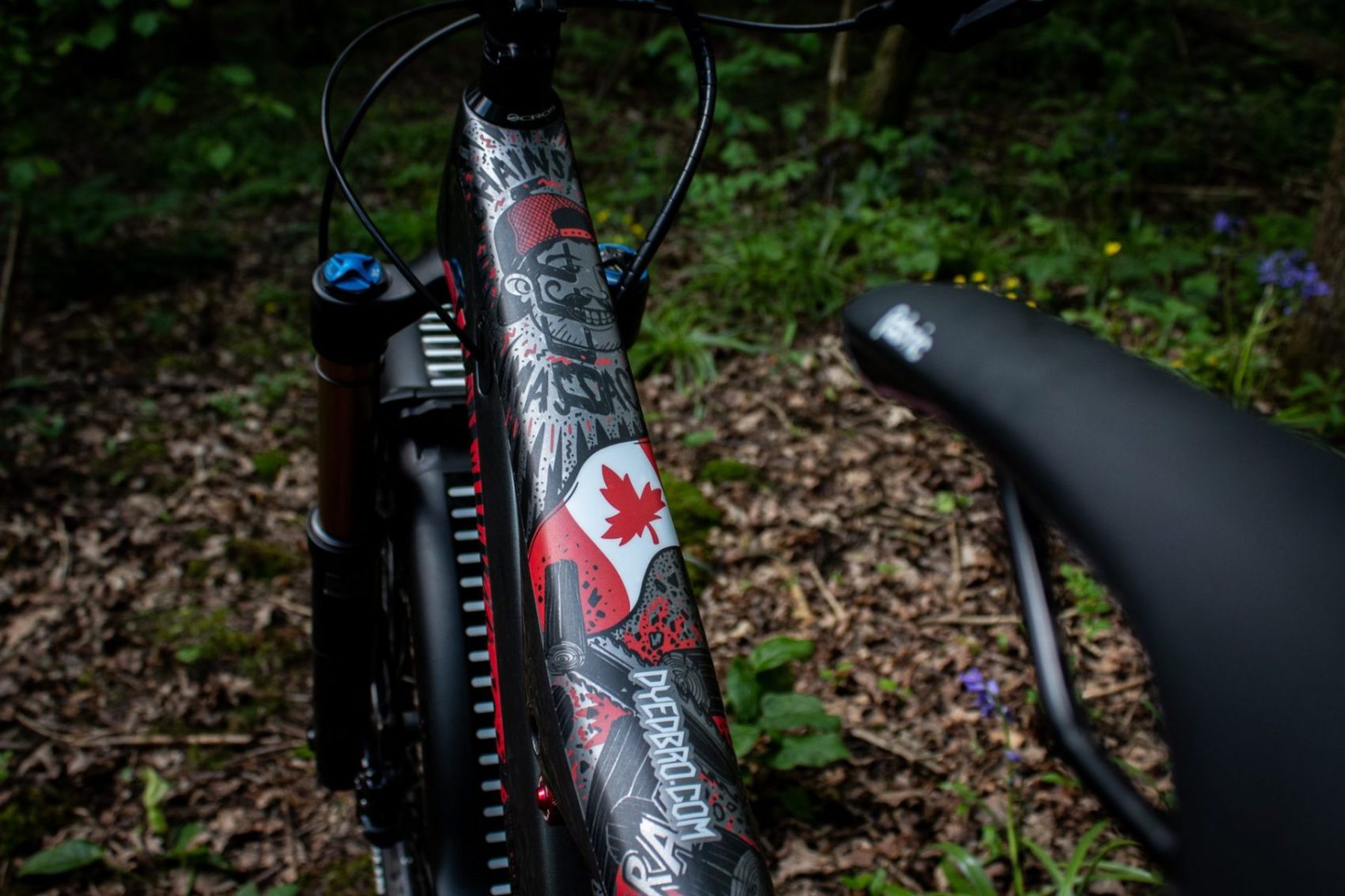 DYEDBRO Frame Protection First Impressions
In the box, you get your frame kit and an applicator which is everything you need to start applying yourself. I would recommend a light spray of soapy water to allow for perfect placement followed by using a hairdryer to help stick and remove trapped air from underneath. When I removed the kit from the packaging I was pleasantly surprised at the quality of the print and material. It's certainly a lot thicker than the Invisiframe that I have applied before.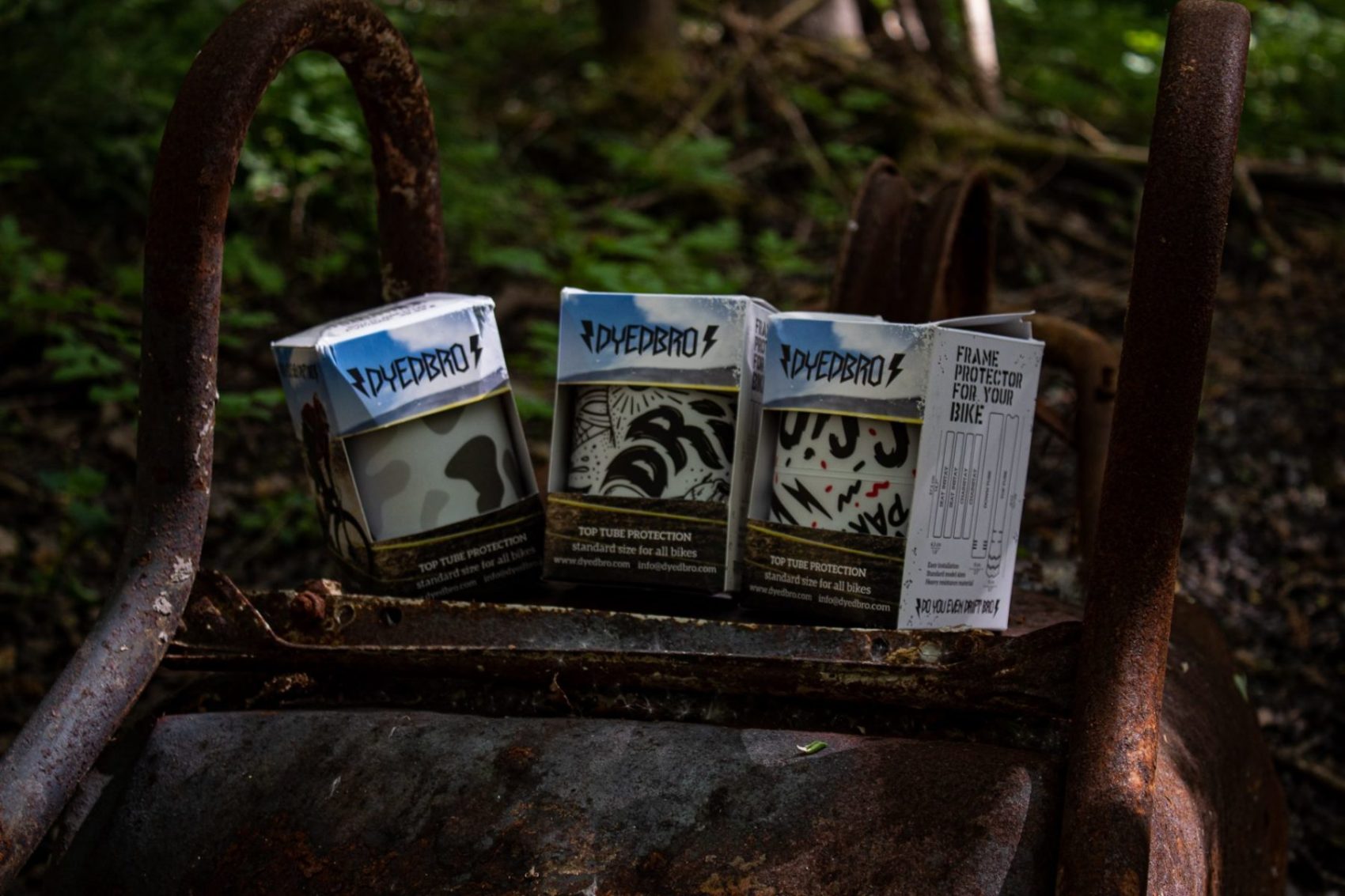 Is it easy to apply yourself?
It took me two hours to apply the kit to my frame taking my time and making sure I got all trapped air bubbles pushed out. I did find that around the raised decals on my Orbea Occam that the thick nature of the protective film didn't want to sit tight to the edge of the lettering. This meant that the film sits off the detail ever so slightly but it is hardly noticeable as its job is to protect my carbon frame, which I am certainly thankful for its thick nature. I will be doing a full in-depth install write up in the coming weeks with photos to accompany.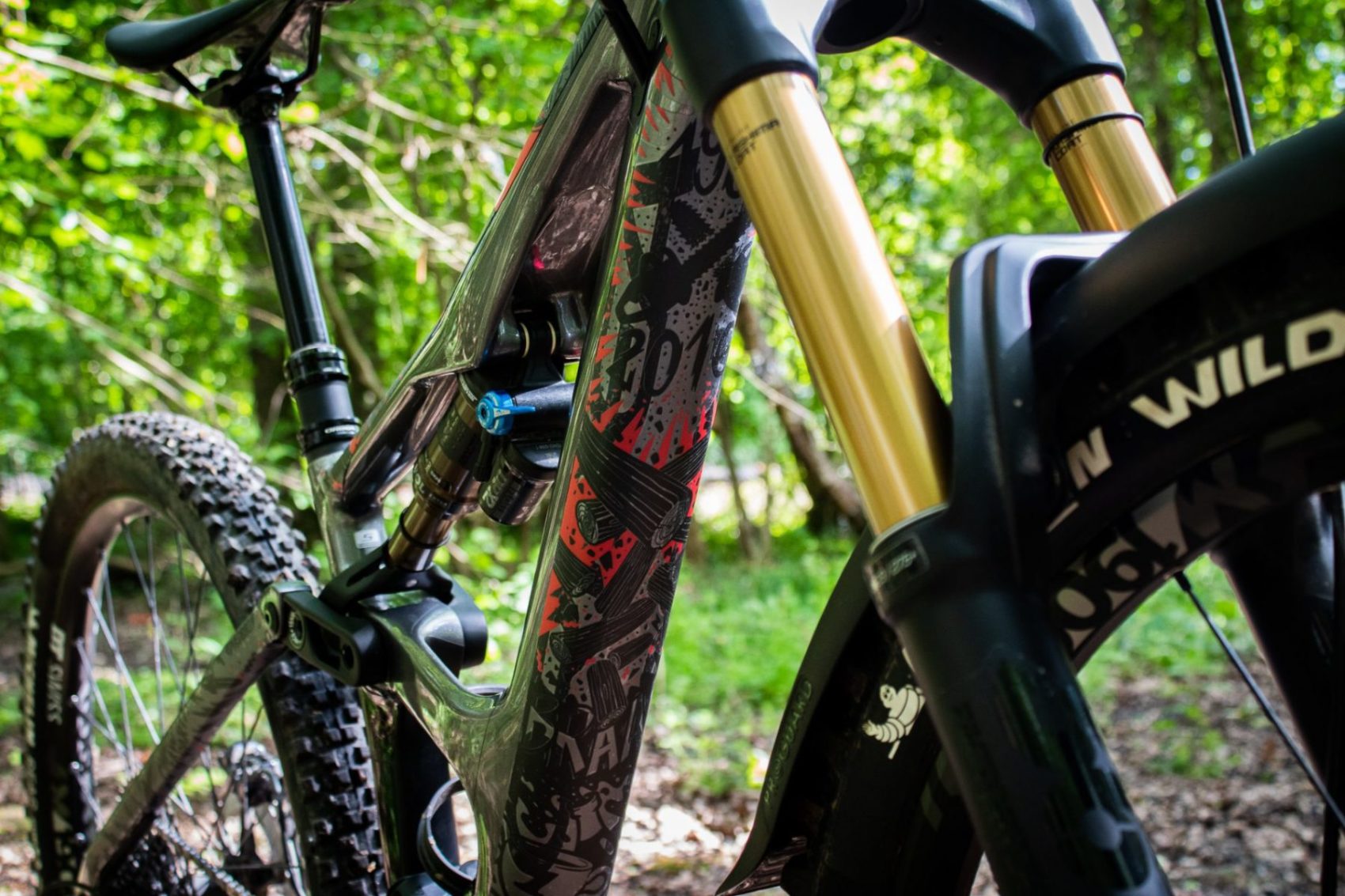 Is this the best bike frame protection on the market?
So is this the best bike frame protection? I am going to be putting the frame kit through its paces over the coming months and will report back with how it lasts over a good season. I am very impressed so far too say the least so far. The Design I decided to apply was the Stevie Smith #longlivechainsaw print and with the grey frame underneath I was really impressed with how it looks and the red just pops perfectly. 
#longlivechainsaw
For those Mountain Bikers that love to customize their bike, these kits will make a great addition to your frame. It is also giving you the option to be able to change it up from time to time with different designs.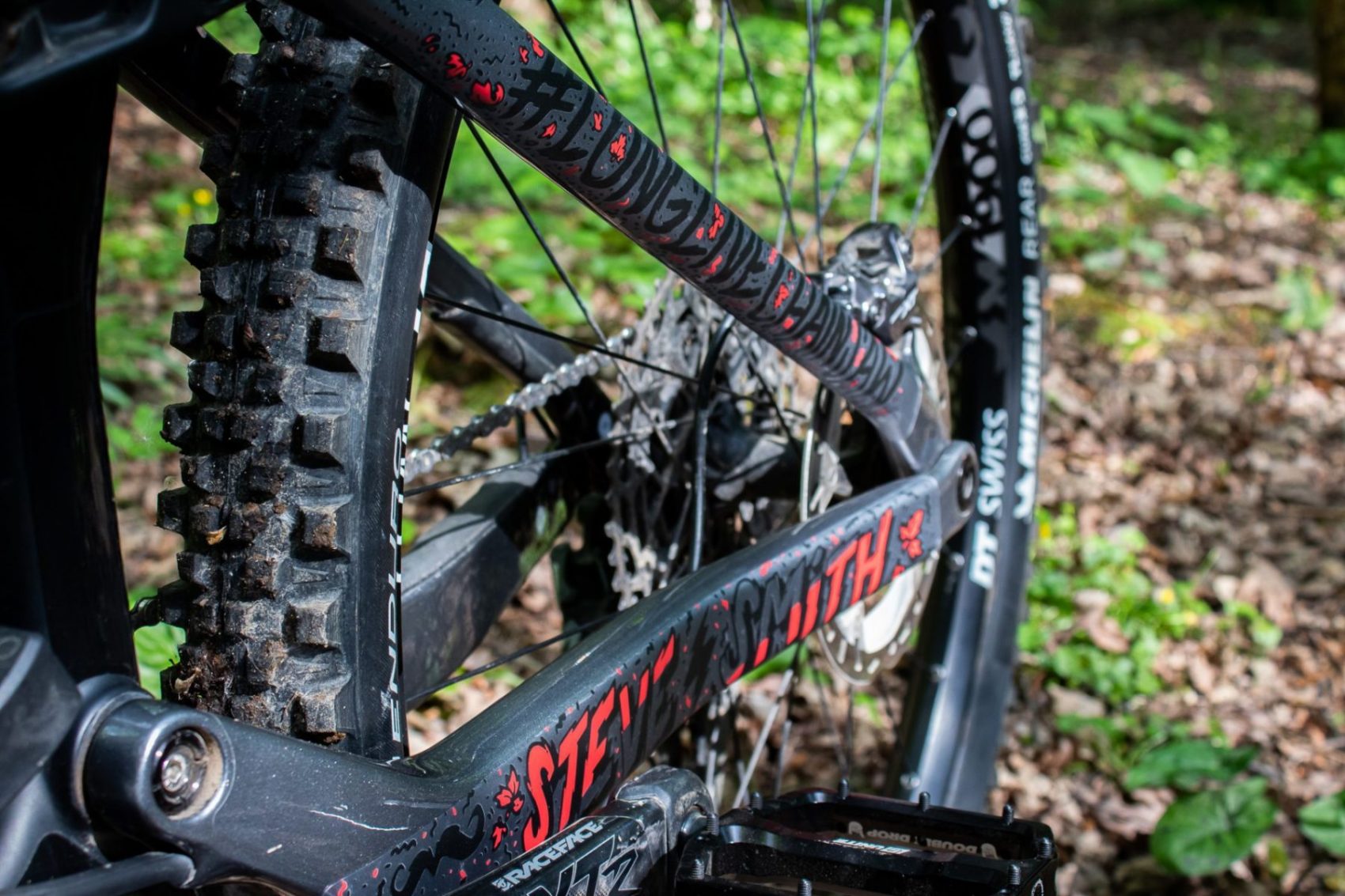 What's the cost?
At £37 these kits are a bargain compared to other frame protection brands products. However, Invisiframe's kits do offer more protection coverage but at a significantly higher price and are cut perfectly to your frame and size. I would also recommend getting your local bike shop to fit Invisiframe too as it can become a sticky wrinkled mess if not applied properly, whereas the DYEDBRO kit is very simple to apply yourself at home and not too much can go wrong.
#DOYOUEVENDRIFTBRO
Although the kit does not give you full coverage of the frame, the areas they do apply too are all the areas that take the abuse whilst out slaying your favourite trail. This means you can be rest assured that when the kit needs a refresh you can remove it and find your frame is still in great condition underneath the applied area. 
Since these DYEDBRO kits are cut to fit all frames you will be required to modify it slightly depending on your bike, Don't let this put you off as the material was very easy to manipulate on install. 
Summary
Overall as mentioned above I am very impressed with the protection kit that DYEDBRO has to offer on the market. I can see it becoming very popular with the likes of Kade Edwards and Sergio Layos and many other professionals of different disciplines already applying it to their bikes. I'm assuming the very loud designs will make you Jib Masters like the two riders mentioned above.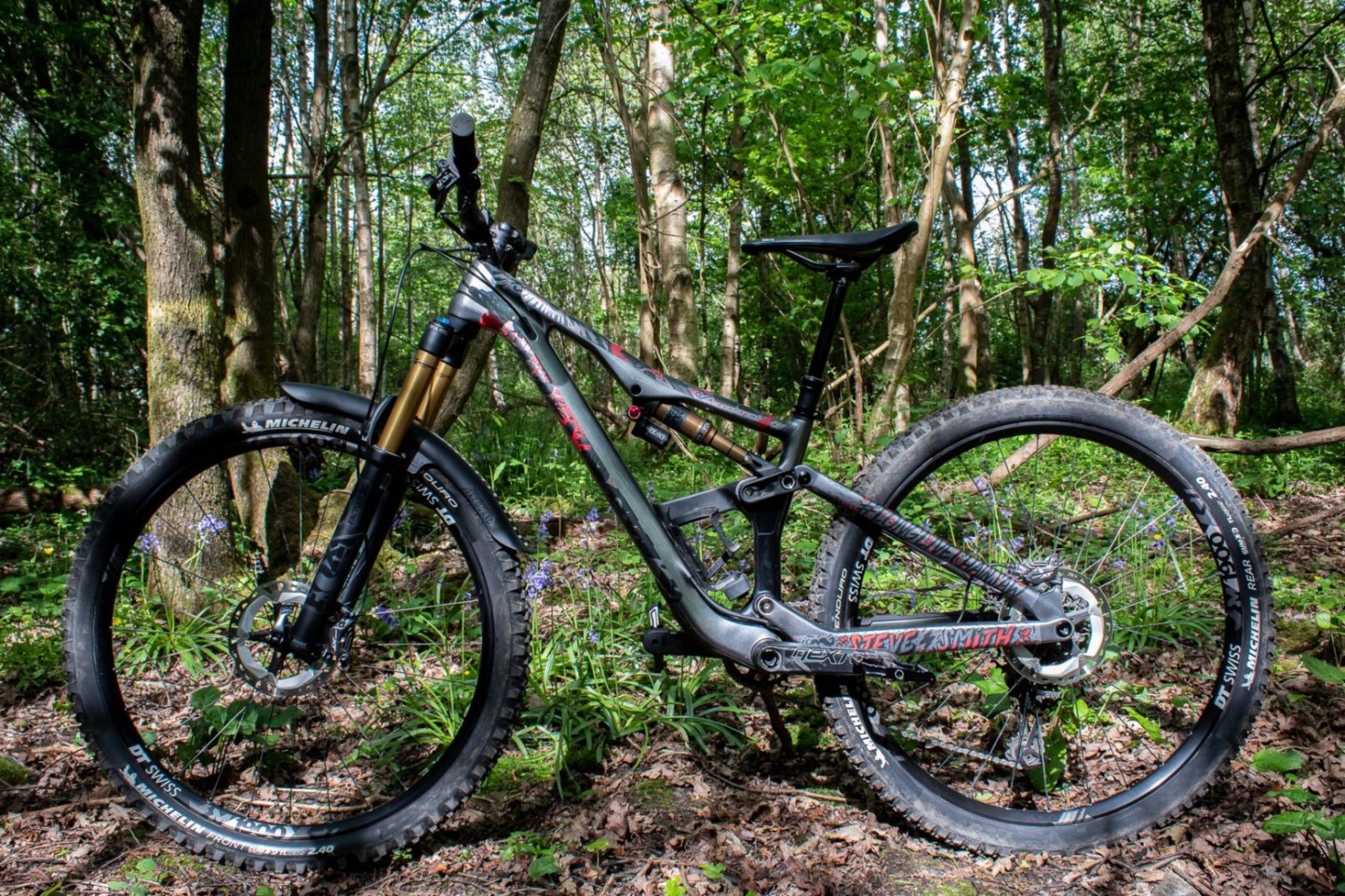 Pros
Lots of designs available, relatively easy to apply, Hard wearing
Cons
Doesn't cover/protect the entirety of bike frame. Requires multiple kits on bikes with multiple colour schemes. For example a bike with both light and dark colours.
What did you think of our Dyedbro Frame Protection review? Is Dyedbro the best MTB Frame protection on the market? What other mountain bike frame protections have you used? Let us know in the comments below.
Here are some other articles we think you will love: