Our Interview with Kara Beal
In this interview, we speak to Kara Beal. Kara is relatively new to mountain biking but has amassed a huge following on social media through riding and making videos with Tom Cardy for her MTB YouTube Channel. Since starting in early 2019 Kara has been filming with Tom on a regular basis and occasionally even featuring in videos with Sam Pilgrim. She predominantly rides a Haibike E-Bike and is now working closely with her own sponsors.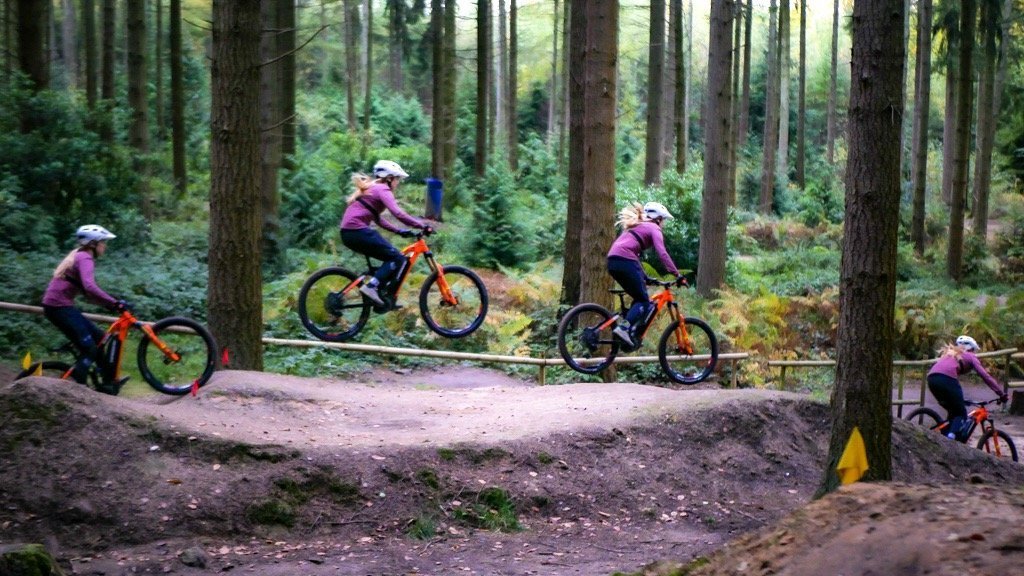 Kara Beal Interview
Hey Kara! Thanks for taking part in this interview. Let's kick things off with you telling us a little bit about yourself. How did you get into Mountain Biking?
I am 22 years old and live in West Sussex in South-East England where I grew up! I got into Mountain Biking actually purely because of Tom (Tom Cardy). When we first started hanging out I used to go along with him and help out filming videos for his YouTube channel. It was when he got sponsored by Haibike in January 2019 that I first started riding as he had 2 e-bikes which meant I could go out with him. He got me to have a go on the bike and I have loved it ever since then. I have been super lucky to be able to travel around the UK with him especially when he did the Action Sports Tour as it meant we could ride some cool places together. Having Tom to ride with also gave me the confidence to go down things I perhaps otherwise wouldn't have and it definitely made me progress at a faster rate too!
As someone who is relatively new to MTB, your popularity has skyrocketed. Was this something you were aiming to achieve or did it just happen? 
No, I definitely did not expect it to happen. I rode the bike because I loved it and everything else just came as a bonus I guess!
You frequently ride with Tom Cardy as well as Sam and Lewi Pilgrim. All of whom create a lot of content for YouTube and Social media. Do you like making MTB content yourself?
Yeah for sure it is super awesome to be able to ride with them, it definitely helps me push myself! I love making content,
I actually first started my YouTube channel just to like and comment on Tom's videos but after making a few videos on the channel myself I realised that this was something I also enjoyed doing. I then bought myself a GoPro and laptop to be able to film and edit the videos! I also soon realised that it was inspiring other beginner riders to give it a go and this was something that I wanted to continue as I feel that no matter how good you are or what sort of bike you have there is no reason why you can't go out and send it with everyone else!
Creating content can be a lot of work and takes a lot of time especially video. Is it becoming a full-time job or something you can do in your spare time?
It is a lot of work but at the moment for me it is not a full-time job, I work at a hospital and do 12-hour shifts so it gives me time off during the week to film videos and also edit them as well as that can sometimes take just as long if not longer to do! 
Definitely I love e-bikes! I am actually working closer with Haibike this year myself which I am super excited for but I have received some negative comments about using them however, the majority are all positive! People are entitled to their own opinions however I think they are brilliant and allow more people to be able to get out and ride. For me, it has been brilliant to learn on because I feel they are more stable and forgiving! They are becoming more and more popular in the MTB world with the likes of Danny Macaskill riding one now and it is awesome to see Tom Cardy and Sam Pilgrim doing tricks on them as it shows their versatility! They are great for beginners and pros! 
You've racked up your fair share of sponsors which is great! What is your experience of working with your sponsors? Did they come to you or did you reach out to them? 
Working with them is great, everyone is so nice and supportive! My sponsorship started this year however, I knew the guys from Halo and Gusset from going to the distribution centre with Tom last year! My social media was going up and I was progressing on the bike which in turn opened up a new audience for beginners. I got talking to Halo and Gusset and also Haibike UK about working with them using their products and bikes and they now support me to ride which is great! 
What is your favourite place to ride? Do you prefer natural trails or bike parks?
That is a really
hard question because I love riding both natural trails and bike parks however I would say bike parks are my favourite! There is a place called Twisted Oaks in Ipswich which is awesome for beginners learning to jump. Bikepark Wales was amazing too, I can't wait to go back there in the better weather. However, my favourite place to ride is Cannop Bikepark in the Forest of Dean! I absolutely love it, they have a range of different trails and also a downhill section with easy routes and also more challenging ones so there is something for everyone!
You've been converting a van. This is becoming more popular in outdoor sports, I've even converted a van myself. How did yours go? Have you started looking at bigger vans yet? 
I have yeah, it was something myself and my dad did as a lockdown project which was awesome! They are for sure becoming really popular! It went really well, we ply lined it and then trimmed it and put a rubber mat in on the floor which works really well as it is easy to clean and can be changed if it gets too grubby! It works perfectly for me because it means I can easily and safely transport my bikes now and it is going to be great in the winter to climb in the back to get changed! I haven't looked at bigger vans yet however, I am thinking maybe converting one into a camper could be pretty cool! 
Nearly everyone has been affected by Covid-19 in some way. Has the global lockdown affected any of your 2020 plans?
Yeah for sure it has affected a lot of people
in many ways
which is awful! The lockdown has definitely affected 2020 plans. We had planned to do a camper trip around Europe going to different bike parks and riding some cool spots! We had also planned to go to Crankworx Innsbruck this year however we can hopefully do this all next year instead!
Is there anything else you would like to plug?
Just my
YouTube channel, if anyone hasn't seen it go check it out! I've got some cool content coming up real soon!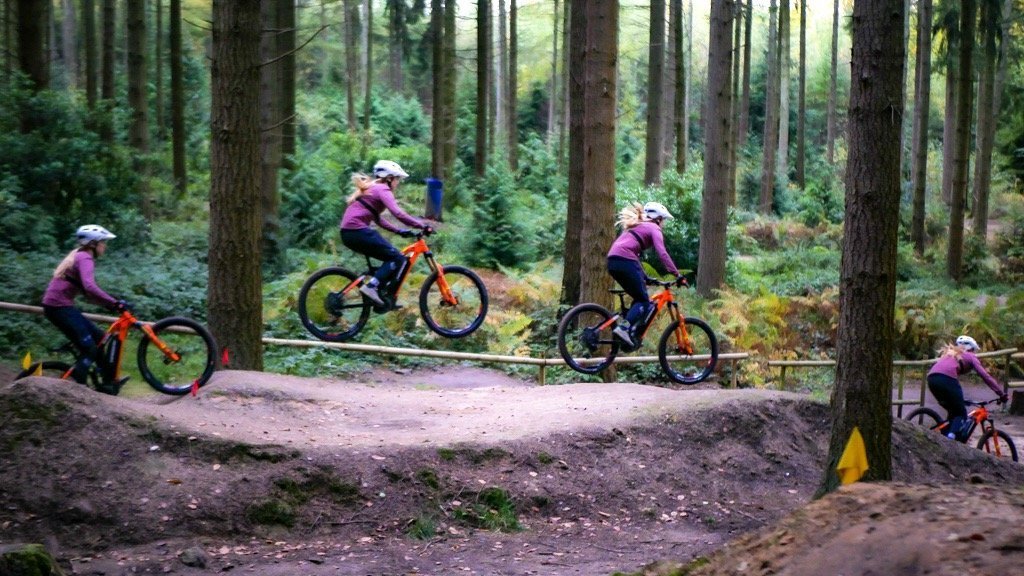 A massive thank you to Kara Beal for taking part in this interview. It's been great to watch someone progress so quickly and really enjoy doing it. I'm keen to see how Kara progresses and how she moves forward with her YouTube channel. Will she start doing tricks like her partner Tom? Only one way to find out and that is to give her a follow on Instagram and subscribe to her YouTube channel.
Thanks for reading. I hope you enjoyed this interview with Kara Beal. Let us know your thoughts in the comments below.
All images in this article were taken by Tom Cardy and are the sole property of Kara Beal.