Orbea Occam Review
In this Orbea Occam review, we take a close look at the mid-travel trail ripper and see how this bike performs.
What is a trail bike? The answer to that question differs from rider to rider, but the clear trend recently is towards bikes that are more and more capable, while retaining a more lively and efficient character than a full enduro rig. Orbea's all-new Occam is a great example, with 140mm of travel, 29-inch wheels, and angles that would have been the norm in enduro just a few short years ago.  
Upon the first glimpse, it was love at first sight and I thought to myself I need to have a test on this new option for the trail market. In these first impressions, I talk through the different options available from Orbea for the Occam model and even their brilliant MYO program. 
So where do I start? I suppose it should be with the different sizes and models available for this model and as you scroll down you won't be short of options: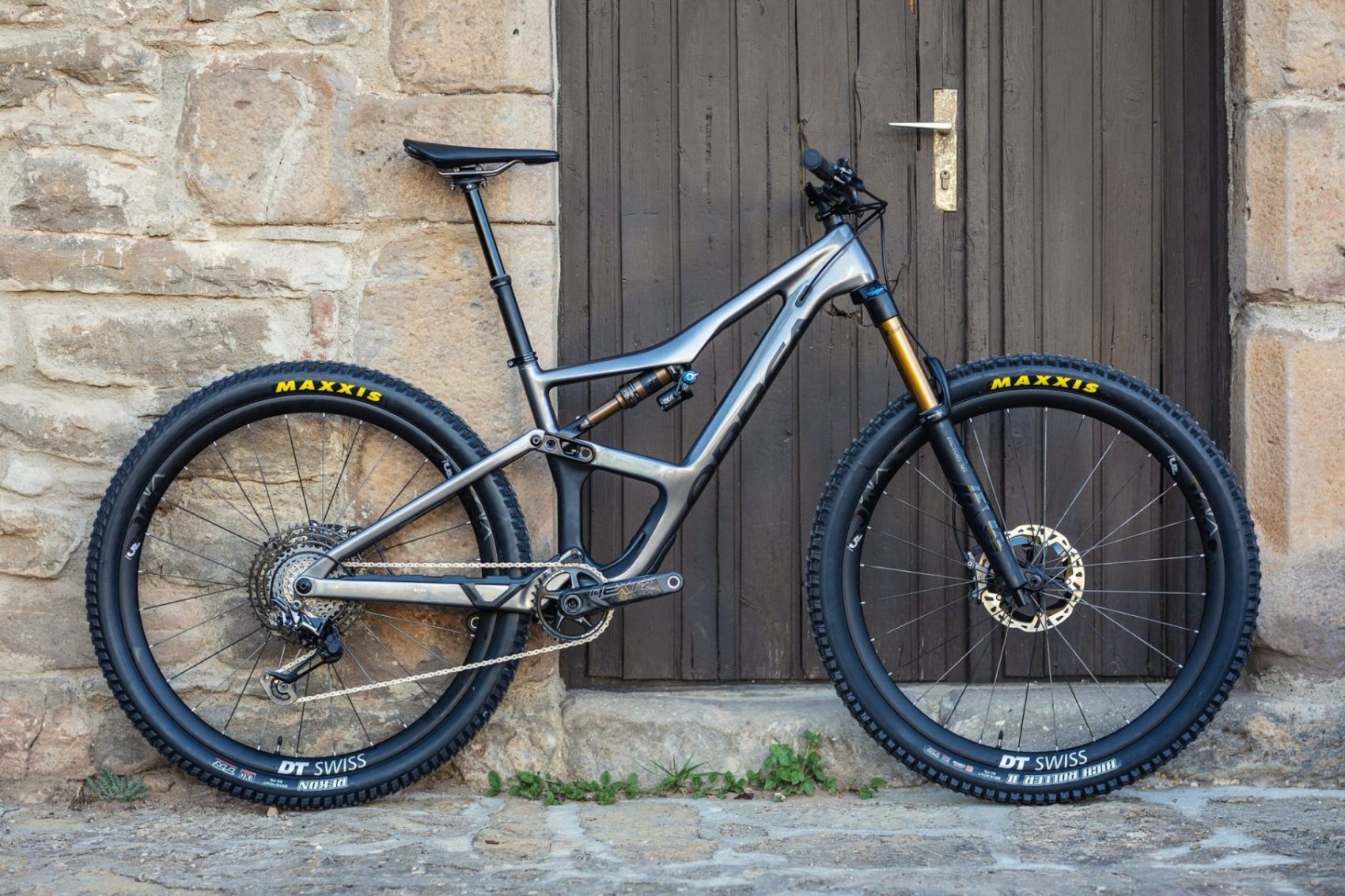 Orbea MYO Program
Orbeas MYO scheme is what sets them apart from other brands. There are two stock color options each for the carbon and aluminum models to choose from. One of those versions for the carbon model (next to a mouse-grey one) is a colour similar to that of the Gulf liveried Porsche 917 which in my opinion is beautiful.
However, only the two top spec models are available for paint customization with the MYO program. That includes a choice of 22 primary and 22 secondary frame colors as well as mixing it up with decal and detail colors with optional custom text for no extra cost but all models can have the spec upgraded from forks to rear shock to bar and stem which does have an extra cost applied.
Orbea Occam Frame Details
A complete redesign of the Occam features Orbea's high-end monocoque OMR (Orbea Monocoque Race) carbon technology, Constructed high modulus fibers and high strength fibers for an optimized weight to strength ratio which in turns brings the frame weight down without compromising strength. Orbea's carbon and aluminum frames feature a lifetime warranty, if not abused which is a good omen to the trust they have in their bikes. 
Orbea's designers aimed to reduce weight and simplified the entire build by implementing a tool-free bearing replacement system. The axle simply holds the rear end together and it is easy to remove the Enduro MAX bearings or to swap the derailleur hanger. Which is a great feature that makes it possible to quickly replace a hanger if the situation arises.
The shock link is mounted to a splined axle in a similar way to that of a pair of cranks. Orbea has said that with this system they were able to tune stiffness in such a way that would not have been possible with a carbon link.
The asymmetric design with an additional stay between the shock link and down tube strengthens a very high-stress area of the frame. There is still room for a water bottle, which was made possible by pushing the water bottle mounts off centre by 10mm. Orbea then chose the bottle to be removed via the left-hand side so you can use your right hand to control your speed with the front brake if necessary unless you're from outside of the UK.
Also, anti-squat was increased by 7% to better match your more traditional 12-speed dinner plate cassettes that you now see on most production bikes, with anti-rise moving to a significantly lower percentage, trying to minimise the influence the force that braking has on the suspension.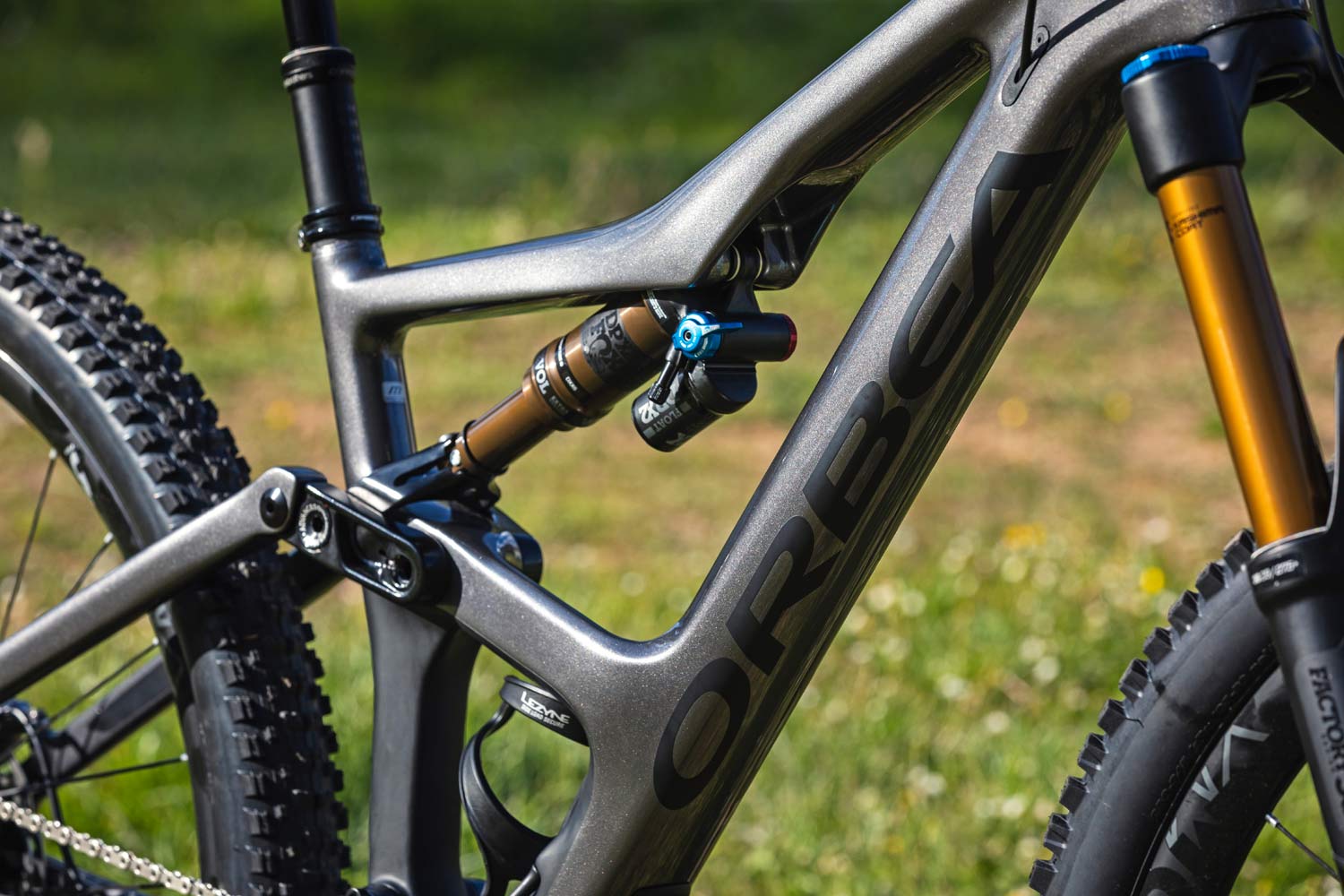 First Impressions of the Occam
To test the Orbea Occam for this review I decided on heading to Hindhead as it has a mixture of rough steep descents to your standard trails and a mixture of climbs. 
The M30 model I had for the demo was equipped with Shimano 12 speed drivetrain Fox 34 forks and DPS rear shock with a custom tune from Orbea. First impressions are that it was very nimble and light which was fantastic for someone like myself who loves to throw a bike around which is why I love a mid-travel trail bike. On some of the steeper rough descents it did feel a little out of its comfort zone but nothing that was going to throw you out of control which is why I recommend upgrading to the FOX 36 150 mm travel option upfront for a slacker head angle. Climbing was not a problem and for someone like myself that is not a fan of climbing, this made it not seem a chore and a bit more of an enjoyment. After a full day on the bike, I decided this is very much a jack of all trades bike but with an added dose of excitement added to it.

I returned the bike to D&D Cycles and after a couple of days of mulling over what I thought of the experience it really did grow on me, so much so I pulled the plug and actually purchased one. After a number of conversations with Dave (D&D owner) on what and liked and didn't like about the ride we decided to get the M30 Eagle model in a small and upgrade the fork to the FOX 36 factory 150mm option, DPX2 factory rear shock, XT 4 pot brakes a carbon Raceface bar and crank with some burley Michelin Wild Enduro tyres. 
I've had the bike for 3 months now and wow what a machine. The upgraded parts, specifically the 150mm travel front fork has made the bike a trail machine that really can handle everything I throw at it. Given I've only had the bike three months I can't give a proper in-depth review of the bike but I plan to do brief updates on how I'm getting on whether good or bad.  
Orbea Occam Review Summary
In summary, the redesigned 2020 Occam can't go unnoticed in the trail bike category and in my personal opinion is one of the better options available on the market and I seriously recommend you try one if you're in the market for a mid-travel trail ripper.
What did you think of this Orbea Occam review? What do you think of the Orbea Occam trail bike? Let us know in the comments below.
To check out Orbea and their other bikes click the link to visit their website: https://www.orbea.com/gb-en/
Here are some other articles we think you will like: