Granite Aux Bottle Cage with Strap Kit Review
In this Granite Aux Bottle Cage Review, we take a look at the Granite Aux Bottle Cage with Strap Kit to see how this easy to mount and position bottle cage performs and whether it does make it easier to mount a cage on bikes where frame space is limited and fitting a conventional bottle cage is not an option.
What is the Granite Aux Bottle Cage?
The AUX bottle cage is a lightweight, side-loading cage that's designed to work with tight-fit frames and is made from super-tough carbon fiber reinforced thermoplastics with a stealthy matt finish.
Sideload design works with tight-fit suspension bikes.

Weight:23g

Carbon fiber reinforced thermoplastics composite.

Bolt-on and strap-on options are supported.

Stealth Matt finish
Granite Aux Bottle Cage Price:  £28 Kit (£21 for just the cage)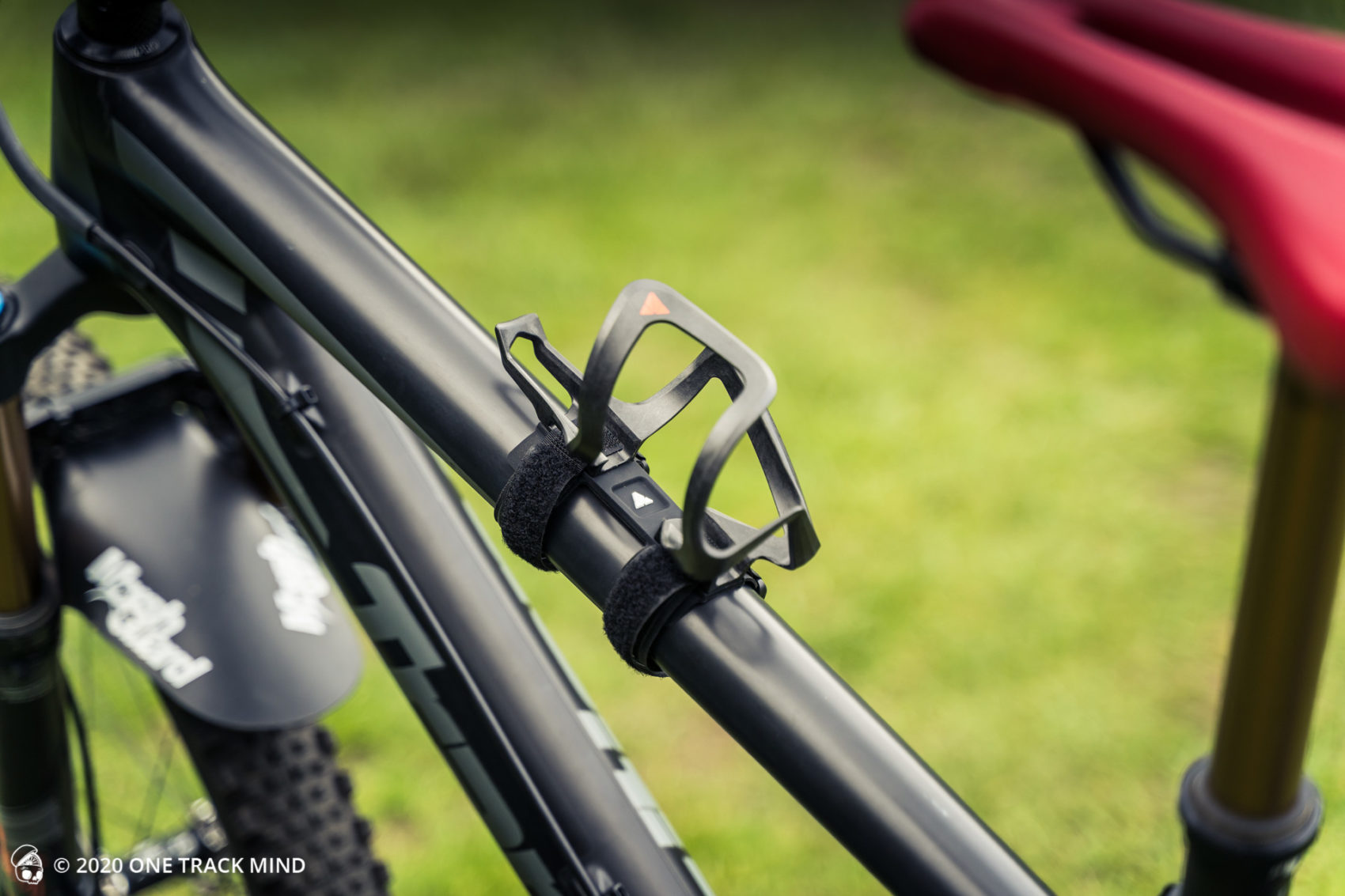 Aux Bottle Cage Dimensions
The Granite Aux Bottle Cage Review
There are so many bikes these days and particularly enduro mountain bikes where there is either no space for a water bottle or only space for a really small overpriced OEM bottle. This is where Granite's Aux Bottle Cage comes in. This bottle cage no only allows you to fix it to your frames bottle cage mounts but also comes with a strap kit allowing you to mount the cage wherever you like. The strap kit comes with a piece of protective rubber that not only protects your bike from the cage rubbing the paintwork but also adds additional grip making the bottle mount very secure even when it's only held on with two velcro straps.
To test this bottle cage I mounted it in multiple places on my Transition Throttle Carbon Hardtail. The reason I chose this bike is not due to the lack of bottle space as there is plenty but because not only will a hardtail really test how well the bottle cage works but also this particular frame has many options for mountain and the frame tube diameters change depending on where you mount it.
I tested mounting the cage to the existing bottle cage mount points on the bike and this performed very well. The cage was super easy to fit, looks great, added very little weight, and also held the bottle in firmly even when riding flat out over rough terrain. I would certainly recommend this bottle cage when mounting to existing bottle cage frame mounts.
Next, I tested the cage by mounting it using the frame strap kit which came with the cage. This strap kit is made up of two velcro straps that thread through the bottle cage and feature grippy rubber backs which when wrapped around the frame not only add additional grip but also protect the frame from rubbing.
There is no way of managing the velcro straps without cutting to length which is fine if you are intending to mount the cage in one place however, as part of this review I was testing this bottle cage in various different positions on the bike I noticed that the velcro straps would either be too long or too short depending on the thickness of the area I was mounting to. It would be nice if there was a way of managing the strap length without having to cut down so that this cage can be used on multiple bikes or in different positions on a single bike. On the plus side, I believe the strap kit can be purchased separately and isn't expensive.
Once the straps are cut to the right length and the cage is correctly secured following the instructions it also performed pretty well. I didn't lose the bottle during testing even when riding over rough terrain at race pace. However, I did notice the cage moving a little more than it did when mounted to the frame bottle cage bolts.
This bottle cage has a clever sideload design making it an even more effective bottle cage to use on those bikes with awkward suspension. This allows the user to insert and remove their water bottle from the side. We've seen this design on other bottle cages such as the Giant Airway dual-side bottle cage and the clever rotating system from Fidlock. Both these other bottles have also reviewed really well and I tend to always look for a side load bottle cage now.
Should you buy the Granite Aux Cage?
Although bottle cages are relatively low cost and this one is slightly more expensive I would recommend this product. The reason is that I personally use bottle cages across multiple bikes whether it's hot-swapping them or transferring them to my new bike. It's unlikely you are going to choose your bike based on whether your water bottle will fit but it is nice to know that if you have the Granite Aux Bottle Cage it will be compatible.
It's also nice to know that you can add it to a bike that already has a bottle cage fitted. For example, if your going out on a gravel epic and want to carry as much water as possible this cage allows you to add it to essentially anywhere on your frame meaning you could have three or more water bottles on one bike.
So what do you think of the Granite Aux Bottle Cage with strap kit? Would you use this bottle cage on your bike? Do you like having the ability to mount a bottle cage anywhere on your bike? Does your bike even have room for a bottle cage? And have you found another product that also solves this issue?
Let us know in the comments below.
To learn more about the Aux Bottle Cage click here: https://granite-design.com/products/aux-bottle-cage
Here are some other articles we think you will enjoy: 
Pros
Easy to use
Easy to mount in many positions on the bike
Lighweight
Durable
Cons
High price when compared to similar products
Requires you to cut the velcro strap to length which may make the strap to short to use the cage in other positions or other bikes if you want to have the ability to reuse.