EXT Storia LOK V3 Coil Shock Review
In this review, we take a look at the EXT Storia LOK V3 boutique coil shock from Extreme Shox. How did this high-performance coil shock perform in our tests? Is it worth the relatively high cost? And how much traction can one shock possibly produce? Read on to learn more…
The EXT Storia LOK V3 is an incredibly high-performance boutique shock. It offers excellent tracking, keeping your rear wheel glued to the trail absorbing small bumps enabling you to push the limits of your riding no matter the technical difficulty of the trail.
Having had this shock for a little while now I have really noticed the suspension improvements and have barely noticed any negatives. Although I have this coil fitted to my Whyte E-160RS which is an E-bike, I have not noticed any impact on my climbing ability. If anything there are improvements as I have better traction and spin out significantly less.
However, even though this shock has a major upgrade over any other rear suspension that I have tested it's still not perfect. This is a boutique shock built by a small team by hand. The performance gains are incredible but there are some minor issues. The first is that this shock is noisy. There is an internal shuttle valve that makes a clicking sound every time the shock compresses. At first, I had thought the shock was faulty but discovered this is as expected and I no longer notice the clicking. I have been told the shuttle valve can be removed but it's worth it for the performance gains so I would also recommend keeping it. The second issue is that it requires tools to adjust the external compression damping adjusters. Only a small spanner and an Allen key but I prefer to ride without tools meaning I can not adjust this shock out on the trail. Not a massive issue but maybe for others.
Overall I am really impressed with the EXT Storia LOK V3 coil shock. I am still blown away by the performance gains and I won't be looking to change to another shock any time soon. So if you want stunning performance gains, have the budget and can deal with the minor negatives then this could be the next rear MTB shock for you.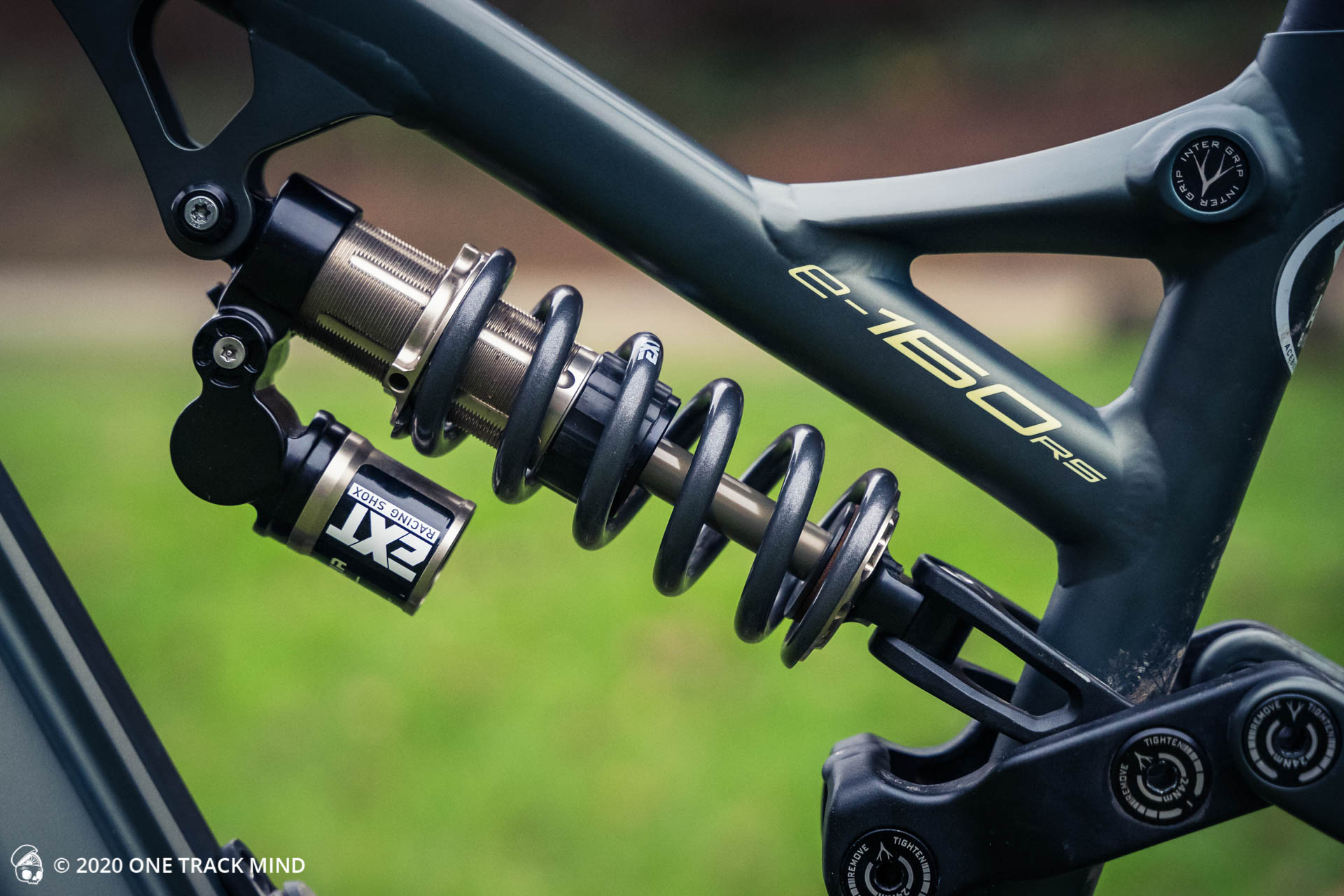 EXT Storia LOK V3 Features
Metric and Imperial sizing – Standard or Trunnion mount
4 way adjustable (LSC-HSC-LSR-Lok proprietary system)
High flow Ø29 mm main piston
Ø24 mm valve piston
Ø14 mm shaft
New Lok Technology – Progressive opening – Silent working
Engineered rebound circuit to separate bump and rebound oil flow
Ultra low-friction coating
Factory tuned HBC technology
Very low reservoir pressure for maximum sensitivity (55 PSI)
Full custom hydraulic setup available
No cavitation
Very low hysteresis for high dynamic response
High turbulent flow for very low temperature depending
Low friction Energize seal
Thinner bottom-out bumper
New rebound knob for easy spring swap
Pros
Extremely high-quality
Loads of adjustment for fine-tuning
Incredible small bump sensitivity
Loads of support in compressions and big hits
Cons
Noisier than other shocks due to shuttle valve (Can be removed but worth having for the performance)
Requires tools to adjust compression damping adjusters (Common spanner and Hex key)
Summary
A perfect example of a product that breaks our rating system. If I could I would have given this shock 4.9 stars. This shock is incredibly high performance and I have not tested a better shock to date. But it's not perfect as requires tools to adjust external compression dampers and it's also quite noisy. This really is nit-picking though as the traction and comfort riding with this shock means you will rarely lose grip and it will enable you to push to your absolute limits riding. Since owning this shock my riding has improved massively and riding janky trails at speed is my new favourite pastime.
So what do you think of the EXT Storia LOK V3 coil shock? Do you prefer to use air or coil suspension? What are you currently running on your bike? Let us know in the comments below.
You can learn more about Extreme Shox here: http://www.extremeshox.com/mtbproducts/
Check out some other articles that we think you will enjoy from us at One Track Mind Cycling Magazine: