Fasst Flexx Handlebar
The Flexx Handlebar from Fasst is designed to isolate your upper body from vibration, allowing you to ride longer and harder. Flexx Handlebars are tunable to your preferences, you can control how soft or stiff the bar is.
The bars are available for Enduro and Downhill. I this review we will be taking a look at the enduro bars. They are made from carbon fibre, aluminium and titanium. The bars flex up to 5 degrees and the effective travel is dictated by the length of the bars. The Longer the bars the more the travel. The comes as 800mm width but can be cut down to your desired width. The clamp diameter is 31.8mm and the rise is 25mm. There are two options for back sweep 8 and 12 degrees.
The Flexx bars are priced at £449.99 from Cyclorise here in the UK. These bendy bars aren't cheap but Cyclorise says they have a cheaper Aluminium bar coming soon. They weight 440 grams which is 100g-200g heavier than standard bars. So are they really worth it? Read on to find out.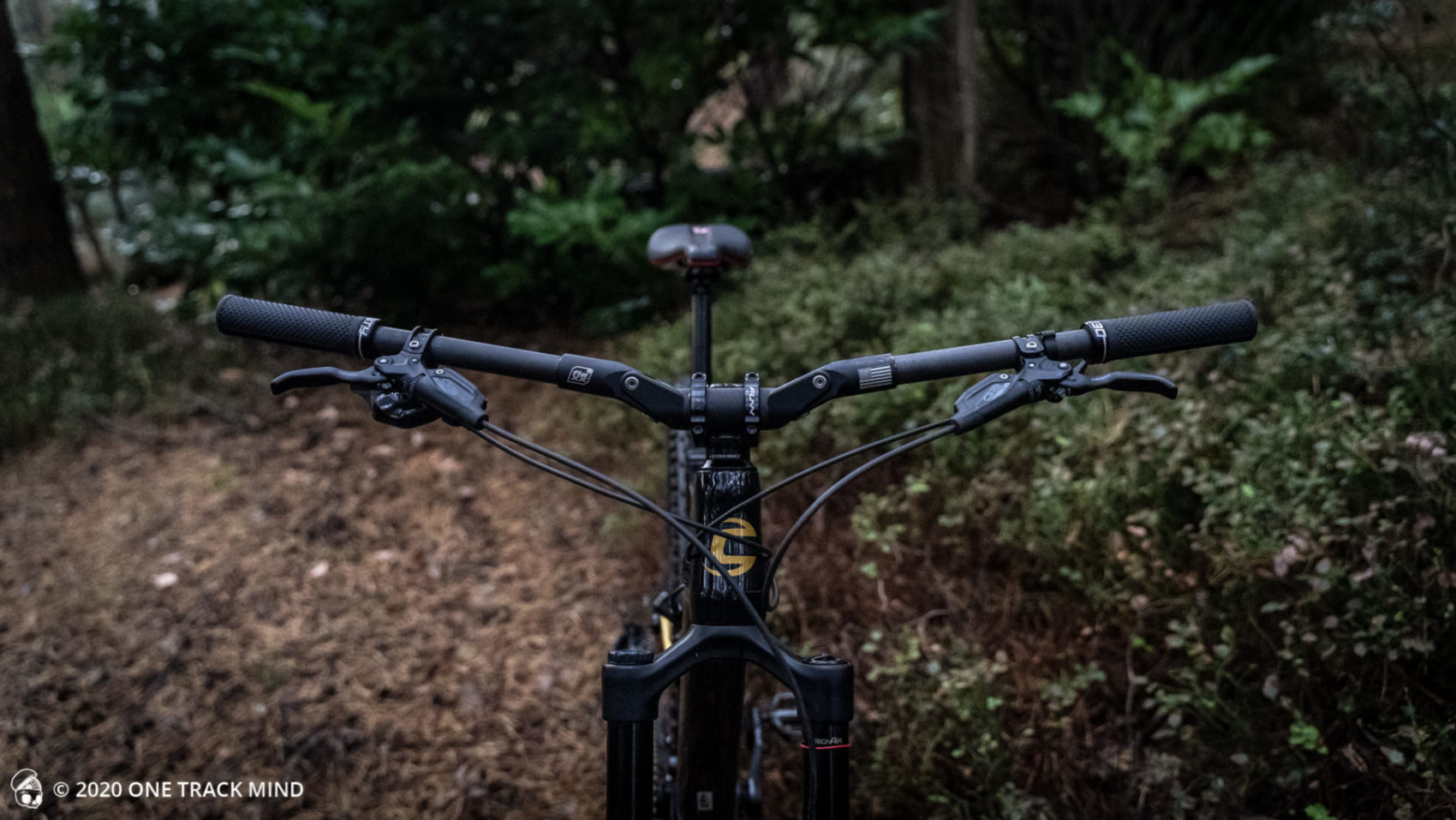 Tech Specs
Rise: 25mm
Clamp Diameter: 31.8mm
Weight: 440 grams
Width: 800mm
Upsweep: 5*
Back sweep: 8* & 12*
Center Tube Width: 63mm
Materials: American Made UD carbon, 7075 Aluminum, Ti-6Al-4V
Effective suspension travel: 5 degrees, length of bar dictates overall travel.
Elastomers included: Soft, medium, hard, and firm compression and rebound.
How do they work?
The design of the bars is quite simple but well-executed. They work by compressing an elastomer via a pivot either side of the bars where the bar is mounted do the stem. The harder the elastomer the more difficult it is to compress the elastomer and therefore the stiffer the suspension. Choosing the elastomer is something I would encourage you to experiment with but as a rough rule of thumb, if you weight more you may want a harder elastomer. Equally, though if you are an aggressive rider or prefer to ride gnarlier terrain then again you may want to opt for a harder elastomer.
Fasst state on their website that over time the elastomers will need freshening up. A set of new elastomers will set you back £9.99 and you can choose whilst hardness you require.
Soft – Blue
Medium – Yellow
Hard – Red
Extra Hard – Black
Luckily for you changing the elastomers is simple and only requires basic tools. Using some common Allen keys you can remove the kingpin, bend the bars back to remove and replace the elastomer and then using a torque wrench tighten the bolts back up to the correct torque rating, easy peasy!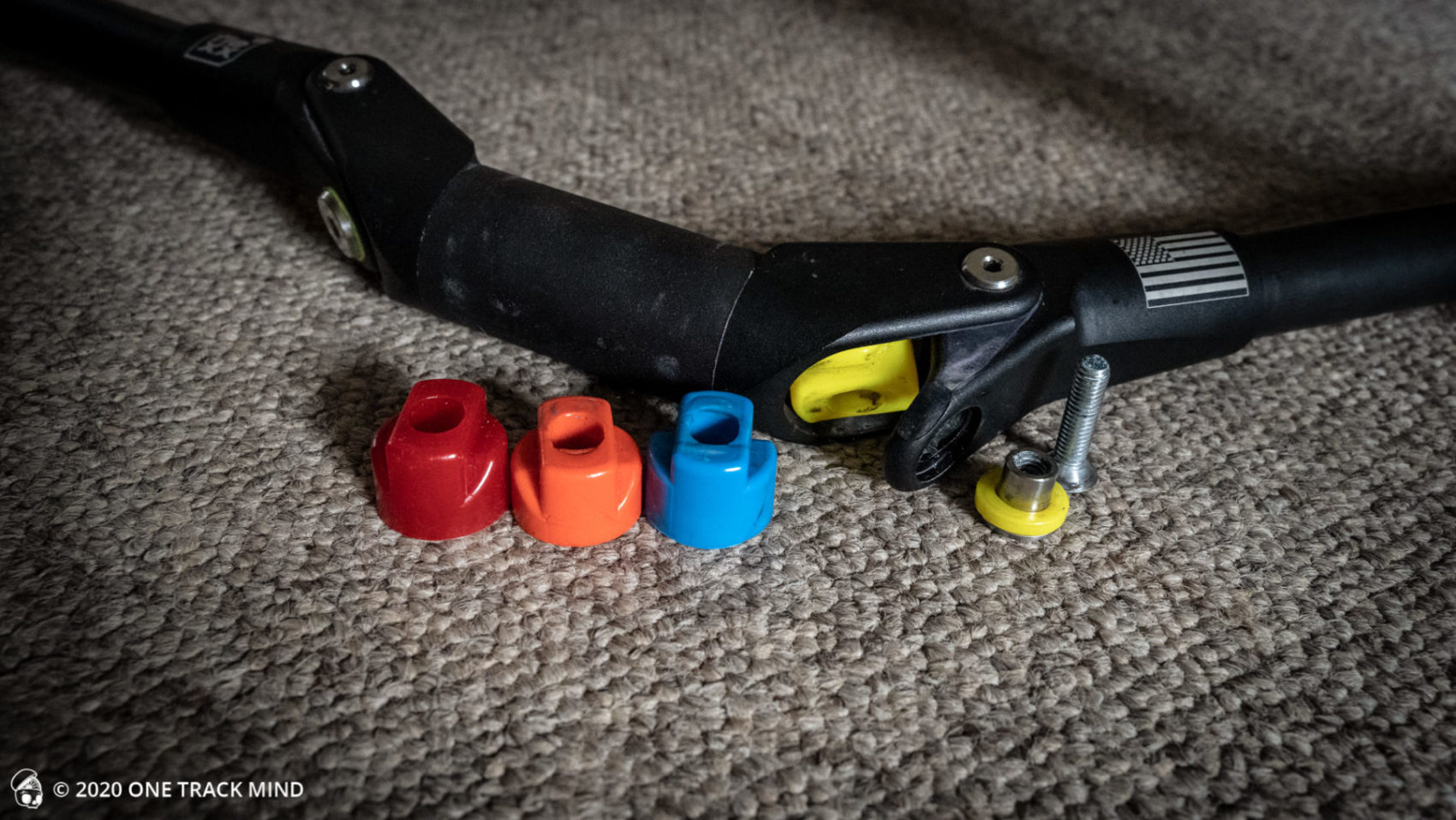 Flexx Handlebar Review
I have been riding with these bars for over a month now and have tried them on all types of trails and surfaces. I've even used them at a couple of Enduro races.
Before getting my hands on these I had seen a few out in the wild on other people's bikes. I will be perfectly honest and admit I thought they looked a bit janky. My first thoughts were, the last thing you want to flex is the handlebars. What would have happened if they snapped?! I like the anacronym K.I.S.S or Keep it simple stupid, meaning don't overcomplicate it. However, saying all that I also suffer from arm pump so when these showed up for review I was keen to test them.
Fitting and setting up the handlebars
Fitting the bars is no different from fitting any other handlebars. Setting up the bars is the only additional step. All you need to do is choose the right elastomer for your requirements.
So do they work?
The bars genuinely do work. I tested them for over a month of hard riding on all types of trails and terrain and I didn't feel the effects of arm pump once. For someone who suffers from arm pump frequently, I was pleasantly surprised. Fasst claim that "The Flexx Handlebar isolates your upper body from abuse and vibration, allowing you to ride longer and charge harder." For me I found this claim to be true. Once I chose the elastomer that worked for me I found vibration through the bars to be minimal, arm pump was drastically reduced and I can ride longer and harder.
Durability
During the time I used these bars I had no issues with durability. I frequently checked the bolts using a torque wrench to ensure they weren't coming loose but they were always fine.
Frequently asked questions:
I've put together some answers to questions that I was asked by people whilst testing the bars.
What happens if these bars snap?
Firstly the bars aren't going to snap. These are very well made and are created from high-quality materials. If one of the pivot bolts came out which is very unlikely then there is potential for the bar to pull up on one side but I really can't see this happening unless the bolts aren't tightened correctly which would be the same with any other component on the bike.
Are the bars flappy?
You barely notice the flex in the bars. So I certainly wouldn't describe them as flappy. These bars will not negatively affect the performance or even the feel of your ride. If anything they will improve performance and make the bike feel better especially in rougher terrain.
Do you notice the weight?
No. We are talking about 100g-200g. Unless your bike needs to be ultra-light then the weight will be completely unnoticeable. For comparison, a 500ml bottle of water is going weight at least 500g.
Are they worth the money?
That is completely up to you. These are probably up there as some of the most expensive bars you can buy, however, if you want to reduce arm pump, reduce upper body fatigue, ride longer and harder then these bars may be worth it. They are really well made and if looked after should last a long time.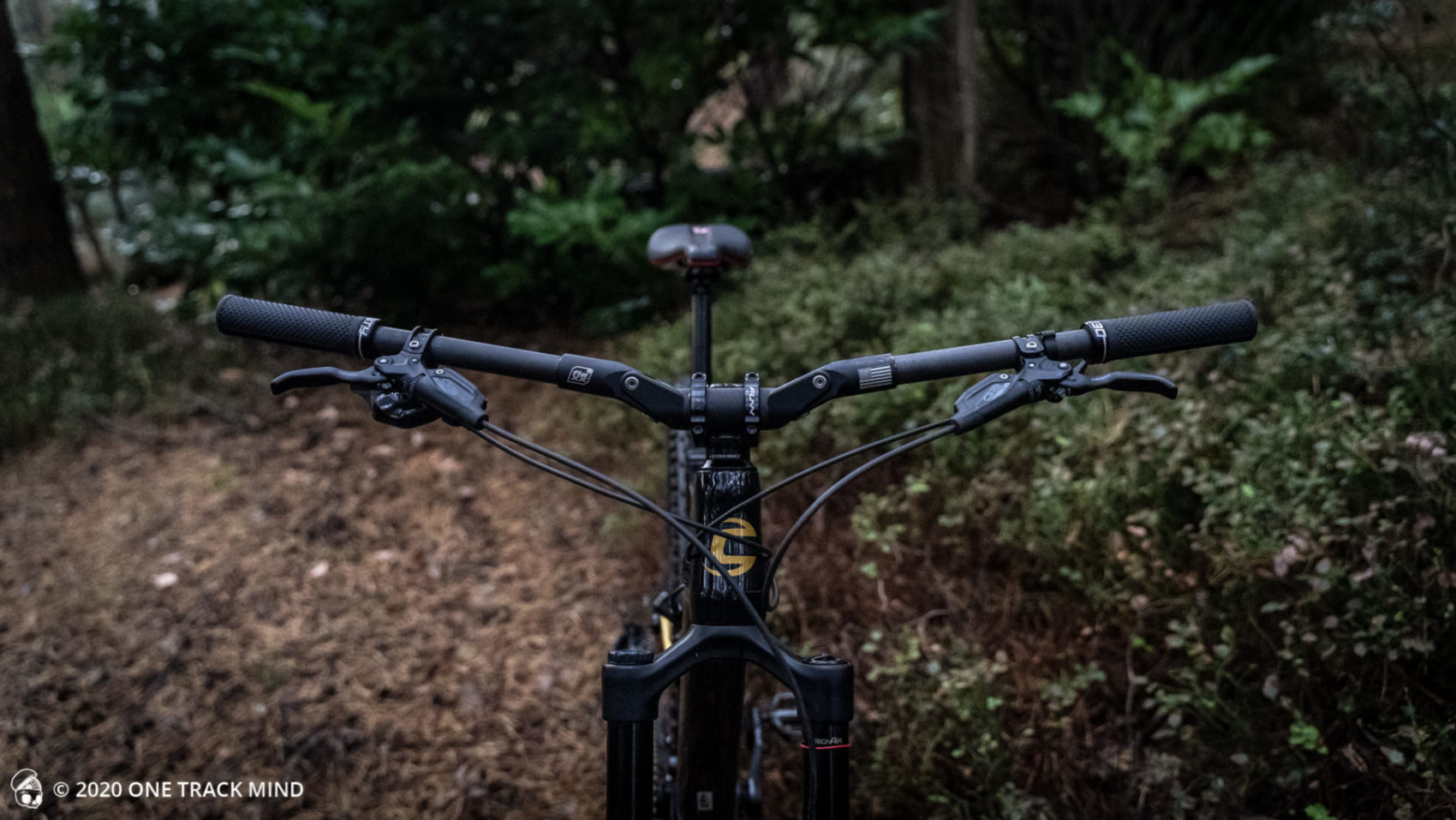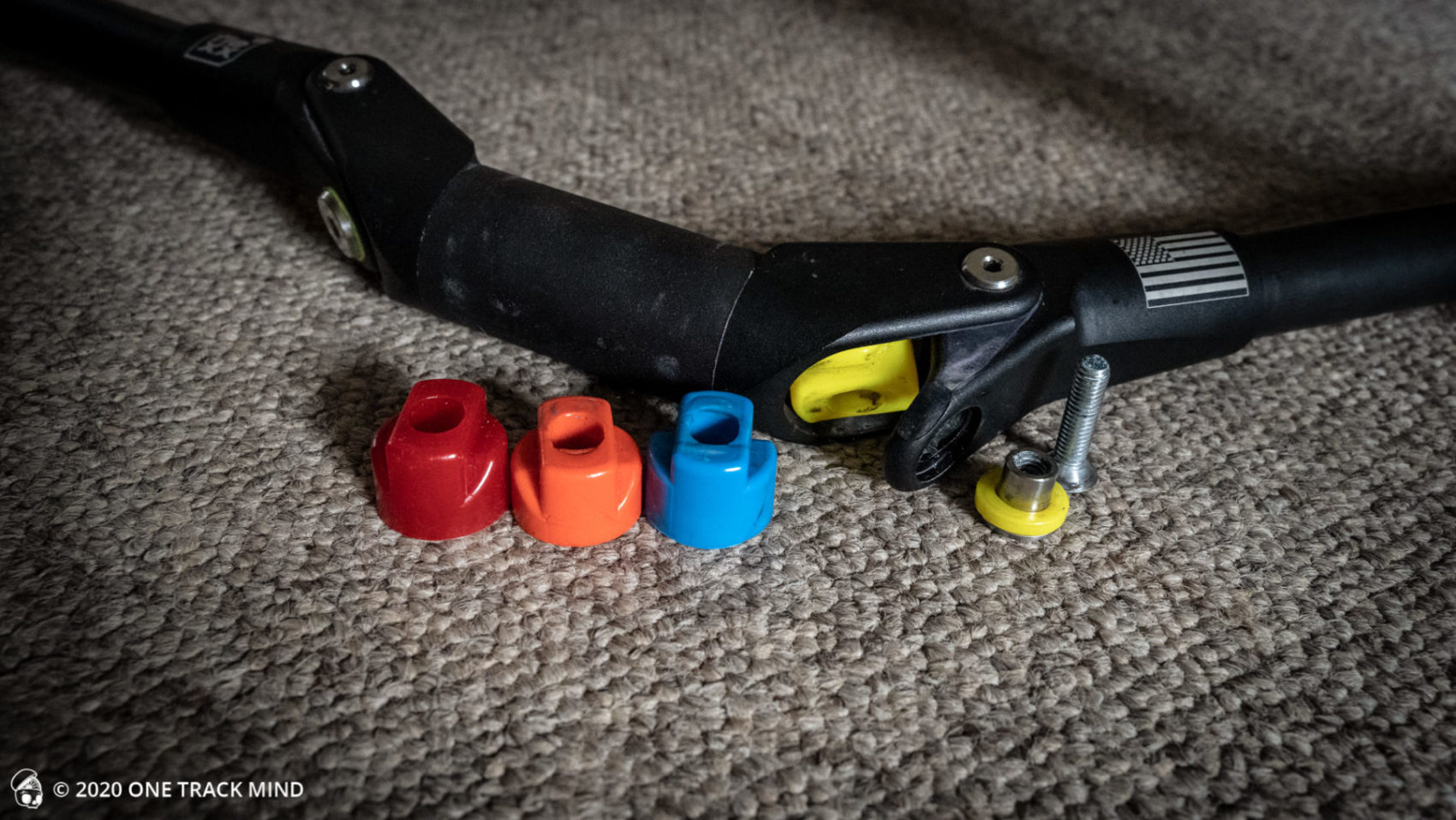 What do you think of the Fasst Flexx handlebars? Would you pay £449.99 for them? What is your best solution for arm pump? Let us know your thoughts and opinions in the comments section below.
Review Box 0
Pros
Reduces arm pump, Reduces upper body fatigue, Easy to install and maintain