RideWrap Mountain Bike Protection Kit
RideWrap recently sent us a few of their Mountain Bike Protection Kits for us to try, including both frame protection and a fork protection kit. For this RideWrap review, we are looking at their mountain bike fork protection kit for my RockShox Lyrik (150mm 2021, upgraded to an Ultimate).
RideWrap makes all their kits specific to your frame or fork model and size. "Our Tailored Protection Kit has the highest available coverage on the market thanks to our proprietary design process. Kits are tight to extremities with seams narrow and strategically located."
The RideWrap website makes it easy to find your bike or fork ensuring you always order the correct kit for your application. Don't see your frame or fork available? They also offer generic kits; Covered and Essential. They also have a request form where you can ask them to add your frame/fork.
This tailored kit made specifically for my Lyrik costs £45 here in the UK.
Kit Specs
Coverage: ~95%
Included in the box: Protection kit, install key, pre-install cleaning wipes, squeegee, install solution concentrate, Microfiber, and RideWrap sticker sheet.
Finishes Available: Clear Gloss or Matte
Made with high-quality RideWrap materials
RideWrap Tailored Fork Kit Description
RideWrap Tailored Protection™ kit has the highest available coverage on the market thanks to a proprietary design process. Kits are tight to extremities and narrow seams are strategically located.
RideWrap protection film is virtually invisible. Optically clear protection means your bike is the center of attention.
RideWrap protection film is self-healing. Minor marks and scuffs will disappear with the warmth of a sunny day.
RideWrap has a low surface energy and is hydrophobic. This means that less dirt sticks to your bike and it is easier to clean.
RideWrap protection film has a 10 year warranty against yellowing and cracking.
Installing the RideWrap Kit
Installing the RideWrap kit is pretty easy as long as you closely follow the instructions, take your time, and have good light to work in so that you can see what you are doing.
The RideWrap bicycle protection kit packaging has the instructions printed on it (smart!) and the kit contains everything you need to do a professional job.
Cleaning the frame/fork before starting is so important. You need to remove all the dirt, dust and grease for your protection kit to adhere properly. I spent a lot of time cleaning my fork using the cleaning wipe provided but I also had some isopropyl alcohol and a microfibre cloth to get any extra grease off.
Next, I went through the protection kit to work out where each piece would go comparing it to the guide provided.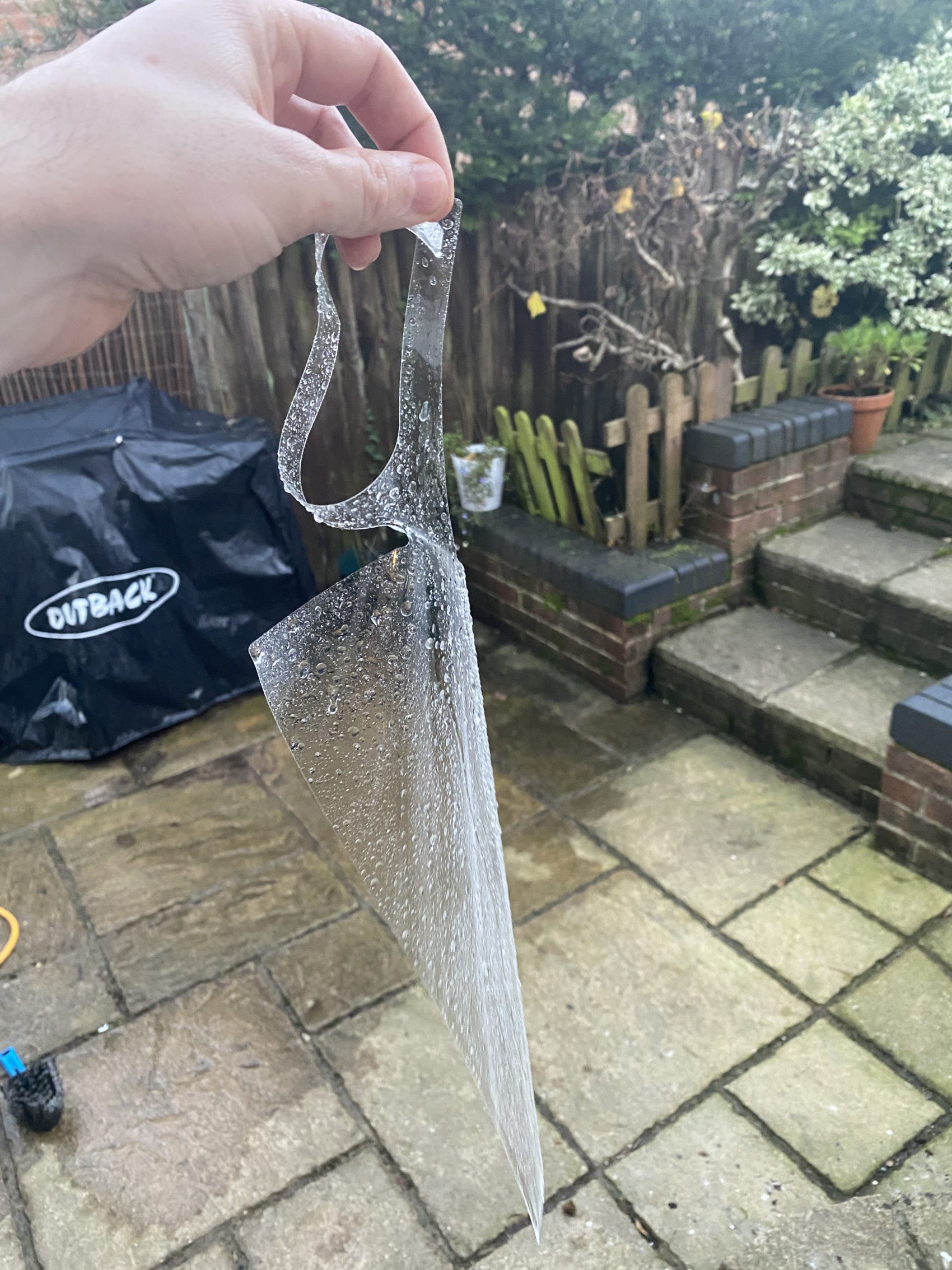 To fit the kit you need to use a spray made up of a small amount of concentrate solution (supplied) and water (water and spray bottle not supplied. I used an old JuiceLubes bike cleaner spray bottle that I thoroughly cleaned). Using the spray on each piece of protection front and back you can then easily move it into the correct place on the fork. Then using the squeegee working from the center outwards to remove all air and liquid for a professional fit. To do this correctly you need to take your time and have good light to work in. It's also a good idea to apply some of the spray solution to your fingers when removing the protection from the sheet. This minimizes the chance of getting any fingerprints on the adhesive which wouldn't look good when applied.
For any tight bits where you need to make the protection, you can carefully use a hairdryer to gently heat the protection piece making it more flexible. Do not overheat as it can warp the material and also be careful as it dries the solution faster meaning it will adhere faster.
A top tip is to use the microfibre cloth to absorb the liquid at the edges of the protection, this will make it easier to get those stubborn edges and corners to adhere.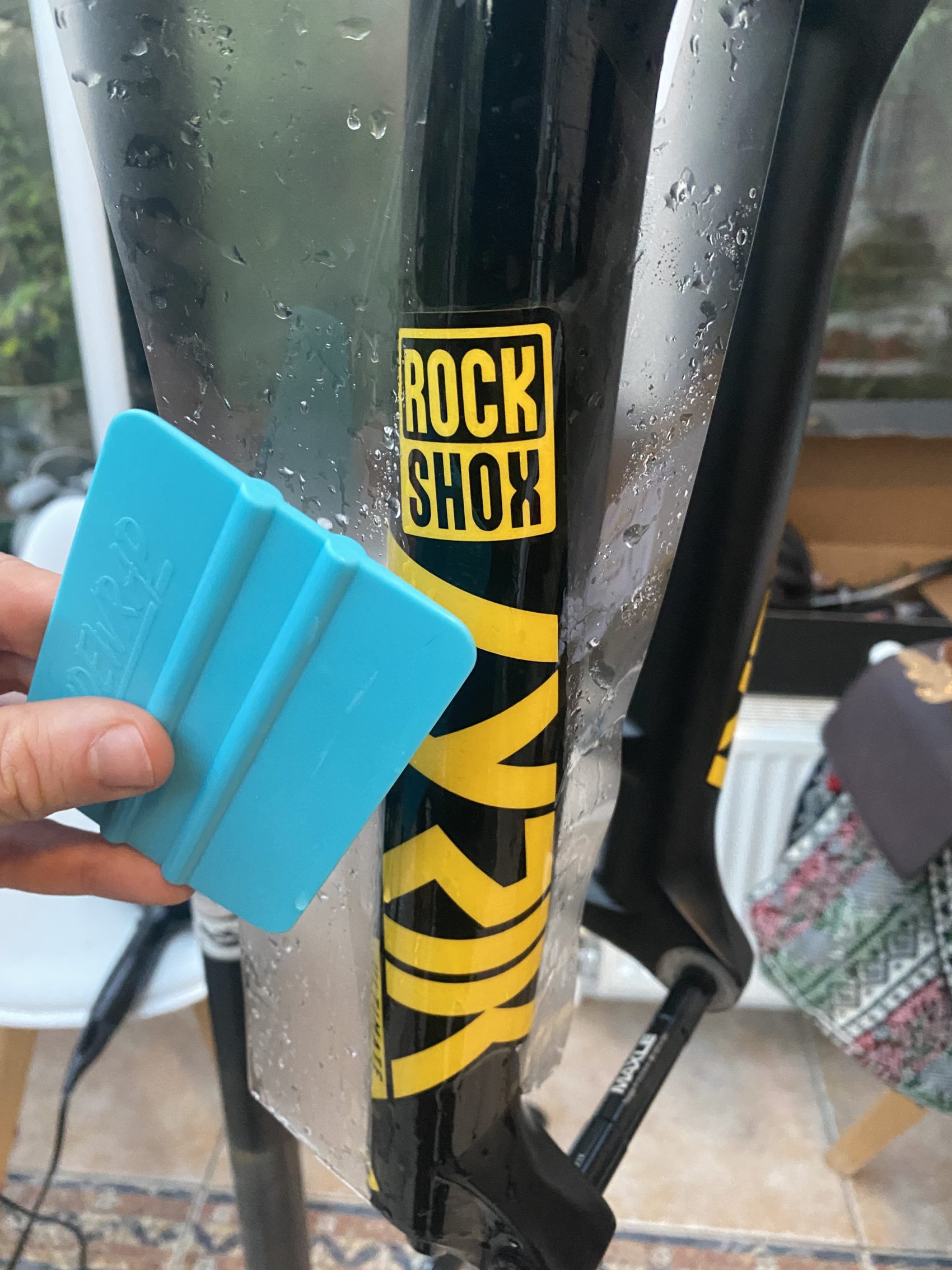 RideWrap Mountain Bike Protection Kit Review
The RideWrap kits are an excellent product with an excellent frame and fork fitment. The packaging and instructions have been carefully thought out to provide all the necessary information for you at home to apply a kit yourself.
I was really impressed with the quality of the entire kit from the protection itself, to the squeegee and even the branded microfibre cloth and solutions packets. This is a really nice product.
As long as you take your time and follow the instructions to the letter this isn't that hard to install. For some of the fork applications, I rushed because I was running out of daylight and it does have some small air bubbles that I would rather weren't there. I can not knock this product for this as this was my mistake.
This was my first attempt at applying a frame protection and to be honest, it shows. There are small air bubbles and slightly misaligned pieces that you wouldn't notice at a glance but I know are there and bother me as I'm a perfectionist. However, I have since applied frame protection to two of my bikes and another fork and they all look great! So what might be nice is if RideWrap could supply a small piece of protection as a practice. Once this first piece is done you could remove it and do the rest of the fork? Saying this you could probably just use a small piece from the sheet that is not part of the kit's pieces.
How the fork protection kit stands up to riding and abuse
I've now had the fork and frame protection on for a few weeks and they've certainly seen some abuse from general riding and crashing (more than I like to admit). The protection itself is very impressive, there are minimal marks, and any light scuffs that are there are a reminder of what would happen to my frame if the protection wasn't there.
The protection looks much better than it does in the photos and I would certainly recommend this product to you. Next time I think I would opt for the Matte look over gloss but this is a personal preference.
Pros
High quality kit a product
Great instructions
Hardwearing
Relatively easy to install
Cons

Requires time and patience to install
Hard to install around decals
>
So what do you think of the RideWrap Mountain Bike Protection Kit? Do you prefer to have frame protection on your bike? How about fork protection? Personally, I think it's a must-have product these days with the price of bicycles you want to protect them best you can for as long as possible. I also think that frame protection is a great thing to have when it comes to selling your bike on. The new buyer then has peace of mind the bike has been looked after and the frame should be like new under the kit.
I was really impressed with the RideWrap kit. The whole journey from selecting my kit, applying it, and then using it has been very positive. I now feel confident I can do my fork and frame protection at home myself.
To learn more about RideWrap you can visit their site here: https://www.ridewrap.ca/ 
Here are some other articles from us at One Track Mind Cycling Magazine and our partners that we think you will enjoy: