Nukeproof Sam Hill Horizon Saddle
Nukeproof Sam Hill Horizon Saddle press release:
Why?
7 hours is a long time to spend in the Saddle. Add to that the pressure and fatigue of racing on the worlds toughest stages.
With Sam Hill moving to enduro it created a whole raft of design challenges around his signature series. Last year we updated his Signature Grips to make them softer, in early 2020 we completely redesigned the all conquering Sam Hill flat Pedal and the final contact point was to address a signature Saddle range. Along with Sam's mechanic Jacy Schumilak we set off in the search for ultimate performance and all day comfort.
How?
It's all about the little things. Over the 2017/18 off season Sam started to look at improving the comfort and set up of his bike to enhance his performance and comfort with the long days in the saddle. An ergonomic bike fit along with testing a series of products helped him discover exactly what he wanted to go racing. Working with this infmation and our designers we set out to develop a saddle perfect for him. From the form, size and shape of the saddle and also the materials chosen for cmoft, performance and longevity.
When?:
Initial samples were late 2018 and refined through to final development samples in mid 2019.  Sam used these rapid 3D printed prototypes for the final few rounds of the EWS series taking the 2019 Enduro World Series title on the new saddle .
Initial design brief:
143mm width,
Short nose
Comfort with built in flex
Cut out to reduce pressure on contact points
No sharp curves/ edges
Enable a low stand over bike
Lightweight density foam for Support and comfort
Water/ weather repelant
Nukeproof look/ feel
Rail Modifications:
To  allow Sam to take advantage using a longer dropper posts and remove unnecessary space, the saddle was designed to have a low stack height. Approximately 8mm lower than standard rails.
Grey: Original rails (Standard position for other saddles)
Red: New Rails- 8mm lower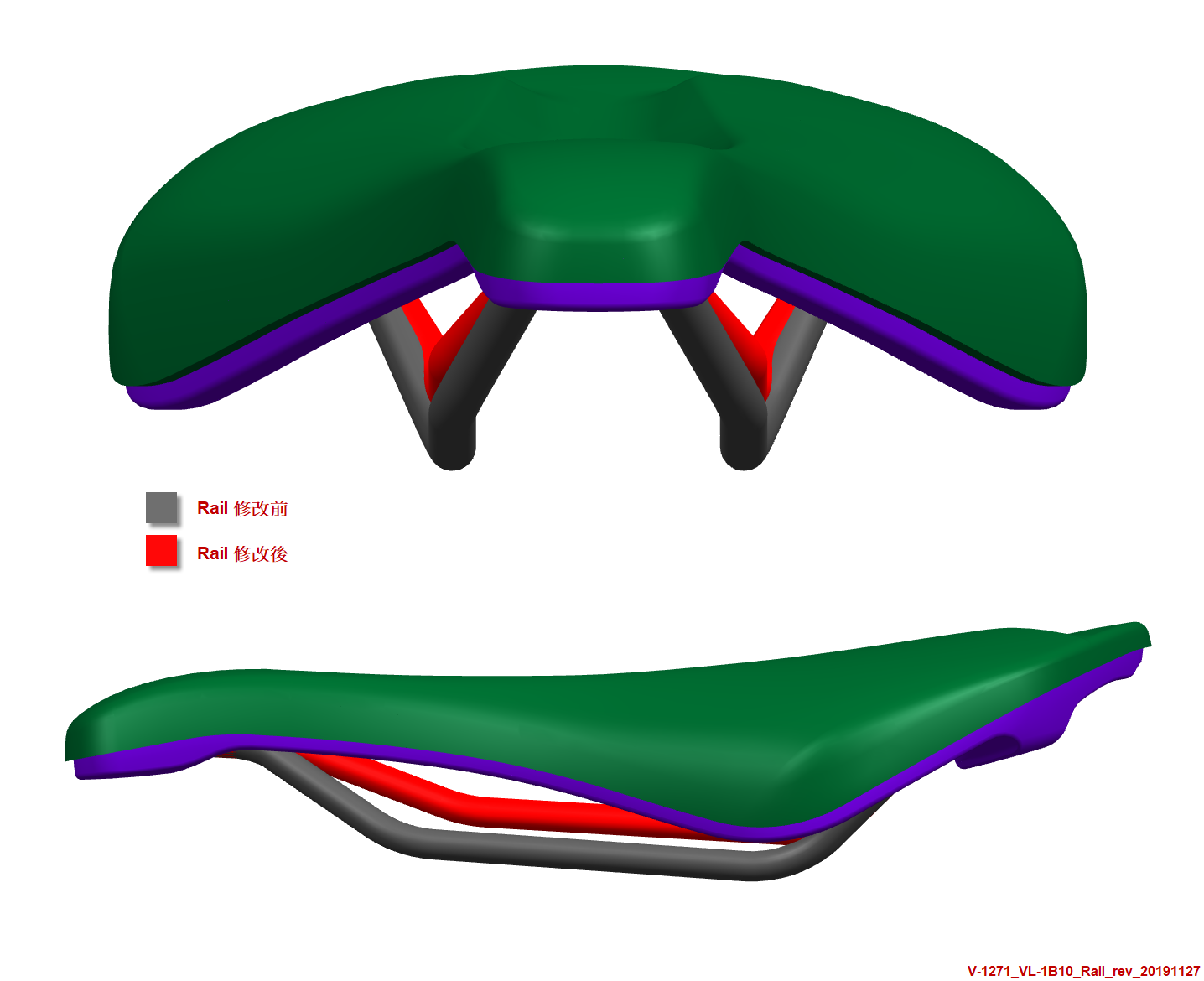 Description:
Nukeproof Horizon Enduro Saddle has been designed in conjunction with Sam Hill. The saddle is 143mm. The saddle has a centre cut out to help relieve pressure on your sensitive areas while you are sitting on the bike. Our lightweight foam provides all of the necessary support and It has been finished in a durable vacuum formed water repellent microfibre cover so that even on wet days it will be comfortable.
The saddle has a low stack height, approx. 8mm lower than standard rails which means you aren't using unnecessary space which could be better utilised with a longer dropper post. The saddle has an ergonomic shape and all edges are rounded to ensure that the saddle is as comfortable from a cycle in the park to the EWS stage.
Features:
Material: Glassfibre-reinforced Nylon (base), Microfibre (cover)
Padding: Airform light weight foam
Width: 143mm
Rails: CrMo Ti
Intended Use: Trail, All Mountain, Enduro, Downhill, Freeride
Rail Dimensions: 7mm
Weight: 261g
Colour: Black, Oil Slick
Gender: Unisex
SRP: £80 / 90euro / $85 (USA)
Horizon Enduro Saddle:
In addition to the Sam Hill Enduro Saddle, we offer the same saddle in all our Horizon range colours under the Horizon Enduro saddle name.
Available in red, blue, black, grey, copper and purple
What do you think of the new Horizon saddle from Nukeproof? let us know below