Etnies Presents Amygdala Featuring Brandon Semenuk
Brandon Semenuk's first etnies pro shoe, the Semenuk Pro, launches globally today with his latest video project AMYGDALA. Located in the brain, a human's amygdala literally represents their core fear system.  This video makes viewers wonder if Semenuk chooses to ignore his amygdala or if he simply doesn't have one.
Brandon worked closely with the etnies design team to incorporate all of the needs of his high-speed, technical downhill and trail riding into the Semenuk pro.  The shoe features a Force Shield reinforced upper, with an Ankle Shield to protect from inboard ankle impacts, while standing up to daily abuse. The outsole features a reinforced board-lasted Pedal Shank in the midsole to provide needed support and pedalling efficiency. Pins easily drop right into the outsole tread pattern maximizing grip on the pedal, the laces easily stuff into the tongue lace pocket and the tongue gussets shield moisture, dirt, and debris. 
There is a reason Brandon Semenuk's video parts have millions of views, and many consider him one of the best freeride mountain bikers of all-time. He's the only athlete to win Red Bull Rampage three times, is a three-time FMB World Tour gold medalist and five-time Crankworx gold medalist.  Brandon Semenuk's high-speed, smooth technical riding style on critical terrain transcends far beyond the mountain bike community.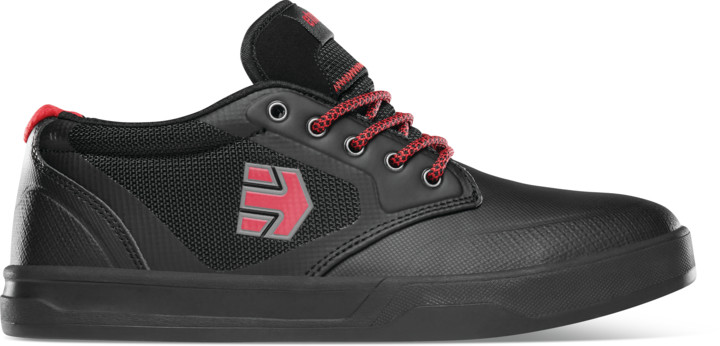 About etnies:
Built by skateboarding since 1986, etnies is the first skateboarder-owned and operated global action sports footwear and apparel company. etnies not only pushed the envelope by creating the first pro-model skate shoe, but it pioneered technological advances and changed the face of skateboard footwear forever. Today etnies' vision, led by owner and skateboarder Pierre Andre Senizergues, is to remain the leading skateboard footwear company committed to creating innovative products that provide the most style, comfort and protection possible. etnies stays true to its roots by sponsoring a world-class team of skateboarding, snowboarding, BMX and MTB riders, and continues its dedication by giving back to each of these communities. For additional information, visit etnies.com.
To keep up with etnies, be sure to follow and like:
What do you think about the video: Etnies Presents Amygdala Featuring Brandon Semenuk? Let us know in the comments section below.
Here are some other articles we have published with Etnies: