Shotgun Child Bike Seat + Handlebars Combo Review
In this review, we are going to take a closer look at the Children's Bike Seat and Handlebars combo from Shotgun. However, this review will be a little different to my other reviews as I am not a parent and it wouldn't make sense for me to do the review myself. So I reached out to my buddy James Ovnik (Who also happens to be the person that got me interested in MTB in the first place) to test out the Shotgun Child Bikeseat and Handlebars combo with his 2-year-old son Charlie.
I wrote an introductory article about the product previously that you can read here. Essentially the Shotgun Child Bike Seat and Handlebars mount directly to the adult's bike allowing the child to "ride shotgun" with mum, dad or other responsible adults. The products have been designed to be easily adjusted and fit the majority of bike frames and handlebars with ease. The seat has a quick release system so that it can easily be fitted and removed. It's also easy to adjust the position of the products so that they fit your son and daughter for the best results.
So let's get into the review and speak directly with James about his experience of using the Shotgun Child Bike Seat and Handlebars.
"It's unleashed the inner dare devil in him, anything slower than a sprint and I get "Faster faster Daddy".

James Ovnik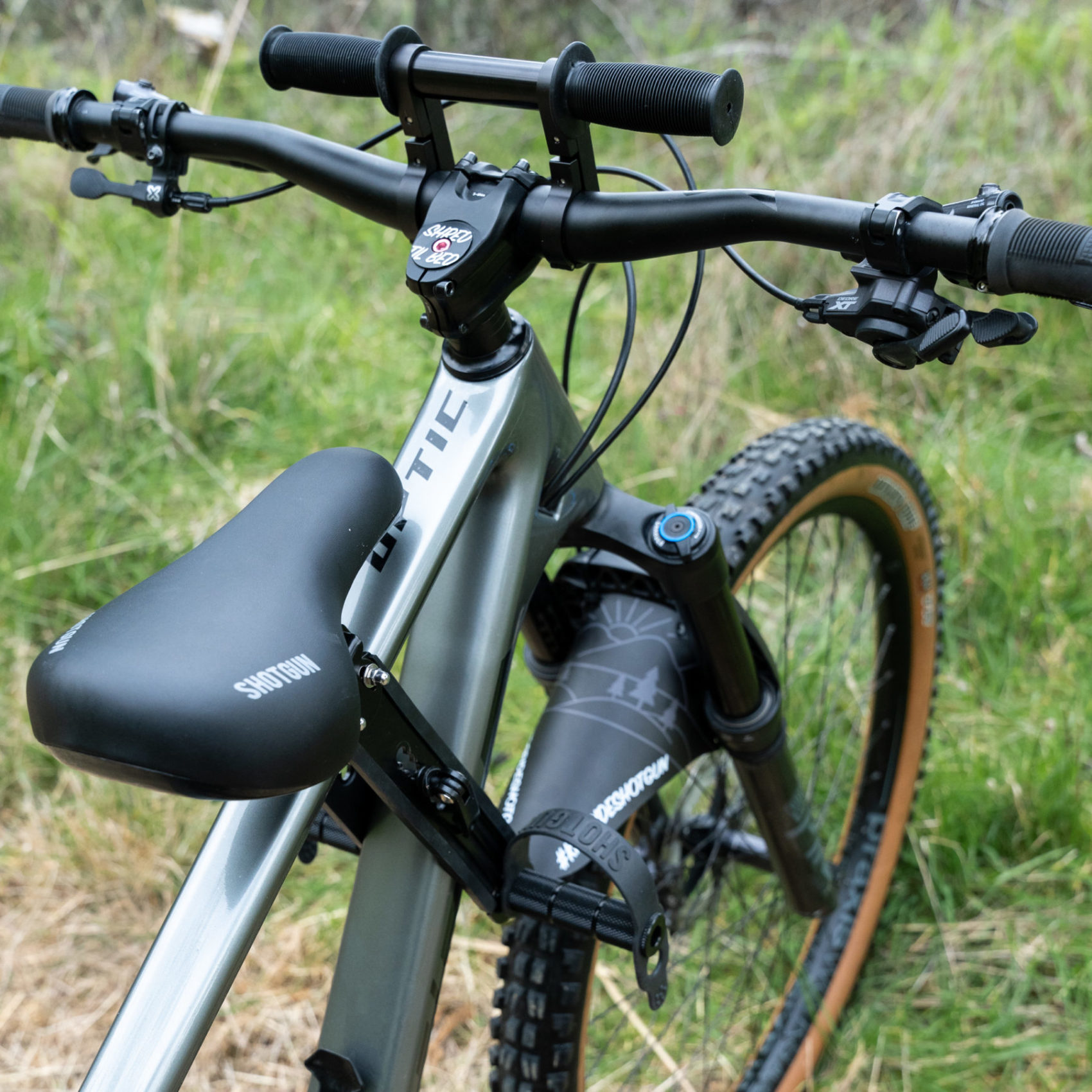 Hey James, Thanks for taking the time to test out the Saddle and Handlebars from Kids Ride Shotgun. Looks like you and Charlie have both been able to enjoy riding together. I wanted to ask you a few questions about the product to get your thoughts and opinions on them.

When I handed you the products what were your first impressions? What did you think of the packaging?
I thought the packaging was fantastic, it really looks and feels like a quality product. All the components are laid out sensibly and safely. Either in their own secure compartments or within a material sleeve. 
I see you fitted the bars and saddle to your Ebike *(See Note at bottom of the article). Was this easy to do? Roughly how long did it take and were there instructions to help guide you?
It was extremely easy to install and the instructions were very clear and concise. The simple design of the seating components makes it pretty clear just from looking at it but it was nice to have a decent set of instructions just to be sure all was correct. I would say installation took roughly 10 – 15 minutes. One caveat worth pointing out would be that the e-bike I fitted the product to has a fairly modest downtube for an e-bike so installation wasn't an issue, I know some e-bike have very large downtubes & this could mean the lower footpegs wouldn't have enough adjustment to be secured correctly. 
Did you try fitting it to any other bikes? If so, were there any issues? Can you foresee there being any issues with different types of bikes and frame shapes? 
I did also fit the product to my regular bike (YT Jeffsy) and it was slightly faster to install as there were slightly fewer adjustments to make to the "out of the box" configuration. I'd say it's likely to fit on the majority of bikes out there unless it's something particularly unique.
When we first spoke you had some reservations about Charlie being able to hold on safely. Now that you've tested the product have these thoughts changed? 
I'd use the word "Intuitive" to describe how he adjusted to it, it took him about 2 minutes to get comfortable once he realised he was in a safe and stable position on the bike. With him being positioned right between my arms I think both he and I felt in control at all times and he didn't have to worry about finding any balance which was my initial concern.
Did Charlie enjoy using the product? Do you think he would want to keep using it in the future? 
Absolutely, he loves it now! Although it's unleashed the inner dare devil in him, anything slower than a sprint and I get "Faster faster Daddy". 
How quickly was Charlie able to adapt to the products? Was there a learning curve?
Almost no learning curve, 1 to 2 minutes at most.
What was your personal experience of riding with the Kids Ride Shotgun Saddle and Handlebars? Did it make riding your bike difficult or were there any unexpected changes in the way the bike feels? 
It's great, the best part was knowing he could see and experience all the things I could rather than being sat behind me like on some other more traditional child seats. The only adjustment to be wary of was slowing down sooner and more smoothly. Obviously, there's more weight to control once they're sat with you so riding slightly more conservatively is definitely the key.
How confident were you that Charlie was secure on the bike? 
Very confident, again because he was between my arms if he did try to move around too much I could quickly get a hand to him.
Are there any aspects of the product that could be improved? 
It'd be good to have a second longer quick release in the box, due to the larger downtube on the ebike the one included didn't quite fit. This wasn't an issue for me as I'm unlikely to want to swap the seat around on a regular basis. 
Out of 5 what would you rate this product and why? 
5, ease of installation and overall quality of the product.
What are your favourite things about the Kids Ride Shotgun Handlebars and Saddle? 
My favourite thing would simply be the amount of enjoyment Charlie got from it, summer can't come soon enough, he'll absolutely love after work adventures in the woods!
What if any improvements would you like to see from these products?
Improved support for ebikes. *(See Note at bottom of the article)
Would you recommend these products to others? 
Absolutely.
Thanks to yourself and Charlie for testing the Kids Ride Shotgun Handlebars and Saddle. You can follow James on Instagram and I look forward to sending more items his way for review in the future. 
So it sounds like the Shotgun Child Seat and Handlebars were a big hit with James and Charlie. I think we can safely say there will be many hours of fun riding bikes in the future for Charlie and it's nice to know that James and Charlie can bond over the sport we all love so much.
If you would like to get your hands on any of the Shotgun products then you can visit their website to order direct.
*NOTE:
"Whilst the Shotgun seat can fit on some ebikes, Shotgun doesn't recommend it, however, they are releasing an ebike specific model early 2021. Watch this space!"
Pros
Ease of Installation. Great Quality. Amount of joy it brings to children
Cons
Compatibility with E-Bikes but this will be fixed with an ebike specific product coming soon!
Summary
The Shotgun Child Seat and Saddle add a whole new dimension to cycling by enabling you to ride with your child (ages 2-5) sharing the joy and experience whilst remaining safe.