Funn Mamba S Pedal Review
In this Funn Mamba S Pedal Review, we take a close look at the clipless SPD pedals and see how they perform out on the trails. These large platform SPD pedals from Funn are a combination of flats and clips. Designed specifically for enduro where the larger platform size gives you all the benefits of a flat pedal in case you need to unclip but still has the SPD clip to lock in and enable you to really get the power down.
The Funn Mamba pedals come in two options. The single-sided and the double-sided. The single-sided as the name suggests only has the SPD on one side of the Funn pedal. This is great for those riders either getting used to clipless pedals as the other side is a normal flat pedal or like the benefits of having both an SPD and a flat pedal all in one.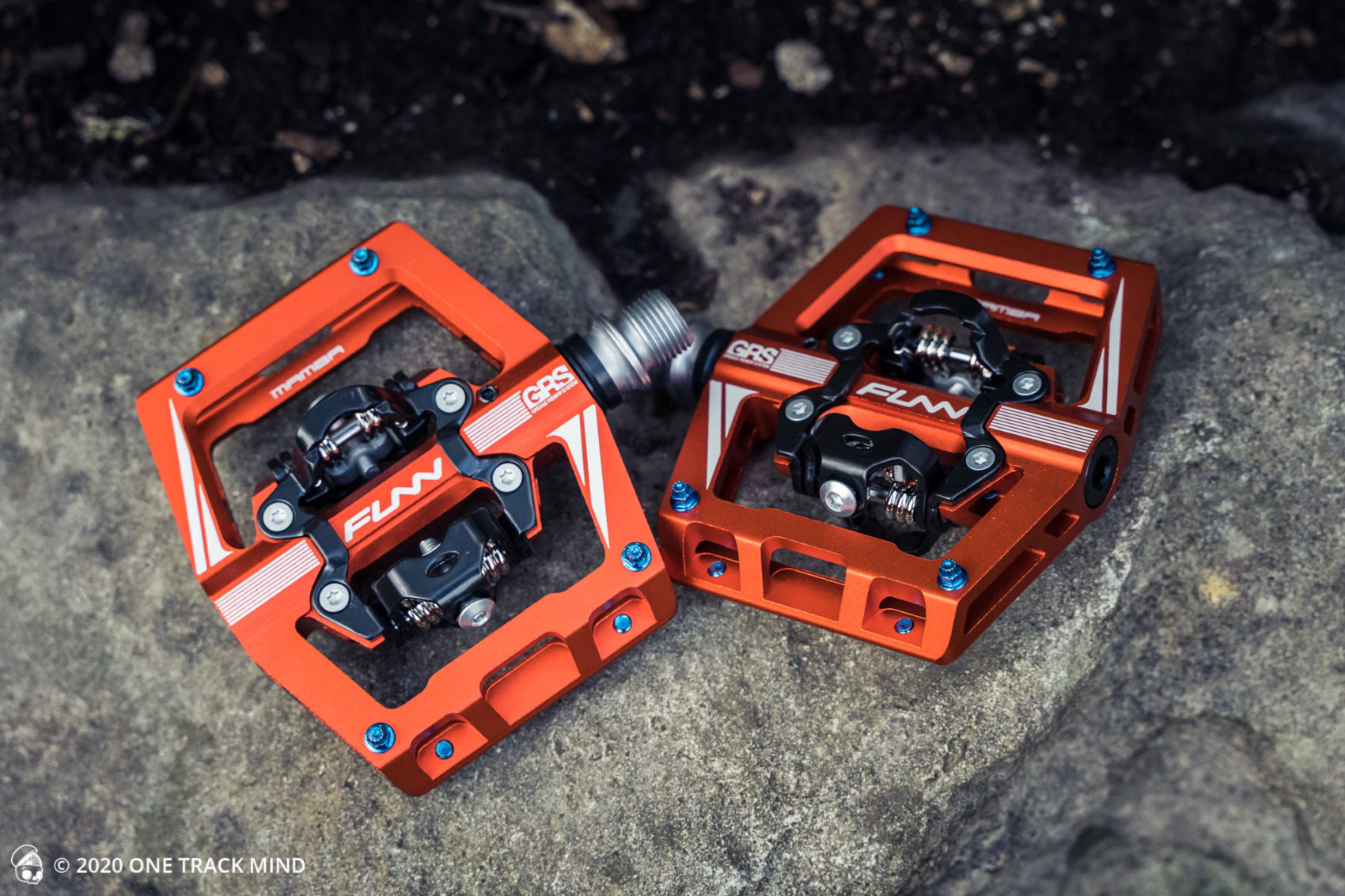 Funn Mamba S Features
Made from tough but lightweight AL6061
Available in double or single-sided options
4 replaceable pins per side on clip platforms
11 replaceable pins per side on flat platforms
Compatible with SPD cleats
GRS system for easy maintenance
CrMo axle w/ DU and cartridge bearing
Supplied with spare pins and tool
Platform size W83mm x L98mm x H13.4mm
Spare parts available
Clip Double side 465g / pair
Clip Single side 405g / pair
Red / Orange / Blue / Green / Black / Grey
Mamba S Pedal Review
I've been riding the Funn Mamba mountain bike clipless pedals for a few weeks now. As a rider that now opts to ride flats over clips, I found these were pretty easy to get used to as I tend to use a large platform pedal anyway.
Initially, I had the clips set pretty tight and clipping and unclipping was quite tricky but once in you are locked in. I decided to play around with the tightness adjuster and loosened them off a bit, particularly as our local trails are steep and chalky so being able to unclip easily is a must.
I found that it was easier to unclip from the right pedal than the left. To solve these issues I made the left side slightly looser but you could also remove some of the pedal pins allowing your foot to twist easier.
As it's only been a few weeks it's not been long enough to test the durability of the Mamba S Pedals. However, they share the same materials and technology as some of the other Funn pedals such as the Funndamental pedals which we tested last year and are still going strong. You can read that review here: The Funndamental Pedal from Funn Review.
When doing a direct comparison to another clipless pedal, in this case, the Crankbrothers Mallet. You really do notice the size difference between the two. So if you are used to a smaller clipless pedal then you are likely to have a few teething issues such as pedal strikes. But once you are used to the size it won't be an issue anymore and you will reap the benefits of being able to find your pedal easily when it really counts such as during a race run where the trails are really janky.
Pros
Large Platform Ability to grease through the GRS System Low Profile
Cons
The large profile may take getting used to. Some pedal strikes
What do you think of the Funn Mamba S SPD pedals? Will you be trying a pair? Let us know what your favourite pedals are in the comments section below.
You can check out Funn here: https://www.funnmtb.com/
Here are some other articles we think you will enjoy: