Behind The Lens with Brett "Tree" Shelfer
In this new series, we will be interviewing the people behind the lenses at your favourite races and trail centres. We will be getting there point of view on the sport that is Mountain Biking and learn what it takes to do great mountain bike photography.
First up is Brett Shelfer is also known as Tree to many, he lives in the south of the England and can be seen up and down at races In the UK, Bike parks and at World Cup Downhill events.
Let's get behind the lens and hear Bretts Story.
Hey Brett thanks for taking the time to do this interview. For the readers who don't know you would you like to introduce yourself?  
Hey Guys, not a problem at all, thanks for reaching out to me, honoured to kick this series off for sure!.
My name is Brett Shelfer 39 years young, living on the south coast of the UK, I love riding my trail bike at local bike parks and trails around home. I love the ocean and from time to time like to get the stand up jet ski out in the surf, with a spot of bodyboarding when the mother nature plays ball.
How long have you been doing action sports photography for? 
I started back in 2016 swapped some FOX CTD forks for a camera and two lenses and then just shooting for a bit of fun, I felt real strongly towards photography and loved it. I wanted to shoot local stuff first, then after upgrading and knowing a bit more about cameras and kit I thought this is awesome and I wanted to show the creative side of how I see the sport I love. Out of the blue, I was asked to shoot a friends wedding on my own! I learnt very fast about settings/light/ not using flash and so on!! That wedding was a very good and scary lesson haha. Fast forwards a year or so….my mate Thomas was riding for a DH team and was racing a national at Fort William Scotland took some pics for him as I was well into it by then. After the team manager saw my pics I was asked to shoot for their news page and then I went back to shoot my first UCI Mountain Bike World Cup…. I was more nervous shooting that than the wedding haha.
What has been the best shoot you have been on so far?
The best shoot I've been on so far with a rider has to be with Mr Deaks for the 25th-anniversary DMR advert, such a laugh, we work well together and it's just a chilled vibe the whole time. I have huge respects for him as a human also as he's a former Royal Marines Commando, I've always had respects for military personnel, plus he's not to bad on a bike haha.
The photos you take at the downhill world cups are awesome! what's it like to shoot at one of these events?
Thank you!! By all means I'm no full time pro, but what I've experienced, It's tough, early starts and late finishes, weather, terrain, dehydration eating cereal bars and drinking (trying to drink water) and RedBull….. oh and coffee haha. It's exhilarating, rewarding, trying to make a shot work in your head on a track you've never been to is the best challenge ever and shooting the best riders on the planet is mind blowing with the speeds and skill the men and women have is another level!!, track walk isn't just for the riders ;-). Finals day is mental the crowds are insane which also makes it very special to capture the moment of the best race runs in this sport and some of them going down in the UCI history books. Very humbling to see and witness for sure.
Will you be attending any of the races this year if they go ahead?
Tough one as most of them have been cancelled as the year moves on, I would love to attend them, I think it's hard to say at this stage maybe next year?!. We will have to see.
Any big projects in the pipeline? 
There are a few things in the pipeline for sure, my self and Josh Lowe (Kona Bikes) are hooking up for some alpine projects to name one and the rest will filter out at some point…..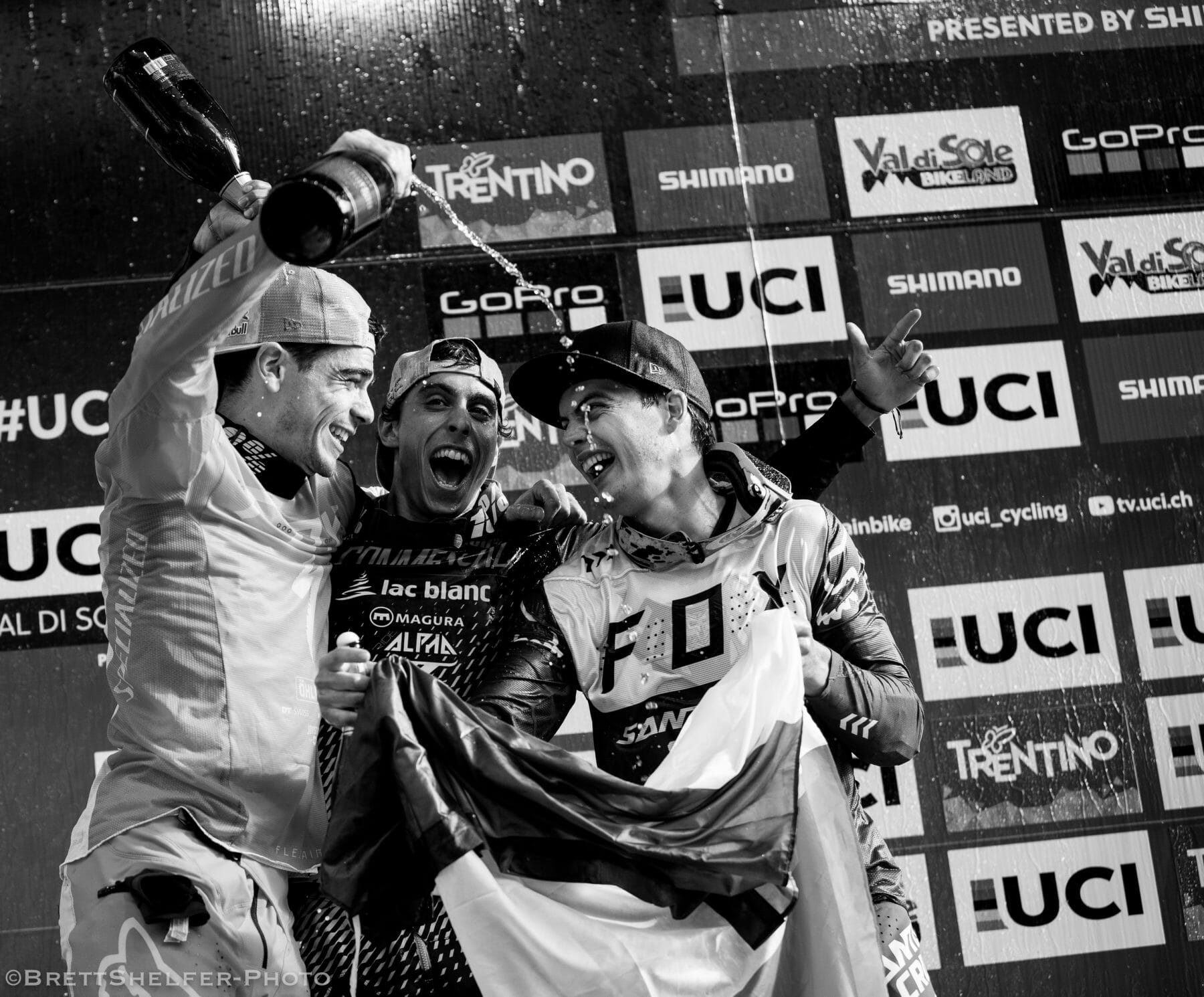 What camera kit do you carry with you? 
First pic: Sony Alpha cameras and glass.
Bag: Fstop Gear LOTUS 30ltr-Medium shallow ICU, This is my smaller setup keeping it a bit lighter with minimum loads.
Second pic:
Bag: Fstop Gear TILOPA 50ltr-Large ICU. This is the bag when I want to carry the long reach 200-600 lens and waterproof jacket, trousers, water, food and all my gear.
Have you got any tips for anyone looking to take up action sports photography?
Yeah sure, It's not all about the latest and greatest camera (I've chopped and changed a fair amount and now found the ones for me) the best camera is the one in your hands, it's about fun getting out shooting, practising and finding something that suits your needs and find your niche, document your friends and local races, work up to your goal.
Once again thanks Brett for taking the time to do this interview.
Anytime guys, thank you for asking me, good luck with the Mag you're onto something really great!
You can find Brett on Instagram here 
All images in this article are owned by Brett
What did you think? would you like more in this series? let us know in the comments