Vali Höll – One lesson at a time
October 29, 2020 – Forchheim, Germany: For Valentina Höll, 2020 was the year that would see her progress to the next stages in life: Finishing school, leaving the junior competition behind her, transitioning to the Elite level, and experiencing a UCI World Championship in front of a finish coral packed with a home crowd… The young Austrian finally entered the big stage of downhill racing in Leogang. The anticipation of competing against the best in the world and the hope for securing a podium spot were great. Sadly, it didn't all go according to plan… In 'One lesson at a time' Vali winds the clock back taking us behind the scenes of her first Elite World Championships.
Vali, the first question has to be: How are you doing after the operation?
The operation went well, but unfortunately more was broken than expected. For me, it is time to chill and wear a cast for about 6 weeks. In 10 days we will decide whether I can slowly start with the physio in the Athlete Performance Center. Fortunately, Red Bull has been in touch with doctors from the very beginning.
The feature you injured yourself on was new this year. Can you tell us what happened?
I had been hitting that jump all week. It wasn't really a big deal. On Sunday it had rained a lot and the track was a bit slower leading in than usual and I cased. The fall itself wasn't really crazy. I had experienced bigger ones this summer (laughs). I left the track to move out of the way of following riders and when I looked down at my ankle it was already very swollen, but luckily, I wasn't in too much pain.
Naturally, a lot of fans would like to know, when you'll be able to get back on the bike?
I'll be back on the bike in January hopefully. That works out fine because I normally take a break from biking this time of the year anyway.
We certainly wish you all the best for a speedy recovery!
Let's wind the clock back a little bit. 'One lesson at a time' takes us behind the scenes leading to the World Champs and the preparation beforehand. We see you talking with both your family and Mat Gallean. How important has their support been for you to get to where you are now?
There is no question about it: family is everything. If it weren't for them, I would not be on the bike. I am extremely lucky to have a family that has always supported me but never pressured me.
Starting out as a young rider, what was your favourite racing memory before entering the World Cup circuit as a Junior?
I always felt that the coolest races were at Crankworx. I competed the first time at Kidsworx in Whistler back in 2014.
Since then a lot of passion and hard work has gone into becoming the rider you are today. When you take a look at the journey you took from being one of the biggest talents the sport has seen to developing into a serious contender on an elite level, which memories do you have of key milestones or moment that paved the way?
I think back to the weeks when I went to school in the mornings and the gym in the afternoons. I left the house when it was dark and came back when it got dark. When I look back, it seems pretty crazy. Normally you would go to the movies or parties with your friends, but training was just as important to me as I knew that training in the gym would help me, even if I couldn't bike all winter like many others.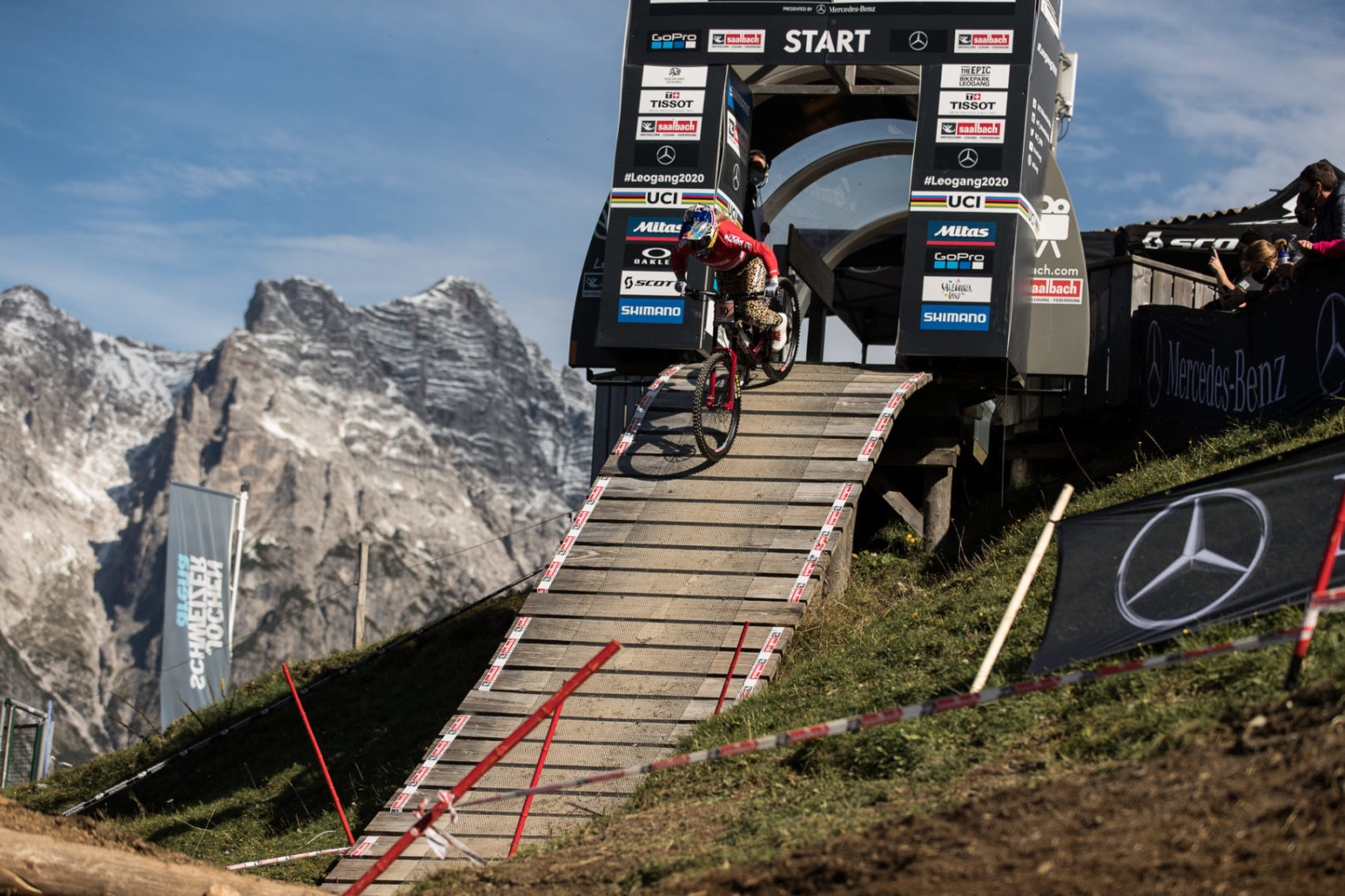 What were your own expectations leading into the weekend and what is your conclusion to the weekend?
Except for the crash, I am pretty happy with how everything went. I got along well with the conditions and felt strong. I think they also noticed that it was going well. I didn't compete that weekend to win my first elite race, but rather to give my best. That is what I did and am ok with that.
Now, you are faced with coming back from injury for the first time in your young career. Did you reach out to any fellow riders who have been faced with similar challenges in their career or did anyone reach out to you to offer any support?
Rachel Atherton gave me some tips, as did Tracy Moseley. A lot of people have written to me and I am completely overwhelmed by it. I can't even manage to write back to everyone.
You are certainly an inspiration to many young riders out there. What advice would you give other Young Talents that are starting to get into racing?
Enjoy it, have fun, and set realistic goals. I've never said that I want to be World Champion, just that I want to do my best. Sometimes doing your best is enough to win meaningful races.
All the best Vali!
What do you think of this interview with Valentina Höll? How do you think she will perform now that she has transitioned into the elites category?
Do you want to read more articles from YT Industries and their team?
Let us know your thoughts and opinions in the comments section below.