It looks like Shimano has filed for new patents in the United States for a new electronic dropper post that will further expand their Di2 product range.
You can read more about the patent here.
Looking at the diagram above it looks like Shimano will be sticking with their not so home install friendly wiring solution. As all the cables need to be internally routed and ideally by a Di2 approved bike shop this could put some mountain bikers off.
I've never personally installed a Di2 solution but know from speaking to bike mechanics that have it is quite a labour intensive task. On the plus side this is meant to be done as a long-term/permanent solution so once installed it's good to go.
The other positives to the Di2 product line is that as it's all internal it is very clean and tidy. No cables flapping around and you can even hide some of the cockpit cables inside the handlebars making for a much cleaner cockpit.
Looking at the technical drawings it seems like Shimano may be bringing the first dropper post to be driven by a motor to the Mountain Bike market. This is interested as it means that it could be programmed to be smart and automatically drop the post based on other Di2 sensors such as feedback from the drivetrain, suspension and even battery level. It would be amazing if they could figure a way to automatically drop the post when they sense the rider leaving the saddle however, this could lead to some unexpected mishaps. I imagine Shimano will keep it simple to avoid this from happening.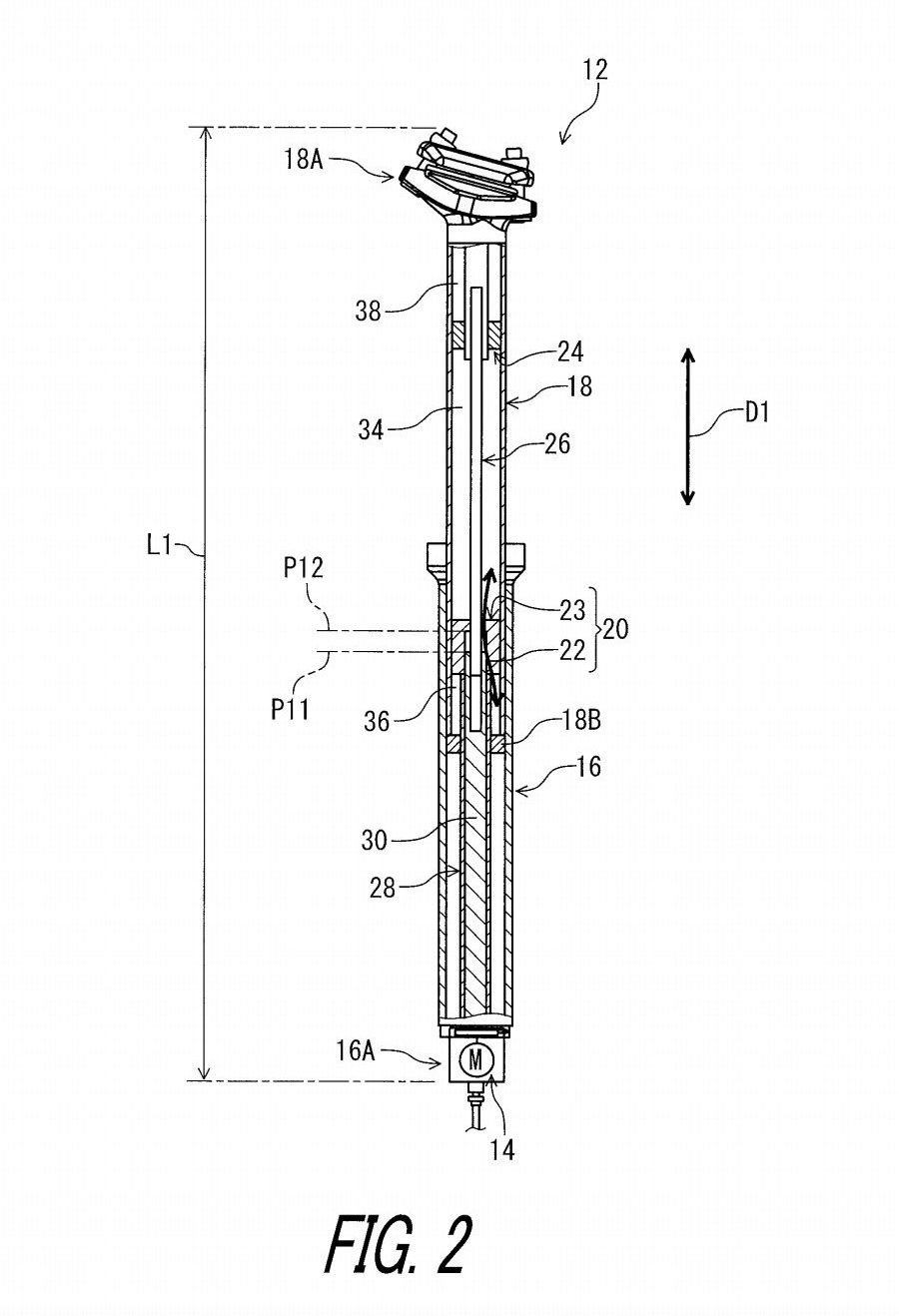 The patent suggests that when battery level is low the dropper will automatically set itself to a predefined position to prevent the rider being stuck with the seat either full up when trying to descend or fully down when they need to climb.
The patent mentions that the post will have a "memory". This don't go into too much detail on this but I can only has at a guess that this means it will have a memory of height positions that you can set the post to at the click of a button. This means that unlike traditional posts where we tend to have it either fully up or down you can make more use of the height level of the post and retrain your riding style to take more advantage of the seatpost.
For example I would want my saddle fully up for climbing and fully down for descending but what about those times when the trail is constantly and frequently changing from downs to technical climbs, punchy sprints etc. We see a lot of this in enduro racing and I can see an advantage of having the seatpost height ranges extended further to accommodate this.
Another example which is probably less required is that for those who share a single bike and have different length legs could predefine their dropper post heights so they don't have to reset the dropper post position inside the frame.
Shimano are know in the industry for being slow to release products to the market, think about the recent 12speed drive train which came out over year later than SRAM. So it is unlikely we will see this in 2020 especially with the global lockdown right now I predict a late 2021-2022 release for this product.
What do you think about a motor driven dropper post? Let us know in the comments below.