Top 5 Full Suspension Mountain bikes for £2000
In this article, we take a look at our pick of the top 5 full suspension mountain bikes for £2000 or under.
Here at One Track Mind Magazine, we are really impressed with how the Mountain Bike market has shaped up with some great value bikes now available at a reasonable price range.
Whether your new to the sport or you're wanting to upgrade your old mountain bike we have put together a list of our top 5 full-suspension mountain bikes for £2000 or under that we think is great value for money. Now for £2000, you will get a higher spec hardtail but if you're after more comfort and a bike that's a lot more forgiving when the going gets rough then you still can get a cracking Full suspension mountain bike for 2k and under.
The frames and geometry are the same as the higher priced bikes from the same brand albeit they can be more exotic with being constructed of carbon fibre. These bikes are a great platform to get you going out on the trail and even to upgrade when funds allow.
With more and more brands choosing to go direct they are able to offer better spec for the money by taking out the middle man, although purchasing a bike from a brick and mortar shop can be a lot less stressful as you can see the bikes in person and know that the size you are buying is correct for you. With a bike shop if anything were to go wrong you can simply take the bike to them and they can sort you out with warranty, whereas with going direct you have to do all the leg work which can be frustrating.
We will be listing the following bikes in this article:
Commencal Meta TR 2021 Origin £1980
First up is the Commencal Meta TR 2021 Origin. Commencal is known for building fast bikes and this one is no different. The meta has guided Cecile Ravanel to multiple EWS victories and this is the trail version of that bike. Commencal is a direct sales brand and this allows the bike to be well kitted out for less money. Commencal only deals in aluminium as they believe it is far more sustainable in the long run than carbon. This means you can benefit from this bike having the same geometry and frame construction has the high-end model, this makes this bike future proof and one to upgrade as you progress.
This bike is full of great components such as Rockshox handling the suspension, Shimano is taking care of the gears and brakes and the grip is taken care of Vee Tire. The only downside to this build is that it comes without a dropper post, something we would like to have seen but is an easy enough upgrade and we recommend to do first.
Vitus Sommet VR 29 £2099
Vitus Bikes are another brand absolutely killing it on the market at the moment for supplying great quality bikes for less. What's even better is that you can purchase Vitus Bikes through Chain Reaction Cycles. If you keep an eye on CRC you can find these bikes at an even better price in the sales.
The Vitus Sommet VR 29 comes Specced with a Manitou Mezzer front fork and a Fox DPS rear shock which are both great products. Gears are covered by SRAM with the SX eagles range, brakes are also covered by SRAM with the reliable Guide RE's. Tyres are the Maxxis Assegai which supplies unreal amounts of grip in the dry and wet.
YT Industries Jeffsy Base £1999
YT Industries is another direct brand which means they offer great spec for the money. The Jeffsy is cracking trail bike that can really do it all. YT is known for making great-looking bikes and the Jeffsy is no exception to that, it looks fast and agile. The Jeffsy is great for those riders looking to make the most out of pointing the bike downhill through natural trails but also be able to comfortably climb back to the top.
Spec-wise the Jeffsy is brimming with fantastic parts from Rockshox, Maxxis, SRAM and Raceface so is well capable of anything you can throw at it.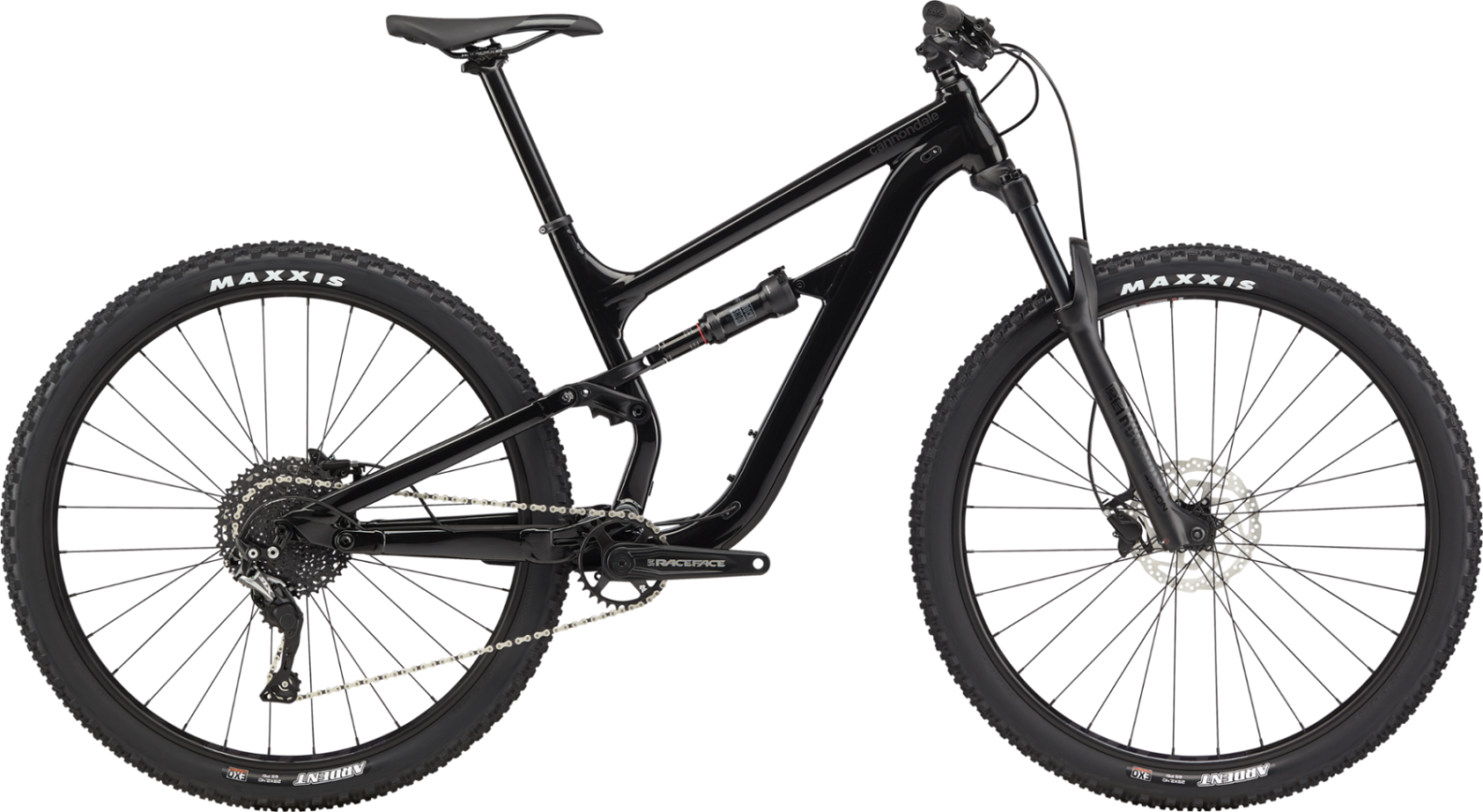 Cannondale Habit 6 £1800
The Cannondale Habit is a super fun bike, Josh Bryceland is proving that in his recent videos. The playful nature of this bike is not something that everyone likes but it has its place. Cannondale has been on the scene for years so they know how to make a good bike, they also provide a fantastic service should anything go wrong. The habit is a do it all, have a good time bike and should definitely be considered as your next bike if you're all about the natural trails with tight corners and jumps.
The Habit 6 comes fully loaded with RockShox suspension front and rear, Raceface cranks, Shimano Drivetrain and Maxxis tyres. This is another bike that doesn't come with a dropper until you buy the next model up, we feel that dropper posts should be a staple on any bike these days given how inexpensive they are now.
Orbea Occam H30 £1999
Orbea is known for making fantastic reliable bikes that stand out from the rest because they do frame designs differently. The Occam is no different, it's a great jack of all trades bike that can take a ton of abuse. It climbs really well and descends amazingly well. You can see a more in-depth review of the Occam here.
The Occam is specced with some of Orbea's own-brand products from handlebar and stem to dropper and even cranks which means they can spec some more exotic parts elsewhere such as the brilliant Marzocchi Z2 front fork with a Fox DPS rear shock with a custom tune for the Occam. Tyres are covered by Maxxis with a high roller upfront and a Rekon outback. Shimano supplies the gearing with the SLX derailleur and cassette which is another good addition. My only criticism is the location of the frame brace means you cannot remove your drinks bottle to the right-hand side but that's a minor problem.
What do you think of our choices? Any others you feel should of made the list? let us know in the comments below