The 9 Best Campgrounds for Biking in the USA
If you're into biking AND camping, why not go somewhere you can do both?
I've been overlanding and camping all over the USA and brought my bike with me to most of the places I've been. Today, I share some of my favorite spots I've been, with helpful tips and links.
The 9 Best Campgrounds for Bicycle Lovers
In no particular order, here are some of my favorite campgrounds and camping spots on or near great mountain bike trails:
1. Crater Lake National Park (Oregon)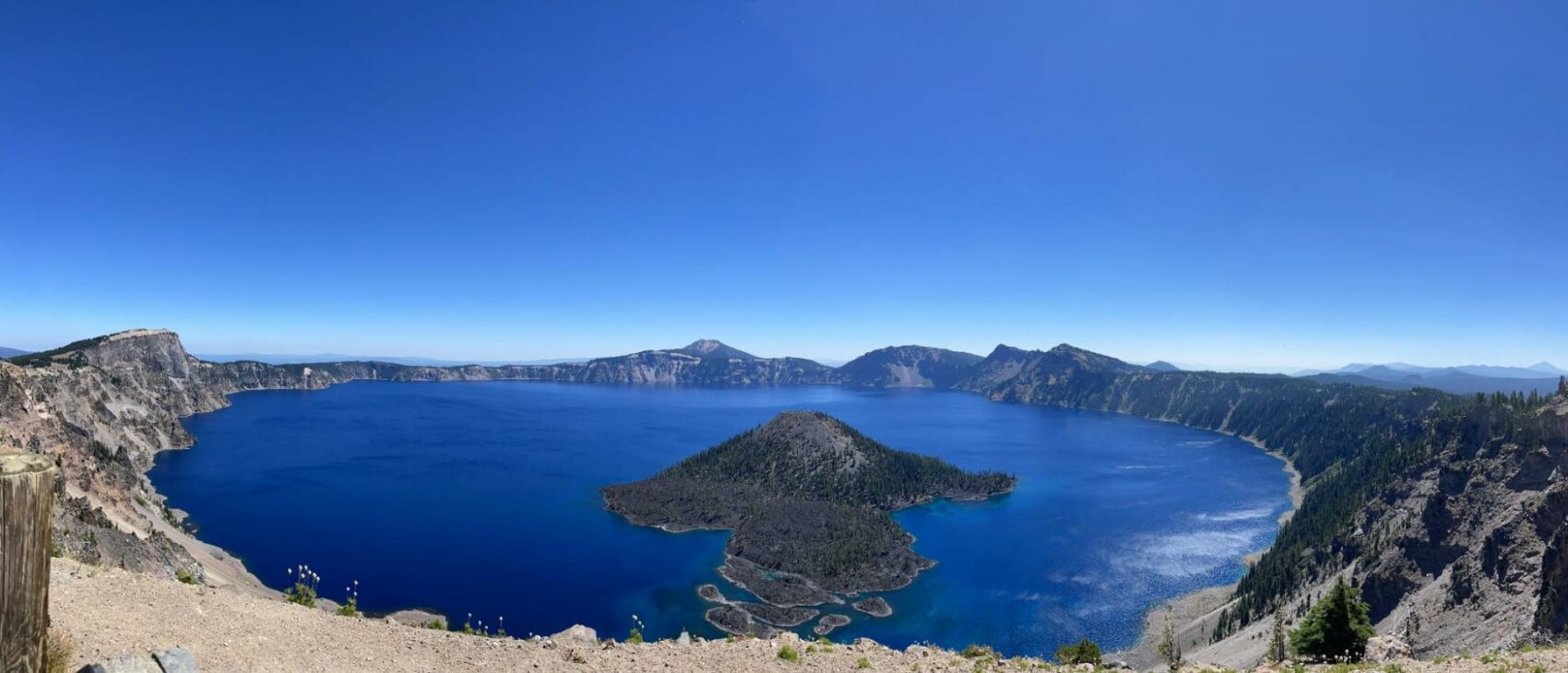 The Mazama Campground is a great spot in the old growth forest near Crater Lake. It's a beautiful home base for mountain biking along the Rim Drive along the lake.
The bike trail is a 33-mile stretch with breathtaking views. The only drawback is that it's only open to bikers a few days per year. Go here to learn more about reserving your spot.
2. Acadia National Park (Maine)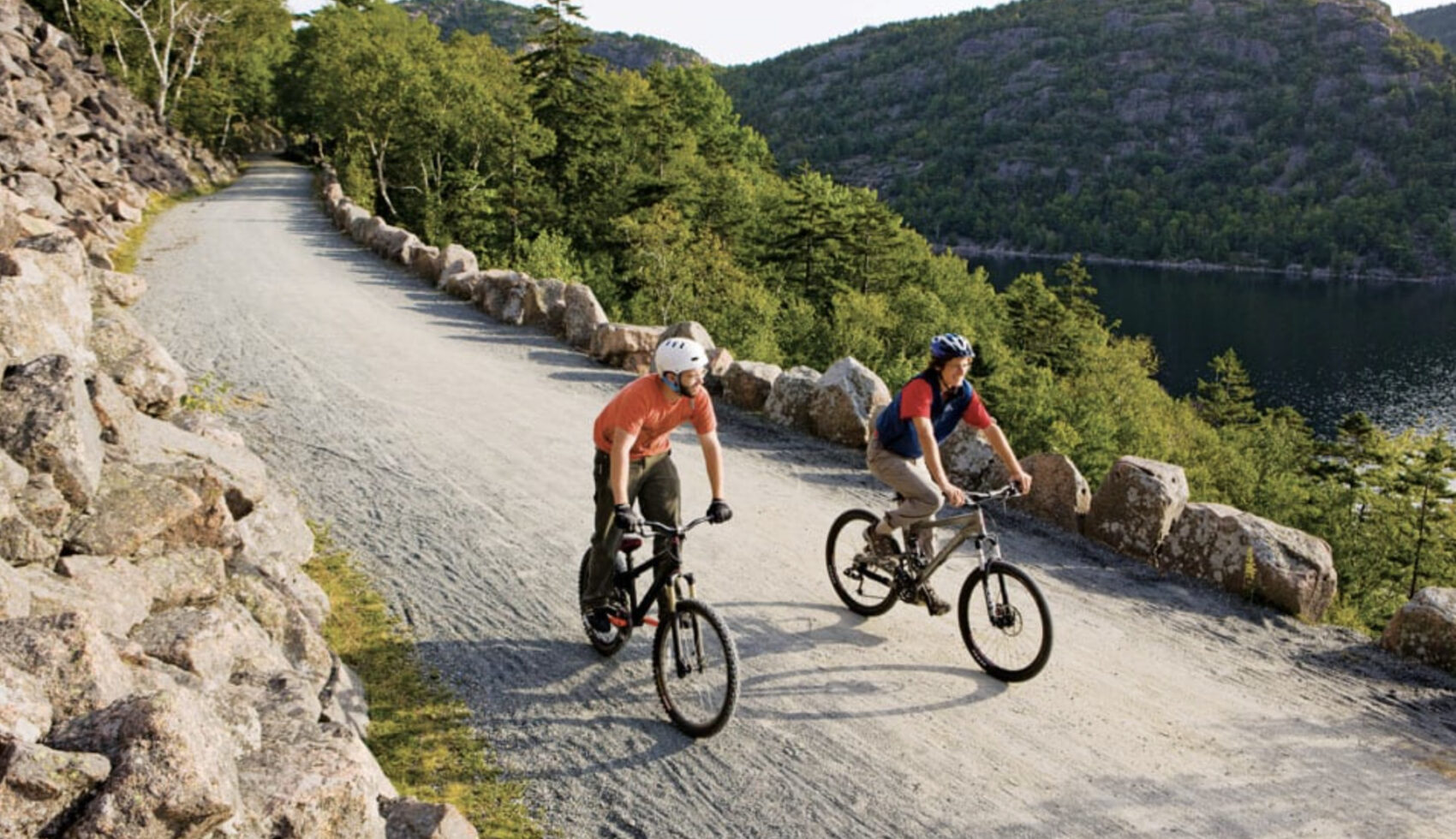 Acadia National Park is truly breathtaking. If you're looking for the best of both worlds when it comes to mountains and the ocean, you really can't go wrong here! With plenty of camping options and biking trails, you'll be satisfied for days.
If you're after a great camping spot, I highly recommend Mount Desert Campground. They allow both RVs and travel trailers, but nothing over 20'. 
One of my favorite bike trails in Acadia is on the Park Loop road. This bike trail is perfect for mountain biking (or regular biking) and offers 24.5 miles of bike trails. You'll see most of Acadia on this trail, including Sand Beach, Thunder Hole, Gorham Mountain, and more!
The scenic views, mountain bike trails, and RV parks at Acadia make this one of my favorite spots on our list today.
3. Glacier National Park (Montana)
Glacier National Park is an incredibly beautiful place to visit at least once in your life. With rolling hills, well built trails, and plenty of mountain biking (and hiking) opportunities, you'll find something to do everyday! 
When it comes to campgrounds, I highly recommend the Rising Sun Campground. This is a first come, first serve campground that offers easy access to hiking trails (such as Logan Pass).
One of the best biking trails in Glacier has to be the Going to the Sun road. With 50 miles of trails and plenty of sightseeing opportunities, mountain bikers and hikers alike will enjoy it.
Bonus: If you plan on bringing your dog with you while camping and biking, check out these awesome trail dog videos!
4. Missouri Headwaters State Park (Montana)
This Montana find allows you to camp where Lewis and Clark stayed in 1905! 
All you'd have to do is book your campsite at Missouri Headwaters State Park, located about three miles off Interstate 90 at Three Forks.
As far as biking goes, I recommend the Headwaters Trail System. It's an 11.8 mile trail that passes through both grasslands and ponds with plenty of wildlife to view. Seeing the Jefferson River and the Tobacco Root Mountains on your bike is unlike anything else! 
PS – You're able to bring your mountain bike on more trails! The Headwaters Trail System is great but you can find something more hardcore while here. 
5. Grand View Campground (Ashton, Idaho)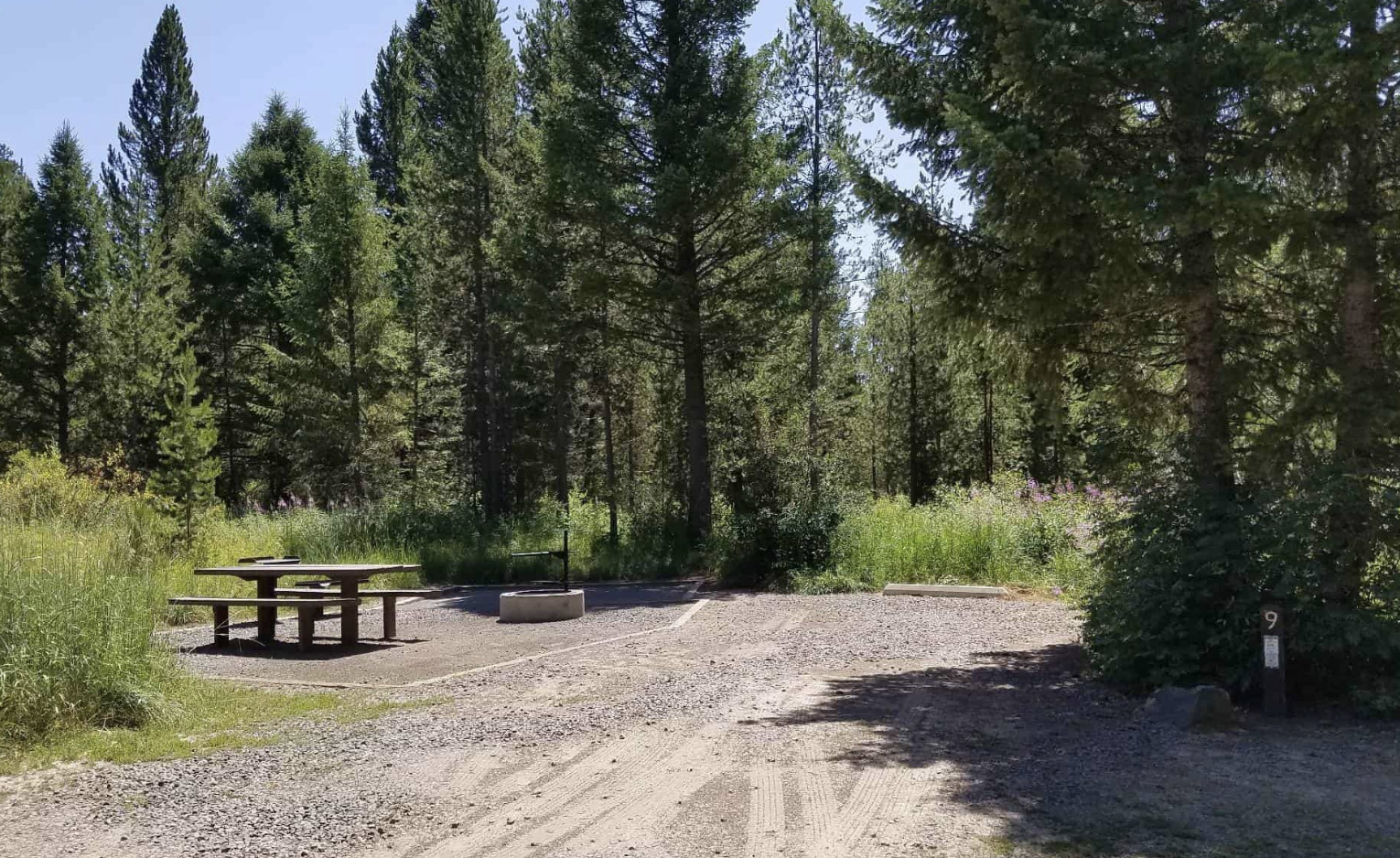 Grandview Campground offers both tent sites and RV camping sites. Here, you'll be able to stay at a great campsite that offers electric hookups, and plenty of trails! It's a great RV park for the family with picnic tables and firepits at every site.
The biking in Ashton is great, too. I recommend biking on the Ashton to Tetonia Trail. With 29.6 miles of trails, you'll be in awe as you follow the abandoned railroad grate of the Teton Valley Branch. There's so much to see on this single track!
6. Ohiopyle State Park (Pennsylvania)
Ohiopyle State Park is one of the prettiest State Parks in Pennsylvania. With 20,500 acres of rugged natural beauty, plenty of camping sites, and more trails for hiking, trail running, and biking, your days will be well spent in nature.
While in Pennsylvania near Ohiopyle State Park, you should 100% bike on the Great American Rail Trail. This is one of the only trails that goes across the entire country, spanning from Washington State to Washington DC. If you're looking to bike cross country, I'd highly recommend this one!
7. Thomas Canyon Campground (Wells, Nevada)
Looking for a spot where you can partake in both biking and dry camping? Look no further than Thomas Canyon Campground! This National Forest offers plenty of scenic bike trails, a river for stream fishing, hiking, and backpacking trails.
There are 22 mountain bike trails as well as 9 E-bike trails. One of the most popular mountain bike trails in Wells is Solar Coster. It's well worth looking into if you're looking for a thrill!
Bring your tent, mountain bike, or travel trailer and enjoy all that Wells, Nevada has to offer!
8. Arrowhead Bike Farm, West Virginia (West Virginia)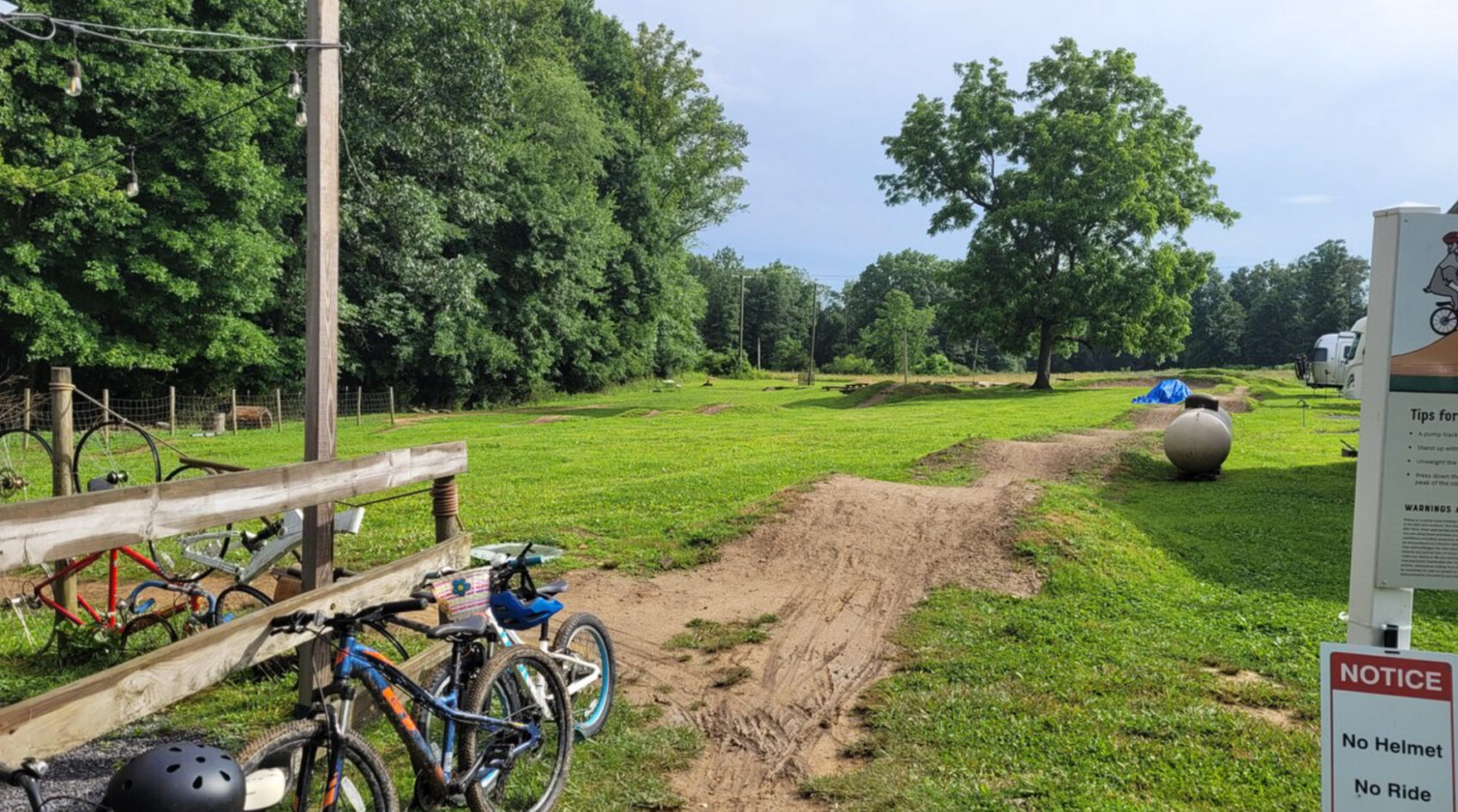 Located near the Arrowhead stacked-loop trail system and the Long Point Trail is Arrowhead Bike Farm, a place with plenty of biking trails and camping sites.
Whether you're looking for an RV hookup site or a tent site, Arrowhead Bike Farm has you and the family covered. While you're here, you can rent a mountain bike and go on the bike course they have at the campground!
9. Pine Log State Forest (Florida)
Did you know that Pine Log State Forest was Florida's very first State Forest? Currently, this forest is managed for timber, wildlife, outdoor recreation and ecological restoration!
You're able to stay at the campground while at the Sand Pond Campground located within the Pine Log State Forest (which is 14 miles north of Panama City Beach)! 
For biking trails, I would suggest traveling about an hour from the state forest to Munson Hills. You get a 7.5 mile mountain bike trail as well as the 14 mile Twilight Loop trail. Both offer a scenic (and challenging) ride through some of the most rolling terrain in the Apalachicola National Forest!
While these are my personal favorite bike trails and campgrounds in the country, there are plenty more out there! 
Leave a comment down below to let me know what your favorite camping/biking spots are. Happy camping (and safe biking)!