SDG Thrice Grip Review
The SDG Thrice grip is a single piece grip with the lock-on clamp integrated. This borrows the same design and tapered core from the SDG Slater grips. This helps keep both price and weight down but also makes installing the grip a doddle.
The grip is packed full of technical features such as a super soft gel compound which provides the grips and also absorbs some of the vibration reducing fatigue on those long rough trails.
The grip features circular icon dampeners which SDG claims are proven to disperse shock and vibrations whilst utilizing a half mushroom profile for comfort on the palms. On the underside of the grip is SDG's undercut saddle icon which offers extra traction for your fingers.
The Thrice has an oversized shape and comes in two different diameter sizes so that you can choose the best grip for your hand size.
Integrated 1-Piece Lock-On: Technologically advanced in-moulded collar lock-on design with a stainless steel bolt allows for a clean interface and provides industry-leading weight reduction from traditional alloy ring constructions.
Dual Density Design: Firm inner core stabilizes the grip, providing ultimate control, while the plush gel-based TPE (Thermo Plastic Elastomer) compound is precisely formulated to provide a supple feel and long-lasting durability.
Tapered & Slotted Inner Core: The internal diameter core tapers gradually towards the end of the grip and features strategic cutout slots to contact the bar for unrivalled, non-slip mount security.
Ovalized Profile: Full Ovalized design allows for maximum grip control in comparison to standard "round" shape grips.
Half Mushroom Construction: Extended length, collapsible ribs offer immediate comfort and all-day dampening relief.
Ergonomically Ramped & Undercut Grabbers: Engineered for in class traction, which feels natural to the fingertips and also aids with power in the pulling motion when standing upright to pedal.
Circular Icon Dampeners: Time tested and proven Icons are recessed, while the outlined circles are raised on the front side of the grip to fully damp vibrations and reduce numbness while offering a well-balanced blend of comfort and grip.
Flared Outer Ends: Allows support for the outer palm when pushing into corners, without any sharp edges or rings.
Specification
Length – 136mm.
Diameters – 31mm / 33mm.
Weight – 39g (31mm) / 48g (33mm).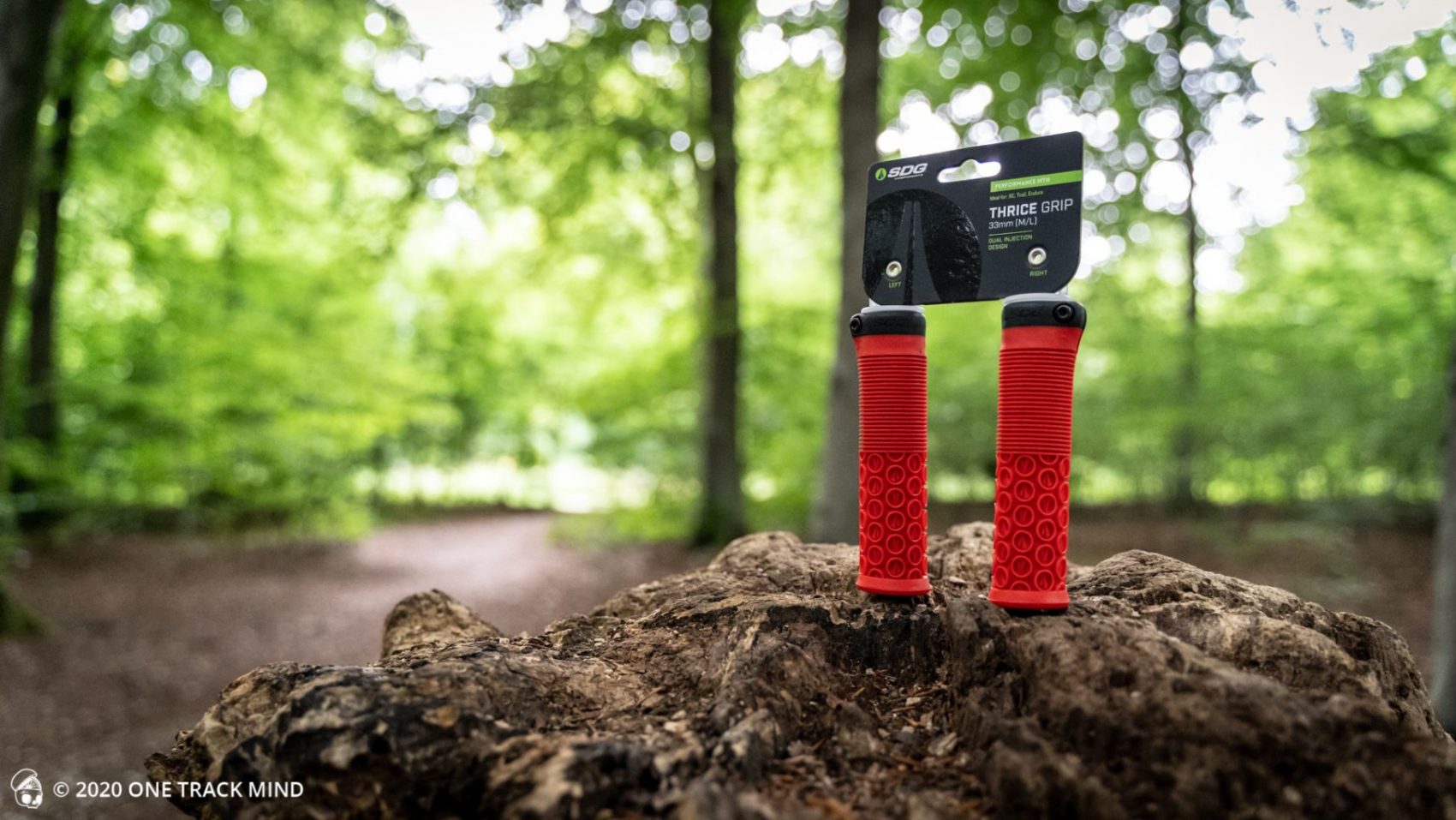 The Review
To test the grips I fitted them to my long term test bike. The same bike I have been using to test other grips to get a fair comparison (my Cannondale Jekyll 2).
Fitting the grips
Fitting the grips was really easy. As they are a single piece with the lock-on clamp integrated there are no fiddly parts. Just slide onto your handlebar. Rotate to the desired position then using a couple of hard taps with your palm to force the bars into the taper. Then finally secure by tightening the Allen bolt. Simple!
Aesthetics & Ergonomics
Ergonomically these grips are great. They are very comfortable and the soft rubber reduces vibration whilst offering plenty of grip. The finger grip tread is also a nice touch as it allows you to really dig your fingers in for extra purchase. The grips come in two diameters allowing you to choose the right size grip for your hand.
Where this grip fell down for me performance-wise was when my hands got sweaty the grip disappearing and I actually found the rubber to be quite slippery. I resolved this issue by using gloves and again the grips were very grippy and comfortable.
Aesthetically these grips look quite unique from others on the market. The circular treat on the grips look like octopus suckers and may not be to everyone's taste especially if you suffer from Trypophobia (Fear of holes). Personally I also wasn't a big fan of the look of the integrated lock-on. I think it looks a little bit clunky and where it may save some weight and keeps the cost down it looses some of that finish quality you get from other grips on the market.
The grip is available in 7 different colours allowing you to choose one that matches the colour scheme of your bike.
Riding with the grip
The grip is great when dry. The raised circular grips do disperse a lot of the vibration and this makes for a comfortable ride even when descending some really rough and gnarly trails.
What do you think of the SDG Thrice MTB Lock-On Grips? Would you try them on your bike?
Let us know your thoughts and opinions in the comments section below.
Review Box 0
Pros
Comfortable, Grippy when dry or using gloves, Easy to fit, Ergonomic
Cons
Slippery when wet, Integrated Lock-on might not be everyone's cup of tea aesthetically.
Summary
A comfortable grip that is easy to fit but can be slippery when wet and the integrated lock-on might not be everyone's cup of tea aesthetically.