Magicshine Monteer 6500S
In this review, we will be taking a look at the Magicshine Monteer 6500S. A 6500 lumen light aimed at mountain bikers who want to continue shredding the trails even when the sun has gone down.
The Monteer 6500s is a new and improved light from Magicshine that offers a claimed 6,500 lumens. The Magicshine Monteer 6500s features 5 top CREE® LEDs, which have been custom-engineered with multiple flats lamp cups, and with the combination of 32°and 21°beam angle, the light is able to offer both an excellent spotlight beam and floodlight. This allows you to see everything that is in front of you as well as lighting your surroundings giving you to confidence to ride as hard as you would in the day.
The Magicshine Monteer 6500S is priced at £269.99.
Stats
Extreme powerful 6500 tested lumens for the most challenging night adventure.
Equipped with a high-efficiency lens to provide a smooth transition from the spot beam to the flood beam.
Smart heating control system with unique fin shape design, ensure high cooling performance.
Strengthened 7.2V 10000mAh strong battery pack with latest 5000 mAh 21700 battery cells and USB-C PD charging & discharging function.
Multiple modes selection that is suitable for downhill, MTB, trail crossing, enduro, EMTB and backcountry.
Straightforward operation with one button on the lamp head.
Versatile and secure mounting methods on helmet and bike satisfy different illumination requirement.
CNC machined aluminium with IPX 5 waterproof rate that suitable for various weather conditions.
Easy-to-read battery indicator both on the lamp head and battery pack.
Available for 31.8mm, 35mm handlebars.
What's included
MONTEER 6500S x 1
MJ-6118 battery pack x 1
Aluminum Handlebar mount x 1
USB-C cable x 1
3mm hex x 1
User Manual x 1
Monteer 6500S Review
My first impressions when I received the Magic Shine Monteer 6500S and opened the packaging were that wow they have gone the extra mile on the packaging. It is reminiscent of how Apple do their packing. A tight box lid that slowly releases revealing nicely cut out foam with the product protected whilst displayed beautifully.
The light unit itself is separate to the battery pack and requires a power cable (Included) to link the two together. There is plenty of length to the cable allowing for easy placement on the bike. Any excess cable can be wrapped around the stem if you're lazy like more or you can come up with some neater cable management solutions if you want.
The light unit mounts directly to your bars using a very similar mount that you get with Garmin devices. I really appreciated this as it means that I could use the mount for my Garmin in the day and the light at night. The mount is made from quality materials and has rubber adapters to get it to fit multiple bars securely.
The battery unit is larger than expected but is a form factor can easily be mounted to your top tube without risk of you knocking it with your legs when pedalling. The unit can also be used as a power bank in emergencies to quick charge your phone. Another nice touch from Magicshine.
The power bank mounts to your frame using some velcro straps that have a grippy rubber side to prevent slipping. The pack itself also has a soft and grippy rubber base that prevents damage to your frame and prevents the battery from moving even when riding the roughest of trails.
The power cable that connects the light to the power bank has clearly been designed and tested thoroughly. The connector has a great seal preventing water and dirt from damaging the terminals and I would be very surprised if the cable can be easily damaged as it is a thick sturdy-looking cable.
The battery level indicator on the battery has a really nice tactile button with a rubber cover. It has some small LED's that indicate the remaining power and also show charging levels when charging.
The only negative I see with this product is that because the battery and light are separate units you do have to find a way of managing the cable which can look untidy and also be a safety issue if left loose as it might snag whilst riding. The battery pack is also quite large and some may not like the aesthetic, however, you're riding at night so who's going to see it anyways.
The above image shows the coverage from an Exposure Lights Diablo MK10. This light only has 1500 Lumens but the beam is concentrated into a spotlight beam with significantly less coverage. This has always been my go-to light for night riding and is more than enough without the need for a bar or other additional lights in my opinion.
The above image here shows the Magicshine Monteer 6500S. The light has significantly more lumens at 6,500 lumens and has a much larger coverage area. When looking at the two pictures side by side you wouldn't say that the Monteer is 6x brighter but you can see that it does have a much larger coverage.
Once you have the light fitted on your bike (which by the way takes very little time) it's time to hit the trails. The first thing you will notice when turning the light on is the oh so very satisfying transition from light to dim over a second or so. This transition happens each time you adjust the brightness setting of which this light has 3 plus a flashing setting. This extra detail really makes this product feel such high quality and I love it.
With so many lumens this light is going to get hot, that's physics! But Magicshine has again considered this by designing a heatsink into the body of the light itself not only with the form factor but with the materials. This will cleverly disperse the heat keeping the light cool and working optimally.
Do not look into the light as it really is very bright and you will likely damage your eyes. This brightness, however, is excellent and lighting up the trails. The coverage is excellent and you will be riding the trails as if it was day time in no time. But do remember that this particular light is designed to mount to your bars so it will point in the direction your bars are facing and not necessarily where you are looking. For this reason, I would recommend having a head torch as well. It's not a requirement as the coverage is excellent but my preference. I like to look a few corners ahead when riding.
Magicshine Monteer 6500S Gallery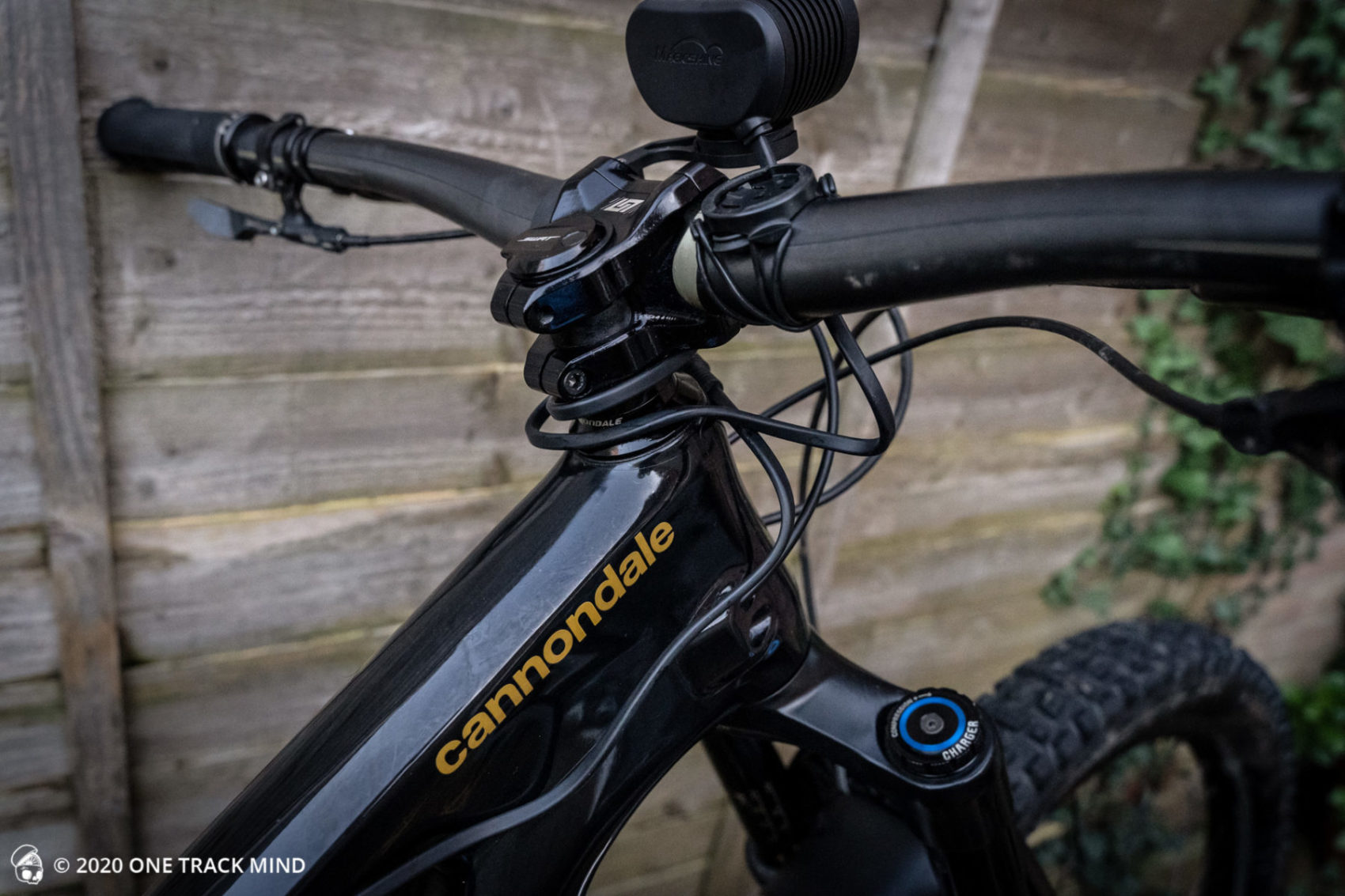 Pros
Excellent quality, easy to use and install, Feels really premium, performs very well
Cons
Cable management from light to the battery can be tricky to keep tidy.
Summary
An excellent light that not only feels very premium but also performs phenomenally. My only criticism would be that because the light and battery are separate, the power cable can be tricky to keep neat and tidy. However, you will not regret purchasing this product.
I was so impressed with the Magicshine Monteer 6500S MTB Light and its performance. Magicshine really has gone the extra mile on everything from packaging to performance and even added nice little extras such as transitions between the light modes which I love.
The only reason I haven't given this light 5/5 is that the light and battery are separate meaning you have to manage the cable somehow. However, this really isn't too difficult todo.
What do you think of the Monteer 6500S Mountain Bike Light? Have you tried Magicshine's products yet? Maybe you've tried another brand's light. Let us know which and your thoughts and opinions in the comments section below.
As you've read the Magicshine Monteer 6500S Review you might enjoy some of these articles too: