Juice Lubes who are based in Somerset in the south of the United Kingdom create a wide variety of bike maintenance products from chain lubes, to tyre sealants to bike cleaner and everything else in between.
They have a great reputation for creating high-quality products that do exactly what they say on the tin.
No nonsense bike care for MTB, road, BMX and the daily grind. We fix, tune & protect to keep you on two wheels & out of the workshop
Juice Lubes
So let's take a closer look at the products they have sent over.
Dirt Juice – Bike Cleaner
Dirt Juice is Juice Lubes fast-acting bike cleaner that is kind on your paint but destroys the dirt.
It comes with a "Super Foamy Trigger" to create that extra foam lather for better cleaning performance.
Dirt Juice grabs grime and gives it a right good duffing up, leaving it powerless to resist your bike washing. It works fast, it's fully biodegradable and it'll also do the job as a light degreaser to leave your bits shining.
Checkout the Product
Keep an eye out for a review coming soon.
JL69 – Bike Maintenance Spray
JL69 is Juice Lubes bike maintenance spray is intended for driving out moisture and kicking rust and corrosion in the butt.
Their new formula JL69 is a do-it-all workshop essential that lubes and protects, drives out moisture, resists rust and stops dirt sticking to your bits.
Designed to penetrate deep into your components, it's a must-have for general workshop jobs and a great apres-wash treat to keep your ride running at its best. Use it to keep rust at bay or reach for it when things get stuck and you need a helping hand.
Checkout the Product
Keep an eye out for a review coming soon.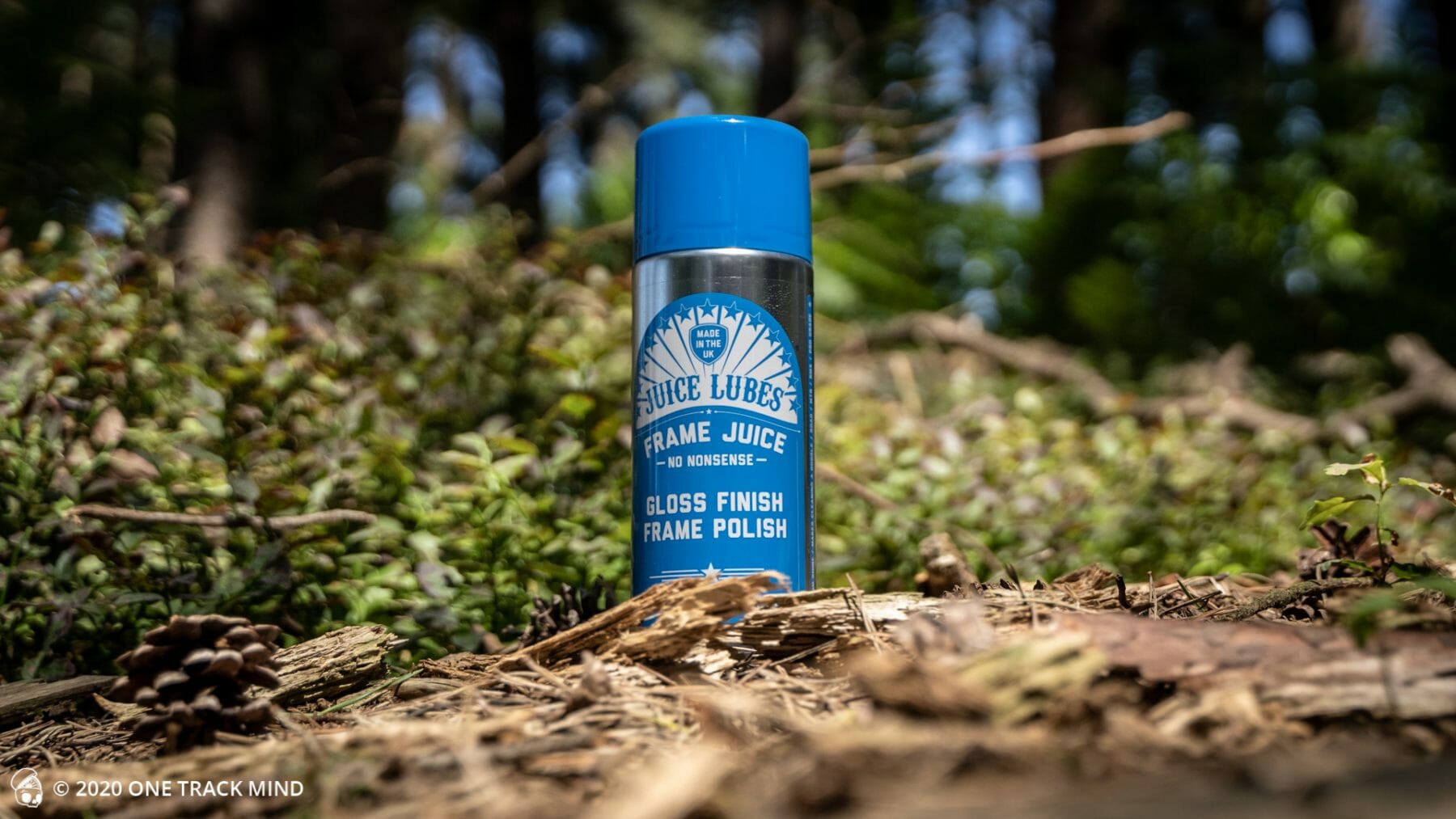 Frame Juice – Frame Polish
Frame Juice is the final step in your bike cleaning routine. It will get your bike sparkle fresh removing any streaks, stains, blotches or blemishes.
Use Frame Juice as a spray-and-polish part of your bike wash or lash it on pre-ride to protect your bike with a mud-repelling force field.
Checkout the Product
Keep an eye out for a review coming soon.
Viking Juice – Chain Lube
Viking Juice is Juice Lubes long-lasting chain lube designed to work in all conditions.
Viking Juice is our longest lasting lube and is built to pillage deep into your chain, conquering dust, rust and shady shifting. The Viking is tough – it'll stay put longer than any of our lubes to guarantee less workshop time, less rust, less missed shifts and a longer lasting chain.
Checkout the Product
Keep an eye out for a review coming soon.
Tyre Juice – Tubeless Tyre Sealant
They released a new tyre sealant formula in 2019. This thinner formula coats tyres easily and will plug holes up to 7mm. Tested by world cup athletes such as Brendan Fairclough and Phil Atwill we have high hopes for this stuff.
Tyre Juice is a World Cup downhill used, abused and approved sealant for Brendan Fairclough, Phil Atwill and friends to tubeless their tyres.

Tyre Juice wards off punctures and pinch-flats by coating your rubber in a protective force field.

Slosh it in and you'll enjoy a puncture-proof performance on the thorny roads and rocky trails. It also allows you to run lower pressures, meaning more grip, more comfort and more speed.
Read the Review
Checkout the Product
Fork Juice – Suspension Lubricant and Cleaner
I've been using Fork Juice for a while now and I flipping love the stuff. This super thing super slippery lube not only makes your suspension feel brand new but it also cleans and protects it. Spoiler alert this will be a positive review.
Fork Juice is a do-it-all spray-on suspension lube and protectant. It lubes seals and stanchions, drives grime out from deep in your fork and leaves a protective, non-stick layer. Your fork and shock will feel plush like new and will move faster and smoother when you're out slaying singletrack.
Read the Review
Checkout the Product
Hand Juice – Hand Cleaner
Hand Juice is a cleaner for removing all the oil and grime from your dirty mitts after an intense clean and maintenance session. I own a set of workshop gloves which I always forget I have until it's too late so I can imagine this stuff is going to come in real handy, pun intended.
For the grimiest of grease monkeys. Hand Juice is a kind-on-skin, mean-on-the-unclean hand cleaner that restores filthy paws back to brilliance.

Hand Juice works just like soap but with added grease melting ingredients.

And in case you're wondering, Hand Juice contains absolutely zero nasty-on-the-environment plastic beads that you'll find in other cleaners. They're replaced with all natural ground walnut shell which helps scrub away muck.

Simply blob it on, rub, rinse and repeat. Did we mention it smells good too?
Checkout the Product
Keep an eye out for a review coming soon.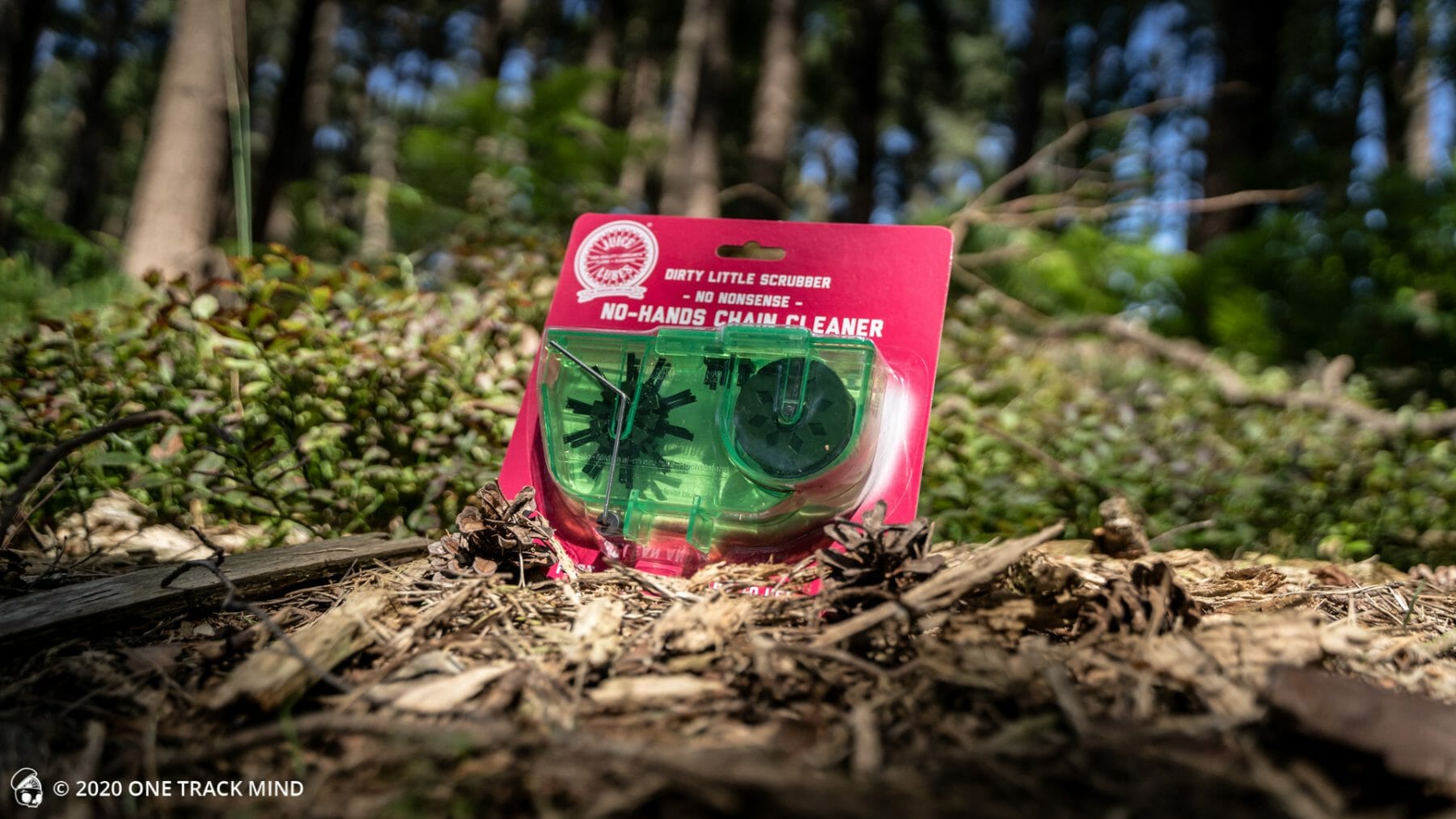 The Dirty Little Scrubber – Chain Cleaning Tool
Who doesn't need a Dirty Little Scrubber in their life? This little cleaning gadget does all the heavy lifting when it comes to scrubbing your chain clean. No more grinding sounds and nasty shifting with this tool. Just fill it up with Dirt Juice, position on your chain and get scrubbing. Remove tool and wash off the cleaner. Dry your chain and re-lube simple! It's so simple, even you can do it!
The Dirty Little Scrubber goes heavy on clean chains and crisp shifts and light on mess, spills and faff. Slap it on your chain whenever you wash your whip and watch your drivetrain transform from ghastly to glorious in a few spins of the cranks.

The Scrubber will keep your shifts slick and will help guarantee your bits last longer, meaning more cash for after-work beers and less "is she dead?" calls to your local bike shop.
Checkout the Product
Keep an eye out for a review coming soon.
Juice Lubes Product Drop Outro
Keep an eye out for reviews of each of the above products coming soon. I will update this page with links to the reviews just because I am nice like that.
What do you think of the Juice Lubes product line? Have you tried their products and if so which ones?
Let us know your thoughts and opinions in the comments below or start a topic in our forums.