Interview with Melanie Chappaz
This week I have been super lucky to interview Melanie Chappaz (Downhill Junior World Champ 2017) and find out a bit more about who she is, what she's achieved, and what's to come. Read on to find out more about this young rising downhill superstar.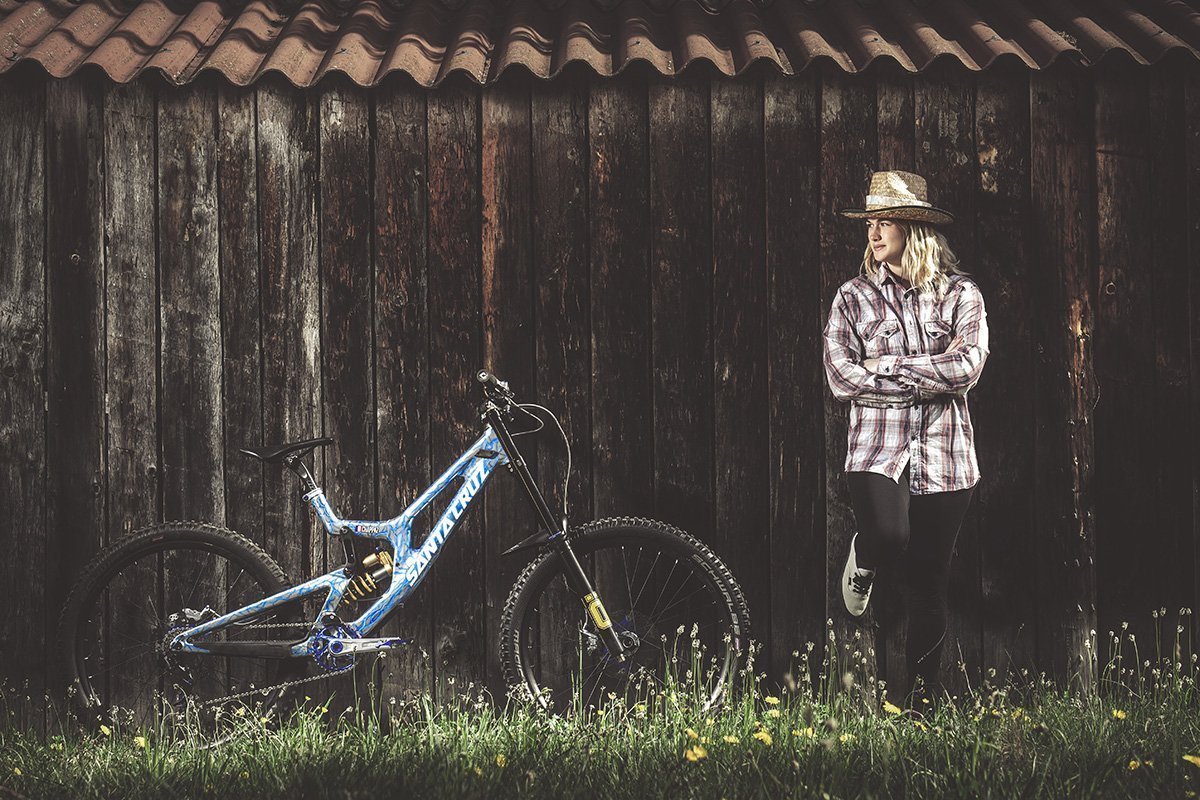 So I am proper stoked to be able to interview you, but for those who don't know you yet, who is Melanie Chappaz?
So, I'm Melanie Chappaz, I'm 21 years old and live near Geneva in France. I'm riding and racing my downhill bike on the national and international circuit as part of the Hope Tech team. I'm someone who always jokes and bullshits, I've been living my best life for the past few years despite some ups and downs, but I always try to do my best in everything I do and experience all life throws at me!
That's such an awesome outlook on life, I think we all could do with some of your positivity and fun. When did you first start riding bikes and what is it about downhill that you like especially? 
Well, my first ever riding session was when I was 5 years old with my dad and bro. I was just following the herd you know 😂 I rode for a couple of years before stopping because of school. I started downhill again in 2015 and here I am 👌 In fact, cycling is something I need to have in my life, the adrenaline and the way it allows you to escape from reality and push your limits as far as you can is what I prefer about this sport.
I imagine adrenaline is a draw for a lot of us that ride MTB so I totally get what you mean. To date, what do you feel has been your biggest achievement on and off the bike? 
My biggest achievement is by far my World Champ title. It was completely unexpected knowing that the difficulties of the track (Cairns- Australia) weren't for me. I mean, this one was so hard physically & mentally and I needed to do a lot of training to get this title, so I'm very proud of it! But off of the bike, I'm pretty glad to be stronger day by day, as much physically as mentally. In general in my life, I'm not a confident girl, but I'm working on it every day and feel happy to be here today thanks to my family, friends, sponsors and the people around me.
That's so cool that you have a world champs title and you're only 21!What has your favourite world Cup race been and why? 
My best World Cup race is Mont Saint Anne in Canada. I looove that track with a bunch of rock gardens, technical drops, jumps and speed sections. I think it's my favourite because I'm a bit scared of it in different parts and I have to push myself harder to be fast and flowy and this is the part that I prefer! 😍
I know what you mean, I find super challenging races I've been to have always been my favourites, got to love a challenge. So off of the race tracks, at the World cups do you find the atmosphere very competitive or do you find it really friendly? And who are your best mates on the race circuit? 
In general, the atmosphere is soooo friendly and kind. It's pretty nice and it's motivating at the same time, this sport is a small World and everyone knows everyone so we are all friends which is cool 👍 Sometimes you can have a few people who are a bit strategic but it's never bad!
I guess people have to be strategic, after all you are racing one another!So this year everything is a bit different due to the current world situation. How are you keeping busy and continuing to train during lockdown? 
Exactly, this season is quite complicated because of Covid-19, but to be honest, it's a very good opportunity to get back even stronger than a usual off-season ! I have got a few things at home to keep my training going and keep me busy,  so it's not too bad 😜 but I'm soooo keen to get back on my bike and have some laps! 
Definitely, it's great that you can still train at home but you're not the only one looking forward to laps with mates when all this blows over. Your Instagram/facebook/youtube account is brilliant, do you enjoy making content? And how do you get new ideas on what to post? 
Oh thank you ! It's not that simple ahaha 😂 I have some pics from my trips, winter riding, and my new bike, but knowing that we can't ride, we have to find new videos and photos ideas, but I definitely like that! And with the lockdown, people are on social media all day and can be bored about it at some point, that's why we need to be more creative than usual it feels like a win-win for me!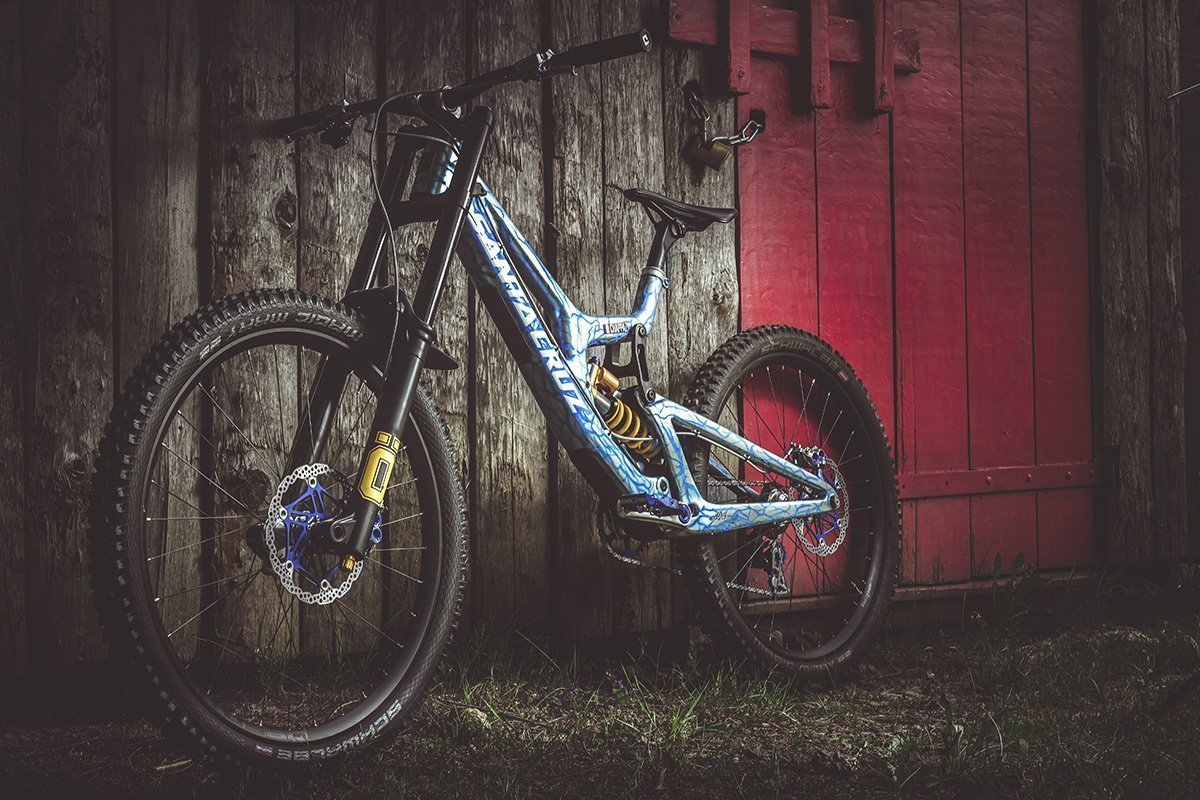 Well I love your creativity, especially when you involve your lovely dog! OK now we have to talk about your bike for this year. The paint job is incredible. How are you finding your new bike, is there anything you would change? 
Thank youuu, I'm totally in love with it as well!!! The painter did an amazing job on it. I rode a Specialized bike for 4 years and now I'm on a SantaCruz bike. I needed some changes and this one was such a big challenge for me because I was so good on my ancient bike. Finally, I'm feeling pretty comfortable and fast on that new frame and I love it ! I'm working on the setup with my mechanic Kevin Joly this winter (Pit Stop Shop) and I can't wait to be on the race circuit with Dan (my team Mechanic from Hope) to keep working on it! I have a lot of work to do yet but I think I'm on the right path 💪
Well it's definitely a very good looking bike! So you've ridden a fair few places/countries. Do you have a favourite and if so why?
Yes I'm a lucky girl to have had the opportunity to travel to different countries! This winter I went to Queenstown in New Zealand and I guess that it was my best trip ever (with Cairns as well!) I travelled alone to a country that was about as far from my home as possible and I'm very glad to have done it and met some awesome people and went to some great places at the same time. The tracks are insane and very good for training. I can't wait to get back over there! 
That sounds incredible! I've only ridden once outside of the UK so a future trip abroad is definitely on the horizon once things get back to normal. So to round things off, if there was one piece of advice you could give to fellow MTB riders what would it be? 
The best advice I can give is to HAVE FUN whatever happens! I know that it's not that simple when you have big goals and races ahead (it's actually what racers are living and it's very hard mentally), but we're living in a difficult period right now and nobody can change this rough situation. We have to take the positive from it so we can come back stronger and fitter than ever. Enjoy your life at home (in front of Netflix or baking a bunch of bad cakes) 😂 Races are amazing and a big part of our life but all the fun, the joy, special times with your friends after the ride, parties and all laps on your bike in nature are the best moments in my life, and I can't wait to get them back ❤️ 
Thank you so much for your time Melanie, it was awesome to interview you and I can't wait to see you on the track once the races start up again, but for now stay safe and keep doing what you're doing.
You can follow Mel on our Social Media pages:
Thank you and credit to Mel's sponsors:
Photos provided by Melanie Chappaz. Credit to the following Photographers: