Giant Rail SX MIPS Helmet Review
Giant recently sent through their Rail SX MIPS trail helmet for review. The helmet is trail-specific and features the MIPS Brain Protection System. Giant has really thought through the design of this helmet adding lots of air vents to keep your head cool as well as google strap clip to keep your goggles firmly in place it even features a Dual-position integrated mounting surface for GoPros and other action cameras.
Other features include the Cinch One Pro™ system that offers 360-degree coverage which makes it super easy to get the helmet to fit comfortably, safely and securely.
"This helmet is a game-changer for those with long hair."
A feature that could easily be overlooked but is often a nightmare for those with longer hair is the cutout and the base of the rear of the helmet. Whether intended or not this cutout is perfect to allow those with long hair to wear a ponytail whilst riding. Kate who is modelling the helmet throughout this article was so impressed she now owns a Rail SX helmet as her hair often makes trail helmets uncomfortable. This helmet is a game-change for those with long hair.
"Give yourself the confidence to crush it. Whether you're making the crux move on a technical climb or bombing down the mountain on steep, rocky terrain, you need full protection to perform at your peak. The new Rail SX was developed to meet the demands of the Giant Factory Off-Road Team's pro enduro riders. It features an integrated MIPS Brain Protection System, and a lightweight, highly ventilated design to keep you comfortable and in control when you're pushing your limits."
Giant Bicycles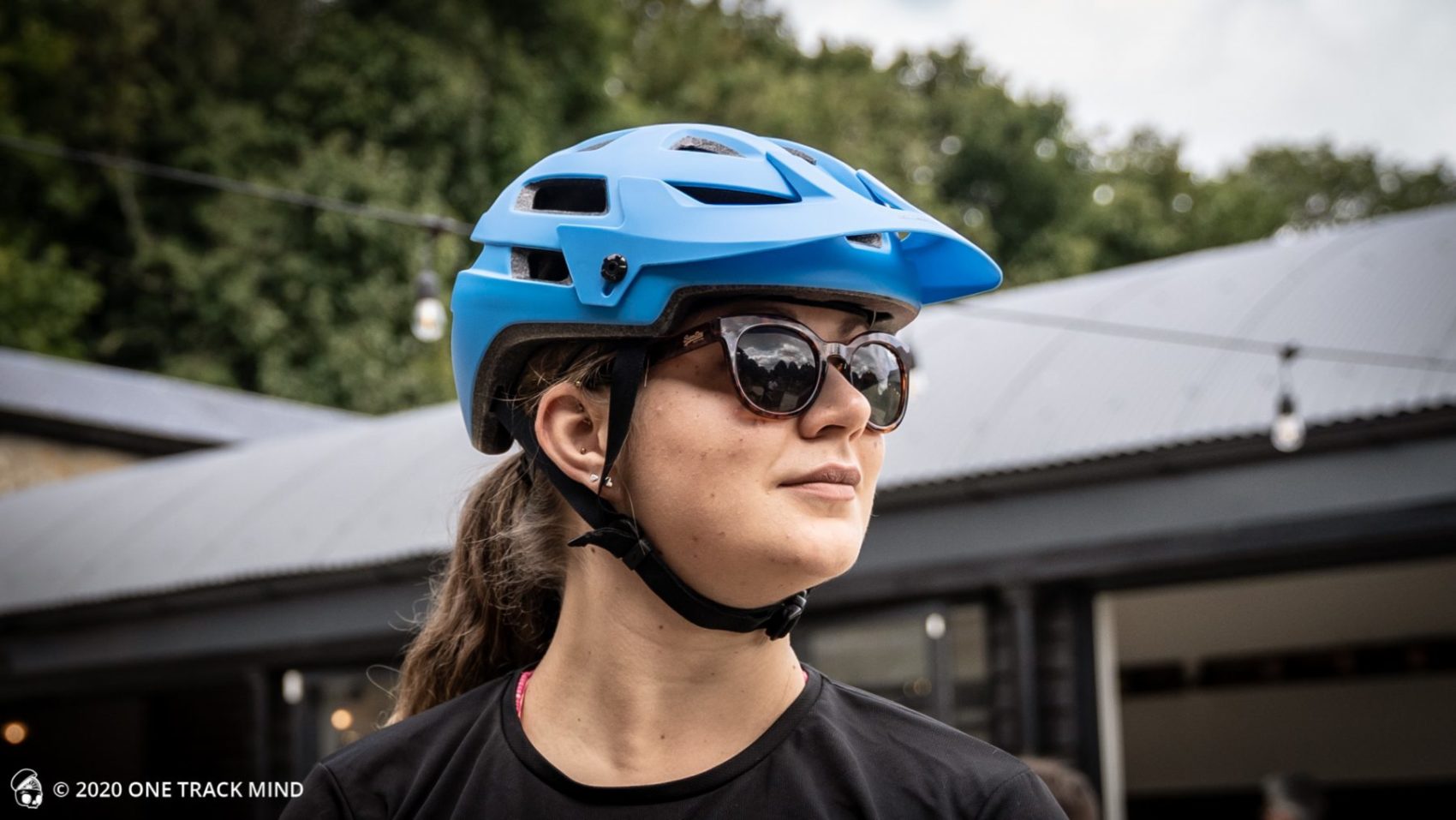 Features
Trail-specific maximum enduro coverage EPS construction; 3mm lower (Front), 3-5mm lower(sides), 8-10mm lower (back)
MIPS Brain Protection System optimized design
AirFlow ventilation combines 18 straight vents with straight, non-tapered walls to guide airflow through deep internal channels to keep riders cool at variable speeds
Removable moto-style extended protection visor mounts cleanly to the sides and is infinitely adjustable on the move
Integrated strap clip on the rear keeps goggle straps in position and prevents them from falling off during a crash
Low-speed and high-speed impact-tuned construction with Direct Support vents, optimized low-density EPS, and ultra-thin toughened polycarbonate shells all in-mould bonded together
Element Strap System (ESS) brings together Cinch One Pro™ fit system, adjustable locking dividers, and LiteForm™ webbing into one fit and retention system for superior fit and comfort right out of the box
Cinch One Pro™ fit system offers 360-degree coverage and positioning with secure, adjustable height for full protection, support and comfort
Lightweight LiteForm™ webbing wraps around for a more secure fit
TransTextura Plus™ anti-microbial padding helps fight bacteria growth by pulling sweat from a rider's head and transferring it through the AirFlow vents. The natural property of the fabric inhibits microbes that cause odours
Dual-position integrated mounting surfaces, GoPro™ curved mount compatible for cameras and the new Giant Recon light system
Specification
Size: S (51-55cm) M (55-59cm) L (59-63cm)
Weight: 360g (size M)
Colours: Black, Blue, Slate Grey, Orange
Review
The Giant Rail SX MIPS trail helmet comes jam-packed with features from the MIPS system, GoPro mountain surface, ratchet size adjustment system and loads of vent holes.
Priced at £119.99 this helmet sits in the middle of similar helmets on the market that ranges from £74.99 – £149.99. The helmet was comfortable but always try before you buy when it comes to helmets as everyone's head size and shape are different. What works for me may not work for you.
The helmet felt secure even when riding on rough terrain. The visor has plenty of angle adjustment and stays fixed in place when tightened. Thanks to the large vent holes my head was kept cool all day long.
The aesthetics of the helmet are quite simple for me. I would like to see some subtle designs and patterns rather than a single colour however this doesn't affect the performance of the helmet in any way.
The helmet makes mounting a GoPro or similar action camera a breeze. If you are someone that likes to film every run then this helmet would be an excellent choice. We do not, however, have any data on whether mounting a GoPro reduces the protection offered by the helmet.
Kate was particularly impressed with this helmet as the lower cutout on the back of the helmet allows room for a Ponytail making this helmet more comfortable for riders with long hair.
Overall I was really impressed with the helmets features and performance and the only downside for me was the aesthetics of the helmet which feel quite plain compared to other helmets on the market.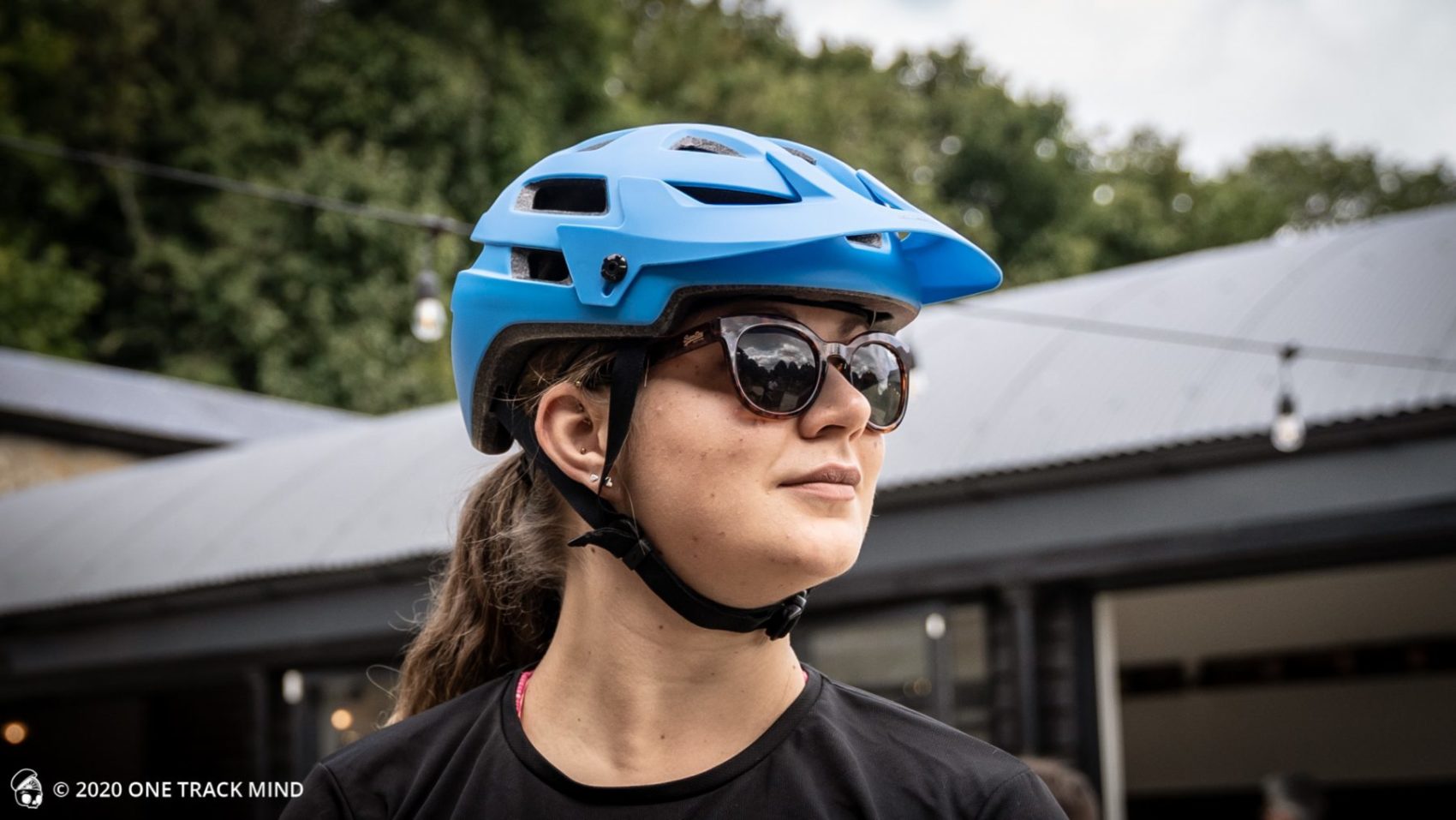 Photos in this article were taken at The Yard at Chilton Manor Farm. They make an excellent coffee and are on some great Road and Gravel bike routes near Alresford UK. Helmet modelled by Katie-Jane Beaven to illustrate helmets compatibility with long hair and ponytails.
Pros
High Quality, MIPs, GoPro Mount surface, Room for a ponytail, Comfortable, Lightweight, Lots of Air vents, Lock goggles in place
Cons
Plain looking, Exposed edges that hard coating doesn't cover.
Summary
A high-quality helmet which is well thought out with google strap clip, cut out to allow for Ponytails and riders with long hair. They've even made it easier to mount a GoPro but the overall aesthetics are quite plain and some edges are exposed.