Foxfolk Launches Dirtskirt Lower Linkage Frame Protection.
So you've just bought a shiny new modern geo Trail/Enduro carbon mtb and you're beyond excited. It's expensive, beautifully designed and incredibly well engineered, but as bike designers squeeze 29'' wheels combined with short chainstays to create phenomenal handling full squish bikes – a new problem is born. Debris flies through the rear wheel, rocks and mud enter the loam shelf. As the swingarm goes through its travel, trapped debris in that small tight space can act as a nutcracker which can lead to frame damage, or even worse, catastrophic cracked frame failure.
Why does this matter if you have a new bike warranty? Well, unfortunately, MTB brands deem this particular issue as wear and tear, so it's not covered by any bike warranty! This can result in the rider having to shell out several thousand for a new frame or alternatively a complex and costly carbon repair. As well as the inconvenience of riders being without their bike in the middle of their riding season, while trying to source a new expensive replacement frame or repair.
Our team at foxfolkTM, a New Zealand based mtb product innovation company, set out to solve this problem, offering riders full peace of mind while riding and saving them potentially thousands along the way.
We think of the DirtskirtTM as an affordable insurance policy, for a worldwide non-warranty covered problem.
There are no zip ties or velcro straps involved here, just premium aviation grade 3M VHB foam tape pads. We had local pro riders testing the DirtskirtTM for 250+ days, over two full mtb seasons, and the DirtskirtTM product never came off any frames.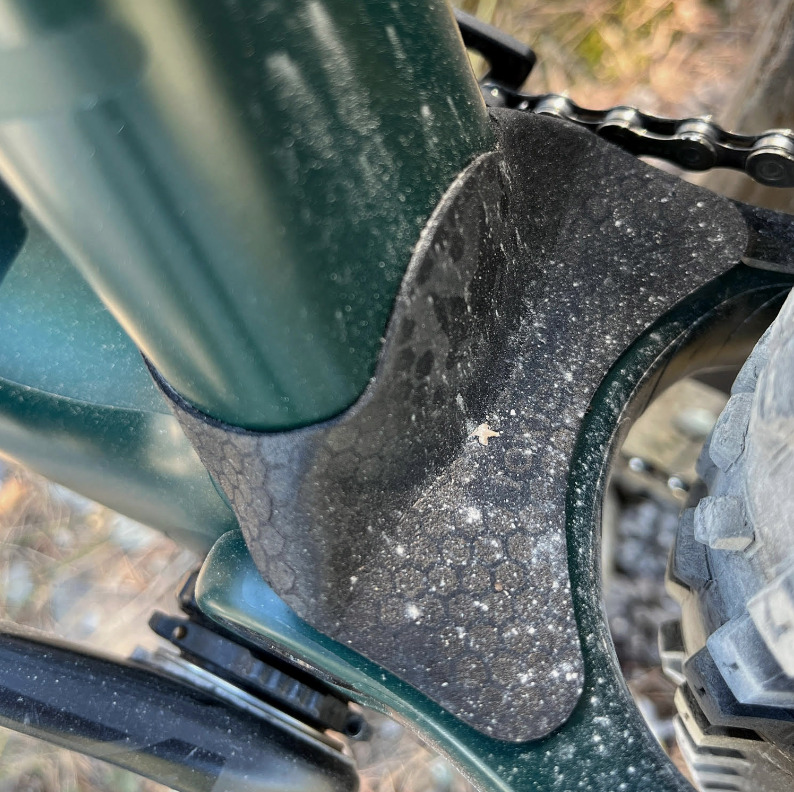 Frame Compatibility
The first DirtskirtTM SKU is custom designed for 2019-2022 Stumpjumper carbon and 2019-2022 Stumpjumper EVO carbon frames. Why is it not a generic fit product? The reason why is due to the design of lower linkages between bike brands being predominantly asymmetric from left to right, front to back and often off axis in design. To add to the challenge, different bike brands use completely different suspension kinematics based on licensed linkage patents. Combined, these variables create a rather tenuous R&D challenge, one of which we have taken on! That's right, our DirtskirtTM 2.0 will fit a large range of bike brands and frame models, and will be launching at the end of of 2022.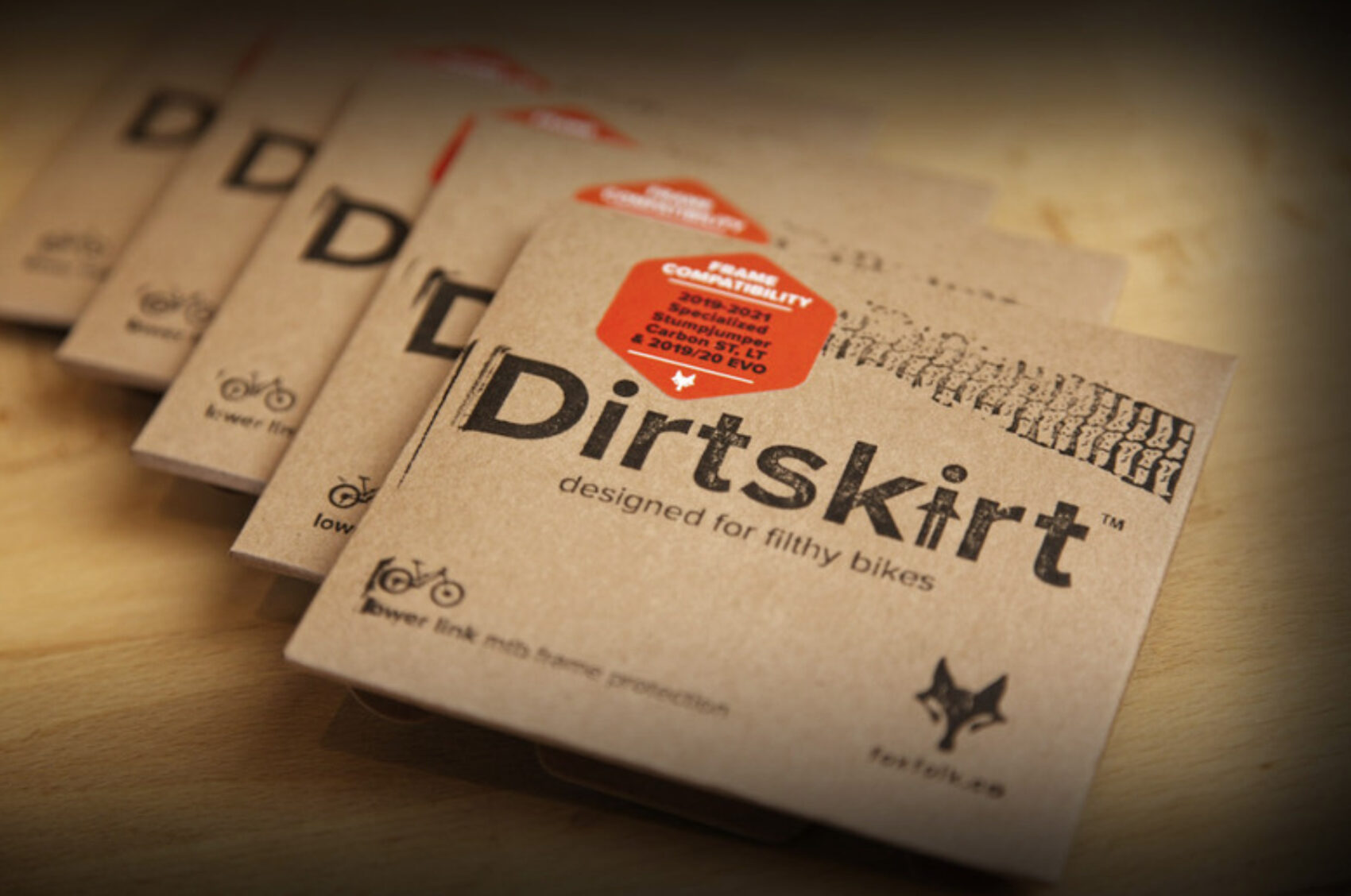 Pricing & Availability
The DirtskirtTM retails for $32.99 USD (£27.79) and is available now, shipping worldwide from our direct-to-consumer website www.foxfolk.co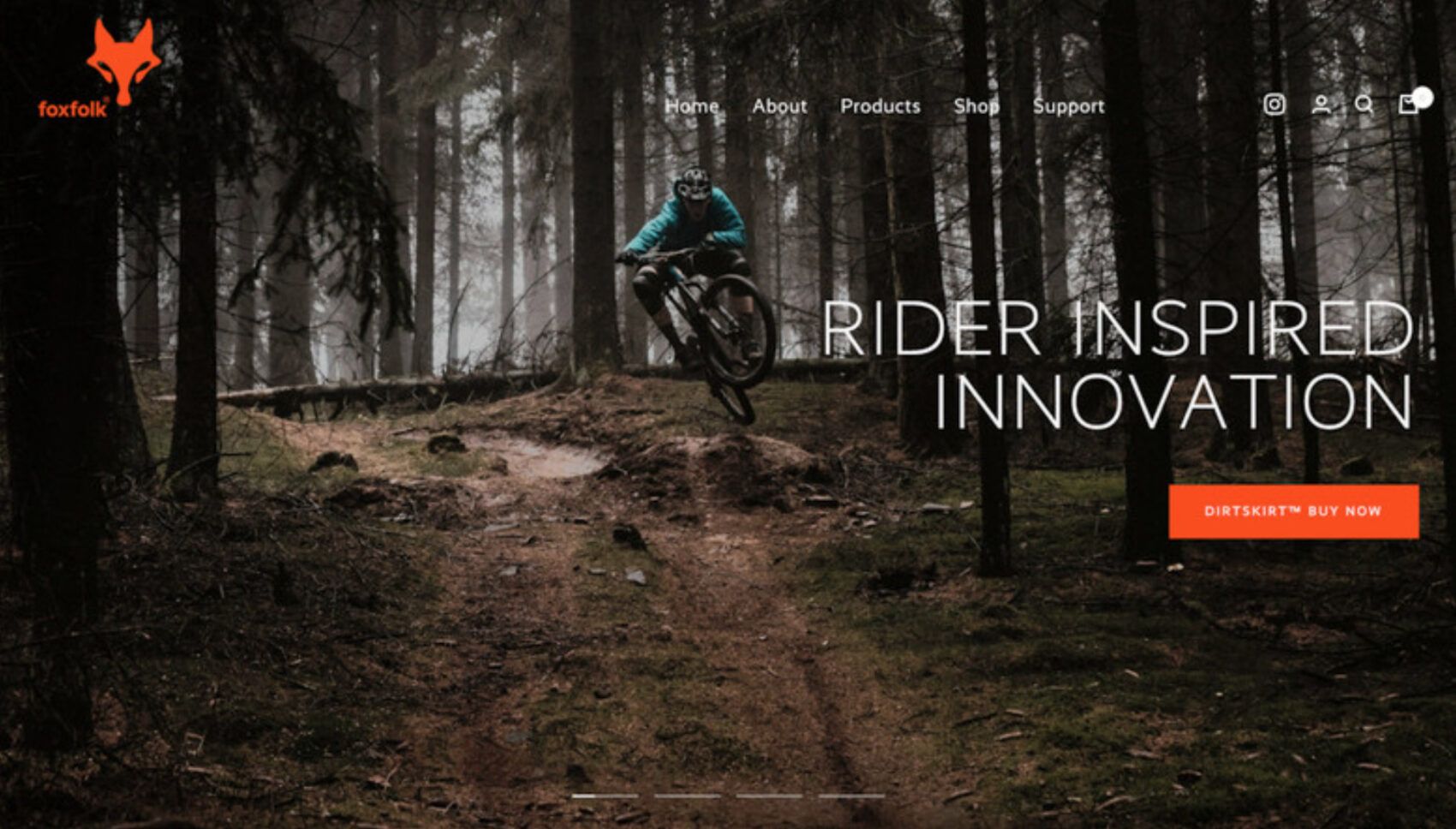 What do you think of Foxfolk's DirtSkirt? I've certainly experienced issues with small stones and grit getting caught in my linkage so this would really help solve that issue. So I'm definitely looking forward to Foxfolk supporting more bikes in the future.
Here are some other articles from us at One Track Mind Cycling Magazine that we think you may like: