Fabric FunGuy Grip Review
In this Fabric FunGuy Grip Review we take a close look at the MTB Grips from Fabric to find out how grippy, comfortable and durable they are. Read on to learn more.
The Fabric FunGuy MTB Grips
The Fabric FunGuy mountain bike grips are made from a durable, soft compound, grippy half mushroom, half micro-hex texture designed to give ultimate grip and comfort in an affordable grip that costs only £16.99
"Style is nothing without control.
Own the trail no matter what it throws at you, with a grip that gives both comfort and control in equal measure. Our new FunGuy grip offers the best of both worlds, taking inspiration from two of our most popular designs – on one side, we placed our ribbed-textured and proven mushroom design for reducing vibration, while our micro-hex pattern delivers added control at your fingertips. Lock-on reliability, along with integrated ends that do away with the need for additional bar ends to keeps things simple, combined with the best grip compound available: enjoy full control with the all-new Fabric Funguy." – Fabric
FunGuy Grips Specs
Half mushroom texture
Half micro-hex texture
Soft compound
Closed-end
Durable and tough
Single lock-on clamp
Price £16.99
Available in 7 colours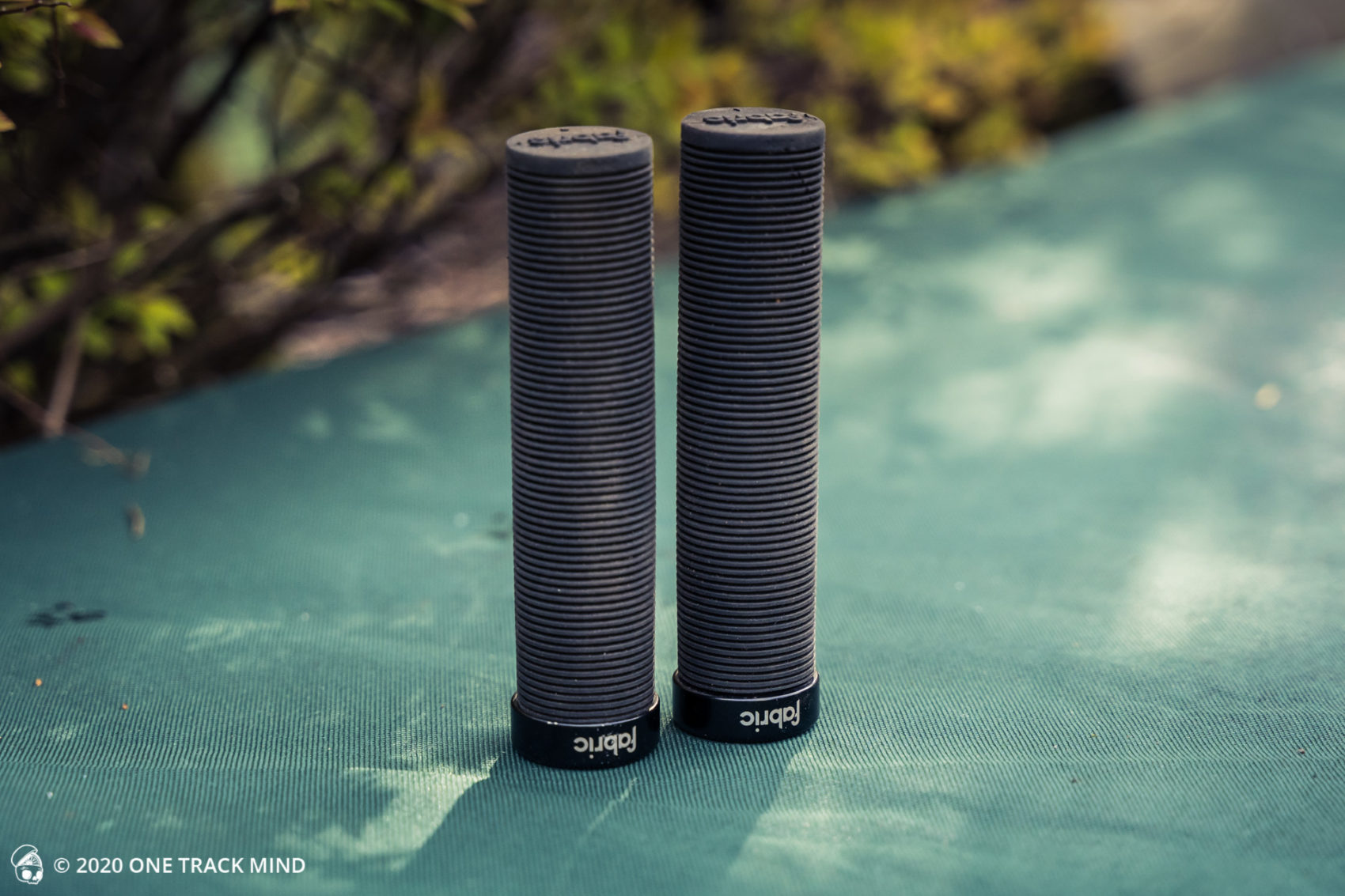 Fabric FunGuy Grip Review
The Fabric FunGuy MTB Grips are made from a soft rubber compound that not only feels really nice to hold and touch but is also really grippy even when wet. The half-mushroom absorbs a lot of the vibrations from the trail reducing arm and hand fatigue.
On the underside of the grip is a micro-hex texture that features lots of little knobs and hexagons which let your fingers dig in and squeeze against for extra grip when needed.
The grips are really easy to fit using the single lock-on clamp and the subtle design of the grips doesn't draw attention and looks great on any bike (black grips). There are also other colours to choose from if you want to colour match your bike.
The grips are really well priced at £16.99 a set which is competitive with other grips of similar performance on the market.
Fabric state that the grips are durable and tough which is true but over time the soft rubber does degrade somewhat but with a year of hard riding that is to be expected and I would much rather have a grip that performs well and degrades than a rubbish grip that lasts forever.
Pros
Soft and comfortable thanks to the half mushroom Easy to fit and remove lock-on Low Cost Available in many colours
Cons
Degrades slightly over time under heavy use
What do you think of the FunGuy Grips from Fabric? Do you like the half mushroom style grip that was made popular in the '80s? Let us know in the comments below.
Here are some other MTB Grip related articles we think you will enjoy:
Here are some more Fabric articles and review for you to read: