ETNIES RIDER BRANDON SEMENUK WINS FOURTH RED BULL RAMPAGE
Etnies rider Brandon Semenuk wins his fourth Red Bull Rampage in 2021. Red Bull rampage the extreme freeride event hosted by Red Bull in Utah
Semenuk Has the Most Wins in the Event's 20 Year History
October 19th – Brandon Semenuk won his fourth Red Bull Rampage contest in Virgin, Utah over the weekend.  The Red Bull Rampage event is the most coveted title in freeride mountain biking, and Semenuk has now has the most wins in the history of the event.  The replay is available here: https://www.redbull.com/us-en/events/rampage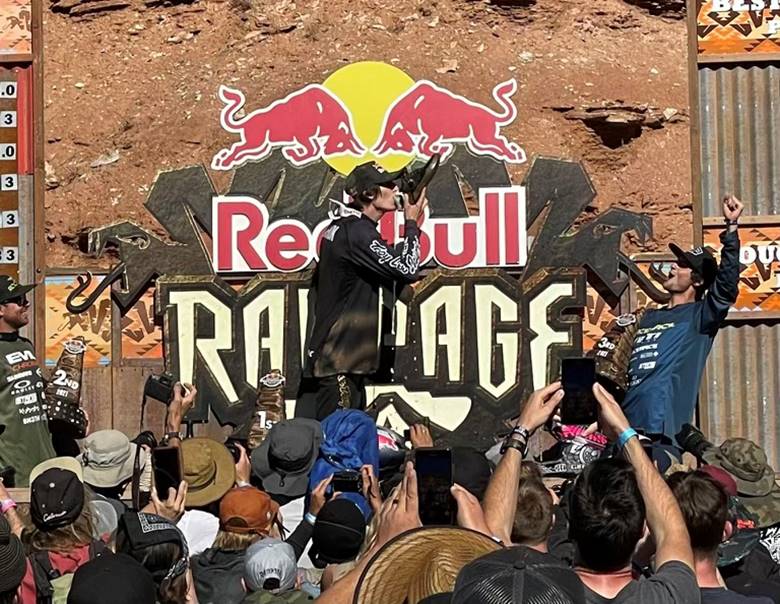 The taste of victory!  etnies Semenuk Pro Shoes make good drinking shoes…
Red Bull Rampage is the premier big mountain freeride event in the sport.  The event has a 20-year history marking some of the biggest and baddest tricks, lines and moments in freeriding history on the rugged desert landscape of southern Utah.
To keep up with etnies, be sure to follow and like:
About etnies:
Built by skateboarding since 1986, etnies is the first skateboarder-owned and operated global action sports footwear and apparel company. etnies not only pushed the envelope by creating the first pro-model skate shoe, but it pioneered technological advances and changed the face of skateboard footwear forever. Today etnies' vision, led by owner and skateboarder Pierre Andre Senizergues, is to remain the leading skateboard footwear company committed to creating innovative products that provide the most style, comfort and protection possible. etnies stays true to its roots by sponsoring a world-class team of skateboarding, snowboarding, BMX and MTB riders, and continues its dedication by giving back to each of these communities. For additional information, visit etnies.com.
Did you watch Red Bull Rampage this year? What did you think of Brandon Semenuk's winning run? What about some of those crashes?! Let us know your thoughts in the comments below.
Here are some other articles from One Track Mind MTB Magazine and our partners: