Deity Lockjaw MTB Grips Review
In this article, we review the Deity Lockjaw MTB Grips. A lock-on grip that features a deep diamond pattern on top and a recessed half waffle underneath.
Are they comfortable and do they provide plenty of grip in all weather conditions? Read on to find out how they score.
Deity Lockjaw Grips
The Deity Lockjaw grips which are similar to the Deity Supercrush grips we previously reviewed feature a deep dish diamond pattern that compresses easily for comfort but also provides plenty of grip. Due to the thickness of the diamond pattern vibrations are dampened enabling you to ride longer and harder.
On the underside of the grip is Deity's recessed half waffle design which is where this grip differs from the Supercrush. The recessed half waffle gives you extra grip and control for your fingers to grip. This part of the grip is significantly thinner than the top allowing you to receive feedback from your bike and the terrain.
The inside of the grips is tapered requiring you to tap them firmly onto your bars. Then just tighten the single bolt on each grip and you are done. This style of grip is becoming more common. It's easy to fit and less to check and maintain.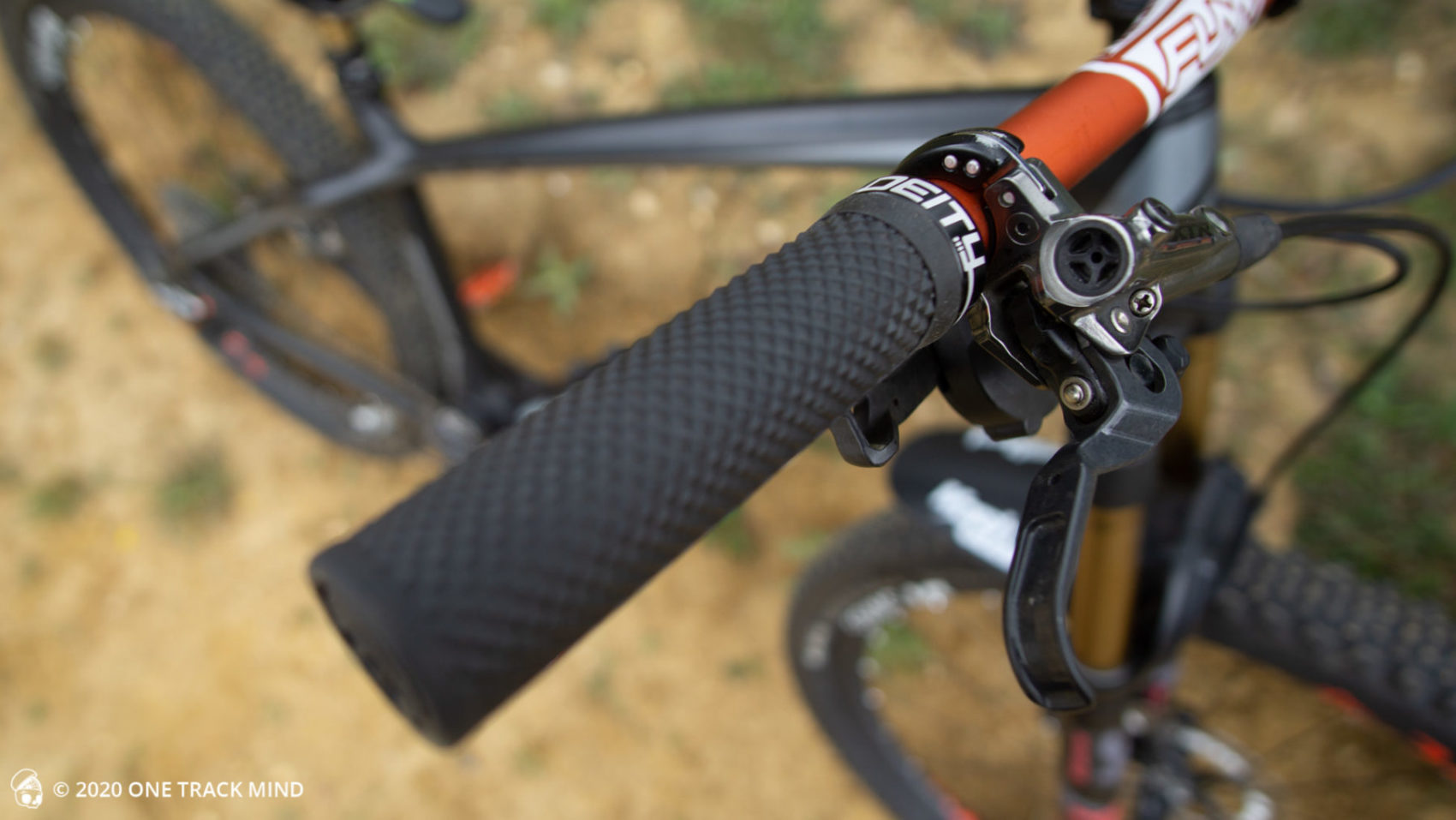 Review
I have been using these grips for a few months now and they are now my personal grip of choice. Like the Supercrush they are really comfortable and offer plenty of grip but with the half-waffle on the underside of the grip there is something for your fingers to latch onto and the thinner material underneath makes for better control of your bike and response from the bike and terrain.
I have used these grips in all sorts of conditions including baking hot sun, torrential downpours, mud and even snow. They have never let me down and I've never been considered or even thought about lack of grip.
These grips are equally good with or without gloves which is a bonus for me as I'm always switching between riding with and without gloves (often because I've left them at home like a muppet).
Months on and with a lot of use these grips are still going strong despite the relatively soft rubber compound. Yes, there are clear signs of wear but there is plenty of life left in them and I expect to get another 6 months or so out of them before I need to change them.
Priced at £18.99 here in the UK and with 12 colours to choose from these are excellent value for money.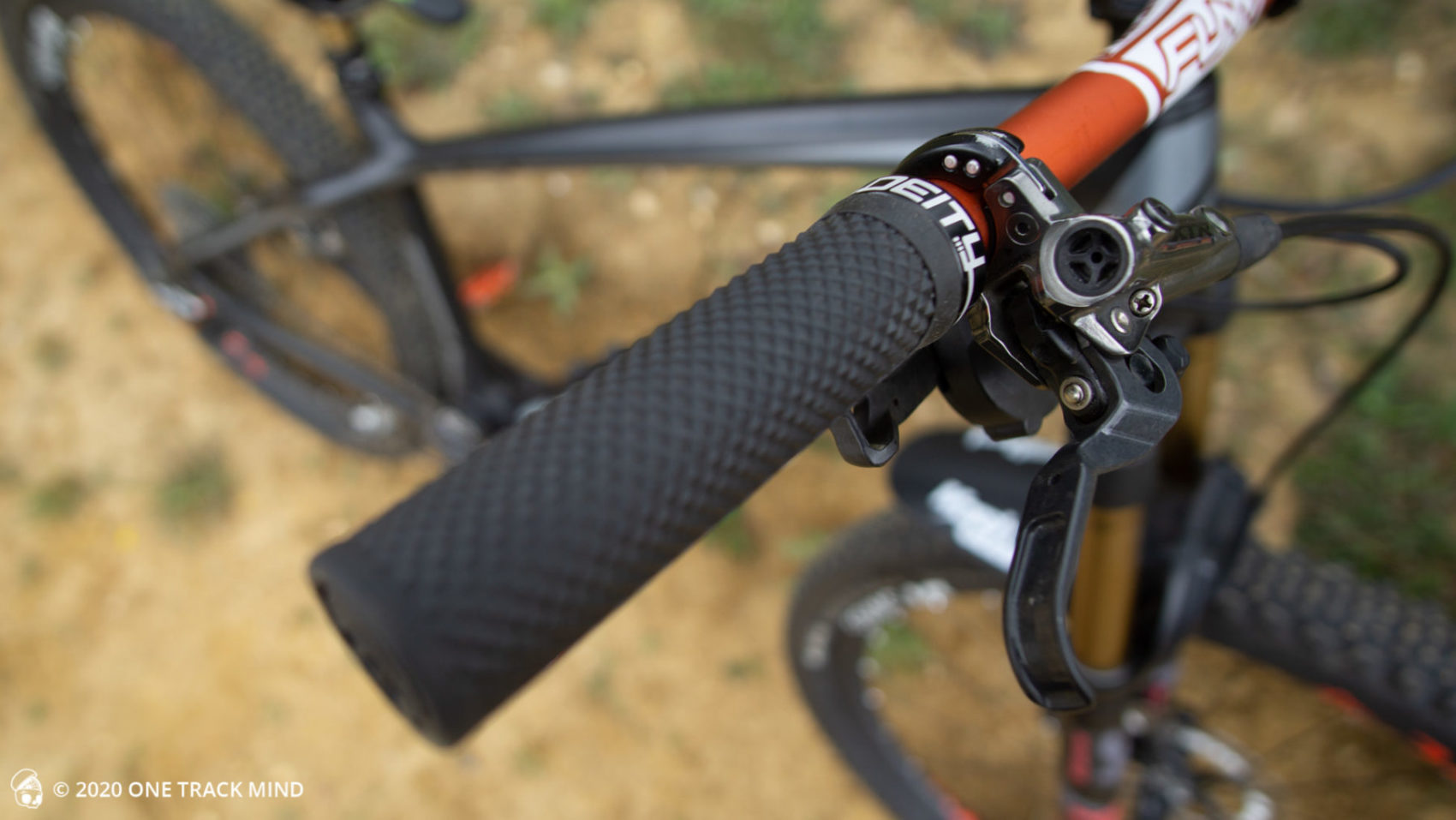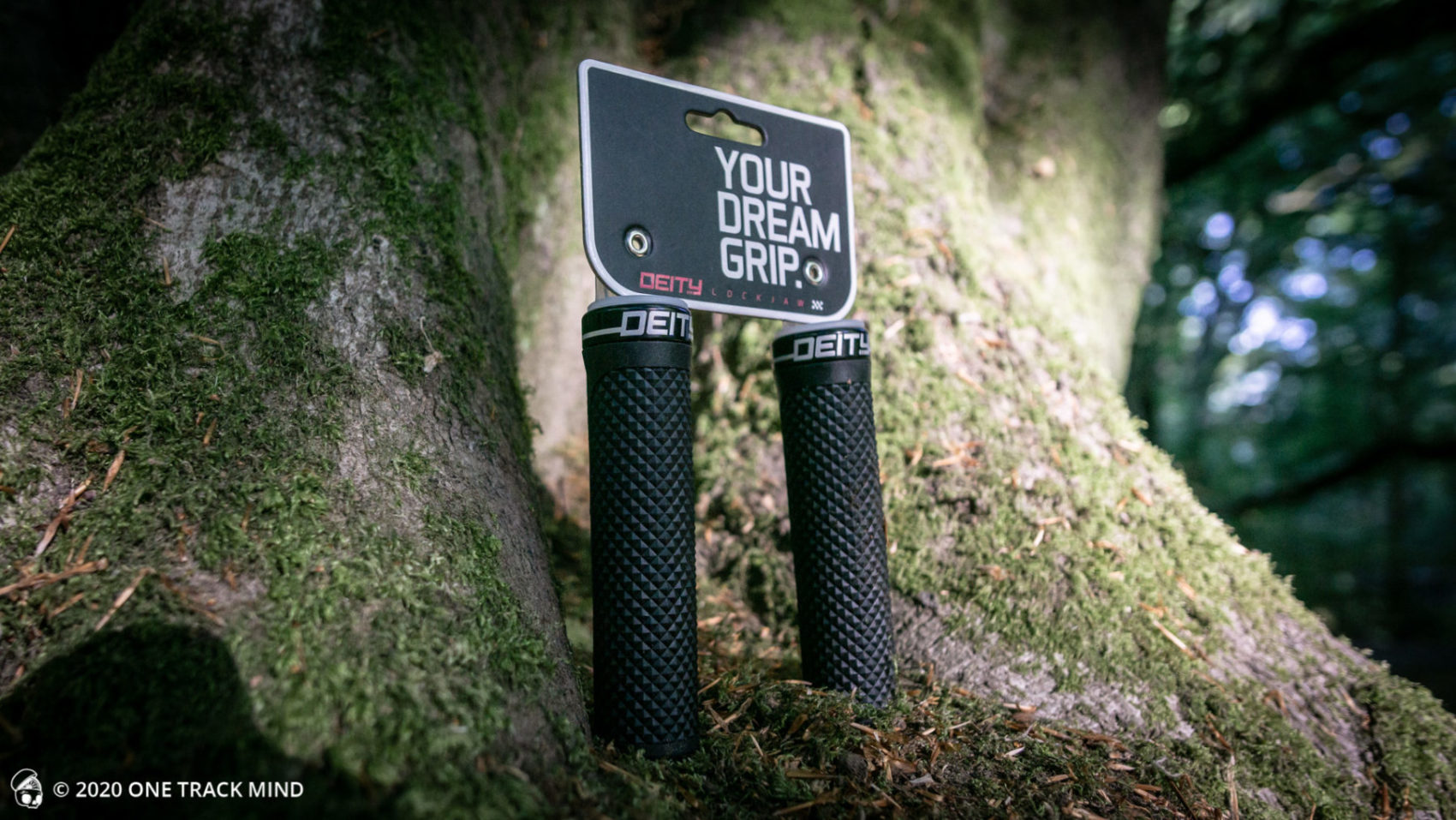 Deity Lockjaw Grip Specs
Padded thumb area for comfort and smooth transitions
Recessed half-waffle design for added control without hot spots
Deep dish DEITY diamond pattern compresses for comfort but also provides unrivalled traction
Featuring soft DEITY TRC+ rubber compound for durability and increased grip
Tapered inner sleeve to insure perfect contact with the handlebar
Single clamp design with forward facing bolts that feature loc-tite
Lasered black ano 6061 T6 aluminium clamps
Seamless transition through the end of the grip for comfort
The capped end for safety and comfort
133mm length with 32mm outer diameter
Intended use: All MTN / Enduro / DJ / Slopestyle / DH / and any other riding style of choice!
Full-colour range available in Black, Stealth, Red, Green, Blue, Orange, Turq, Gum, Pink, Purple, Shaolin Yellow, and Mint
104 grams for the set​
INSTALLATION TIP: To fully and properly install your LOCKJAW grip due to the tapered inner sleeve…make certain to whack the end of the grip 3 times with the palm of your hand until the grip fully seats onto the handlebar. If you find the fit is a bit tight due to your particular handlebar, a small amount of Isopropyl Alcohol can work wonders for lubrication. Finish the install by tightening the hardware to the specs listed on the packaging.
What do you think of the Lockjaw Grips from Deity? What are your favourite grips? Let us know in the comments below.
Here are some links to other MTB Grips articles: 
Pros
Comfortable
Grippy in all conditions
Easy to install
Reasonably Priced
Lot's of colour options
Summary
A grippy, durable mountain bike grip that is reasonably priced and available in multiple colours. The Deity Lockjaw grips have become my personal grip of choice for all my bikes.