Craft Cadence Top Tube Bag Review
Craft Cadence recently sent us their Top Tube Bag to review. This waterproof bag attaches to the top tube on the bike frame and because it is zipperless it is accessible using just one hand, making it super easy to use whilst riding. The bag also has a loop on the top allowing you to attach a bicycle computer and features a zipped pocket inside to store valuables such as money or keys.
Read on to learn more about this product and how it scores in our review.
Craft Cadence Top Tube Bag
No more broken zippers – seam welded zipperless design with magnetic enclosure enables full waterproofing and easy access to essentials
Generous capacity – 1 – 1.5 litre capacity perfect for snacks, battery packs, and other ride essentials.
Potential for mounting phones and computers – a loop at the top enables mounting of smartphones and cycling computers (accessories not included, soon to be available)
Ease of access while riding – simply flip the bag open and back with one hand while riding
Electronics friendly – cable outlet with rain cover for battery packs and other electronics for longer trips
Grippy straps for stability – straps are covered with rubber for stability against the frame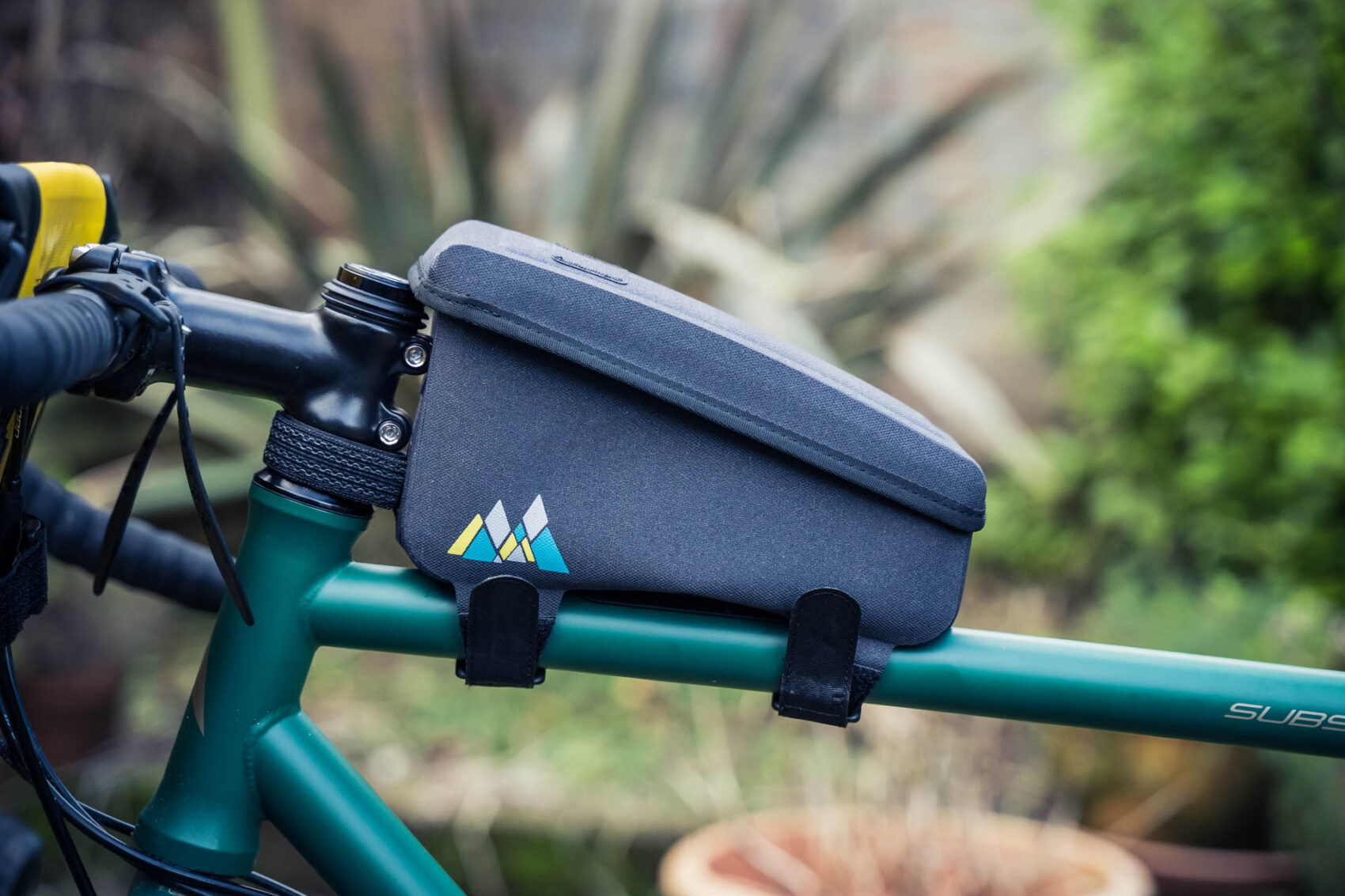 Top Tube Bag Specification:
20.5cm x 11cm x 5cm or 8.07 inches x 4.33 inches x 1.97 inches (length, max height, width)
~150 grams
600D polyester coated with TPU, seamless welding construction
Magnetic + Velcro enclosure system
Straps with anti-slip rubber grippers
Zipped pocket on the inside for easy organization
The front strap is removable for those with slammed stems
Craft Cadence Top Tube Bag Review
I've had the Craft Cadence Top Tube Bag to review for a few weeks now alongside the Craft Cadence Waterproof Bar Bag also on review.
The bag is made from a rugged waterproof fabric that will likely last a lifetime and protects you valuables and snacks from the elements on long rides. The bag features grippy straps that prevent the bag from slipping and excessive wobbling when riding no matter how rough the trails.
I've been testing this top tube bag on my gravel bike and right now it's cold, wet, and very muddy here in the south of the UK. The bag has done an excellent job of keeping my keys and phone safe in the extra zipped pocket, and the generous space allows me to carry enough snacks to stay sufficiently fueled for long days in the saddle.
The bag doesn't have a zip on the main pocket flap and is instead held shut using both a magnet and a small strip of velcro. This fastener is more than enough to keep the lid closed but I wonder if the velcro may be less effective over time?
Another nice feature of this bag is that there is a loop on the top of the flap where you can easily attach a cycling computer such as a Garmin, Woohoo, or another GPS device. There is also a small hole at the front of the bag where you can pass through a cable to charge your device, a light, or if you're old school and still like to use wired headphones/earbuds.
The bag is a little on the pricey side at £40.99 but if you are after a top tube bag that is waterproof and going to last a lifetime then it's worth every penny.
Pros
Easy to use, even when riding
Fits most frames
Waterproof
fits securely with minimal wobble
Bicycle computer mount loop
Cons
A little pricey for some at £40.99