Cipollini MCM Allroad Gravel Bike Review
In this review, we have been lucky enough to get hold of the Cipollini MCM Allroad Gravel bike. I have had this bike on test for around a month now and have been able to go on some brilliant long gravel rides in my area of Hampshire, Surrey and West Sussex. I also had some help from Dan Beaven who helped me test the bike during filming.
Gravel Biking is a style of riding that seems to differ depending on who you talk to. Often if you are a roadie then gravel biking is road cycling on rougher roads and tracks. The style of riding is closer to road cycling and often the clothing is too. If you like me are a mountain biker then you may thing of gravel cycling as more similar to XC. Using the gravel bike to go off-road and cover large distances quickly. It's still a relatively new genre of cycling and I personally like that it's quite open to interpretation.
About the Cipollini MCM Allroad Gravel Bike
Cipollini is an Italian bicycle brand who predominantly make road bikes but have relatively recently come out with their take on the gravel bike with the Cipollini MCM Allroad. The MCM Allroad closely resembles a road bike with an aggressively fast looking aero geometry and frame shape intended for speed even off-road. It features a rear triangle that has room enough for 40mm tyres and is intended to be used with a gravel-specific groupset.
The frame is made from Carbon Fibre and uses a tube-to-tube wrapping construction system as opposed to forming the frame in a mould. This method has the added benefit of being able to use custom lamination no matter what frame size. This means that manufacturers can fine-tune the lamination of the frame to feel and perform how they want.
Frame Set Specs
Frame: T1000 high modulus, 1K finish. Mechanical components (derailleur hangers, expander bolts, seat post clamps) made in Italy.
Aero Fork With a tapered headset for higher performance and enhanced reactivity.
T2T System Tube-to-tube wrapping construction system.
415mm Rear Triangle for enhanced reactivity. The rear triangle has room for tyres up to 40 mm.
Bottom Bracket: Press-fit 41 x 86,5.
Groupset Compatibility: Mechanical and electronic groupsets and wireless system.
CNC Components: Made of stainless steel for enhanced structural resistance and reliability.
Brake System: Rim brake Direct Mount system. Disc brake flat mount system.
Price (Frameset Only): £3200
Sizes Available: XS, S, M, L, XL
In this review, we will be focussing more on the frameset itself rather than the entire bike build. This is because the build we were sent to test isn't available to buy in UK. You could, however, buy all the components to build this build. Saying all this though here is a list of the components in this build.
Review Bike Build Specs
Cipollini MCM Allroad Frame – Medium
SRAM Force 1x Groupset
Vittoria Alloy Rims
Good Year Connector Tyres
FSA Drop Bars
Frame Specific Seat Post. (Designed to fit this frame specifically so can not be replaced with a different seat post. Shame for me as I would have liked to add a dropper post to suit my riding style).
I have previously tested the Goodyear Connector tyres and I was a big fan so please to see these part of the test bike build.
MCM Allroad Review
So how does this bike perform? Well, it performs as it looks. It's fast! A combination of its aggressive geometry and super lightweight build make it a breeze to get the power down quickly. Paired with the Goodyear Connector tyres that provided plenty of grip this bike pulled away from my other gravel bike (Vitus Substance) every time no matter who was riding it.
The bike was comfortable to ride over short and medium distances but due to the frame being really stiff and carbon fibre, it did feel a bit harsh over rougher terrain which made longer rides harder work. But as this bike is lacking mounting points for bags, mudguards etc I don't think it was ever intended for touring and long-distance riding. This bike is clearly targetted at those that want to go fast and not be limited to just roads!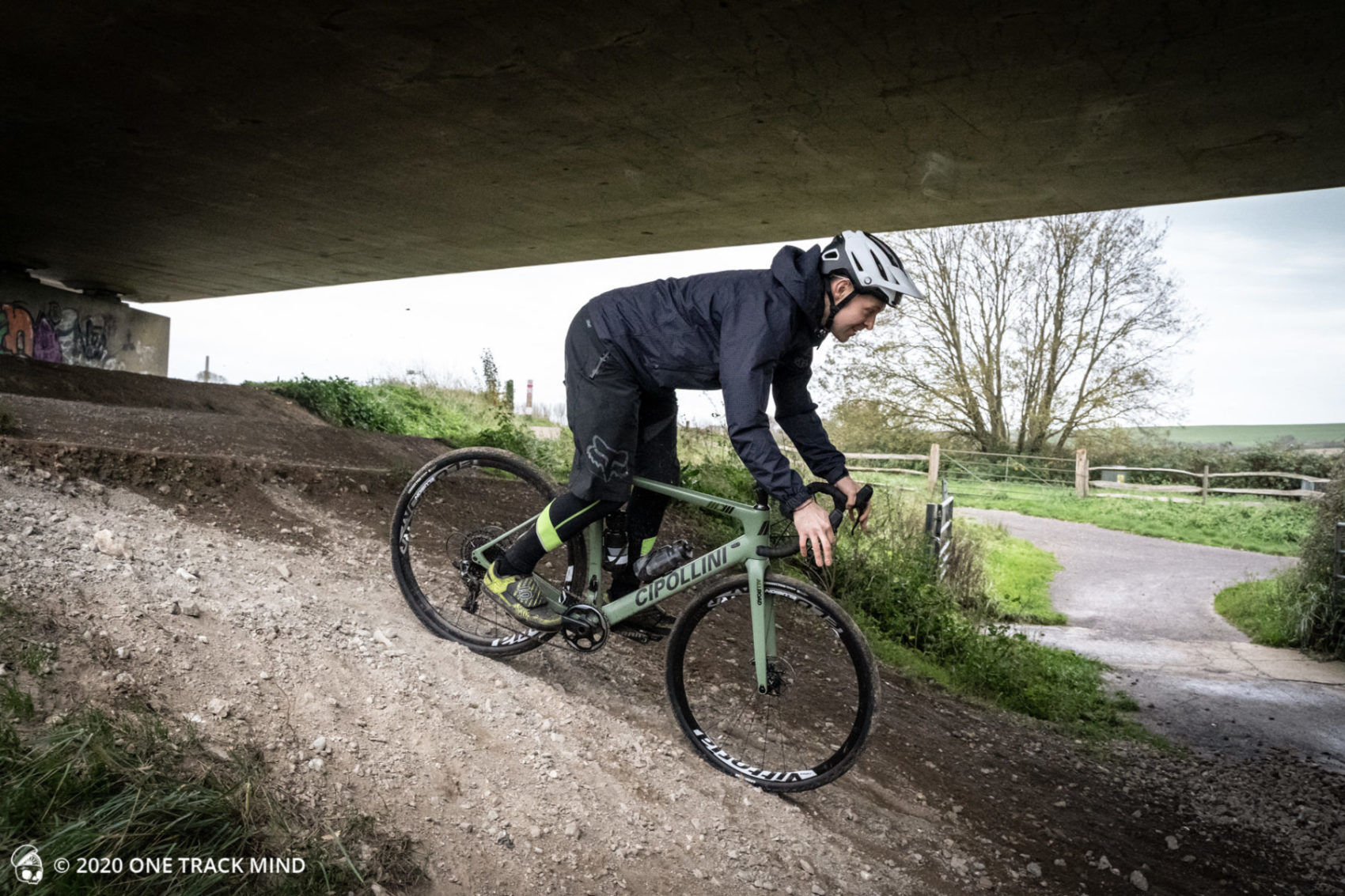 In general, I really liked riding this bike. It felt really responsive and hill climbs even on chalk weren't an issue but one thing that I wasn't a fan of was the seat post. The post is specific to the frame meaning you can't swap it out for another post. I found that on some of the steeper descents the seat was pushing me too far over the front of the bike. Ideally, I would like to have cut it down but once you cut it there is no going back and who knows how easy it will be to get hold of a replacement.
Speaking of steep. On one of the test rides, we decided to do a loop that passed through Steyning Downhill Bike Park. This small hill is situated on the South Downs which is a steep chalk hill. Comparing this bike to a steel-framed gravel touring bike it clearly climbed so much better. Cutting through the wet chalk with 40mm tyres was no issue. The descent was also fine. This bike is really comfortable and stable and paired with the SRAM force brakes I felt in control the entire time which is more than I can say for the touring bike which I thought was going to kill me, particularly on the really steep parts.
So, in summary, this bike looks aggressive and fast. It's clearly been designed for speed and for the rider to be on the attack rather than gently plodding along like you would with a touring gravel bike. The frame is really stiff and responsive which is great on shorter rides but can be a bit harsh on longer rides especially if travelling over harsher terrain. This bike climbs brilliantly making mountains feel like molehills.
The frameset alone comes in at £3200 which is no small change. So if you are going to spend this money you would be daft not to put top-spec components on it, which could end up costing you a fortune but perhaps that is the price to pay for a bike with the Cipollini name on it.
For me personally, even with this bike being aimed at shorter fast-paced rides I would still like to see a few more mounting points. This one only has points for two bottle cages and that's it. The last thing I want to take on a gravel ride is a bag but you could get around this using a bag that has velcro straps to mount to the frame rather than requiring mounting points.
It would also be nice to see a full bike build here in the UK rather than just a frameset. I would certainly swap out the Vitoria rims that came with this test build as they felt very budget on an otherwise premium build and perhaps added to the harshness felt over longer rides and rougher terrain.
Should you buy this bike? I think if you want an off-road capable road race bike then you will not be disappointed. This thing flys and still holds it's own when on the road. I was impressed with how well it handled off-road too.
What do you think of the Cipollini MCM Allroad Gravel Bike? Have you tried it? Have you ever tried gravel cycling yet? If not you should as it opens up another world of cycling and is widely accessible globally. Let us know your thoughts and opinions in the comments section below.
Test bike provided by Paligap
Pros
Lightweight, Super Fast, High-Quality build
Cons
Press Fit Bottom Bracket, Can feel harsh on rough terrain, Lack of mounting points for bags etc.